The European Debt Crisis Visualized
**********
Leaked files from Panama firm Mossack Fonseca reveal how world's wealthy hide their money
**********
Cuba Has a Lung Cancer Vaccine—And America Wants It
**********
9 Beautiful Cities In Europe Where You Can Study For Free (Or Almost Free)
College tuition in America costs an average of $32,405 per year at private colleges and $9,410 per year at public colleges for an undergraduate degree. It's no secret that Americans are racking up student loan debt and are having trouble paying it off.
But, did you know that you can go to college in Europe for FREE? Not only can you go to a beautiful country and live amongst a culture entirely different from yours, but you can get a free or very low-cost, good quality education at the same time. You can even attend grad school or medical school for much less than you would in America.
Each city has just one university as a suggestion – for most of the countries listed, there are many free or affordable institutions. These are 9 European cities in which you can study for free – or almost free – at some of the world's most prestigious universities.
1. Frankfurt, Germany

Source: Instagram
Goethe University
Germany is chock full of free or very affordable higher education. Ranked as one of New York Times' 10 Best Universities In The World, Goethe University offers free tuition to international students and has many English-speaking courses.
Frankfurt is Germany's fifth largest city and boasts an easily accessible public transport system and has been ranked in many top 10 surveys for quality of life.
**********
2. Thessaloniki, Greece

Source: Instagram
International Hellenic University
This public university is Greece's first institution to have exclusively English-speaking courses. While this university is the most expensive on this list, it is still extremely affordable compared to the United States.
Tuition for Greece's public universities is generally around 1500 Euros (approximately $1649.55 USD) per year – but it includes your textbooks! That ends up being more than $8,000 less than an American public university.
Thessaloniki is Greece's second largest city, so there's no shortage of things to do. The city is known for its lively streets and beautiful views of the Aegean Sea.
**********
3. Split, Croatia

Source: Instagram
University of Split
Public universities in Croatia are very inexpensive. Annual tuition is about 800 Euros (around $880 USD) per year.
Split is a popular destination due to its temperate climate and beautiful coastal views. What could be better than getting a college degree for less than $1,000 a year while basically vacationing at the same time?
**********
4. Helsinki, Finland

Source: Instagram
University Of Helsinki
For bachelor's degrees, tuition at all of Finland's universities is free – even for international students. The Finnish government is quick to remind interested students, however, that only tuition is covered. Living expenses are covered by the individual.
The University of Helsinki is the oldest and largest university in Finland and offers the most subjects one can study. It has been ranked a top 100 university in multiple publications, so it's definitely a great place to get a free degree.
**********
5. Oslo, Norway

Source: Instagram
University Of Oslo
Norway is also a country that offers free tuition at all universities. The number of English-speaking programs in the country is growing rapidly, making Norway a great option for American students.
Ranked as the 58th best university in the world by The Academic Ranking Of World Universities, University Of Oslo has programs for just about anything: natural science, social science, law, humanities, education, and medicine/dentistry.
**********
6. Ljubljana, Slovenia

Source: Instagram
University of Ljubljana
As the best ranked university in Slovenia, University of Ljubljana offers a wide variety of areas of study: from music, art, and film to physics, medicine, and engineering.
Donald Trump's wife, Melania Trump, attended this prestigious university and studied design and architecture.
**********
7. Orléans, France

Source: RomeAcrossEurope
University Of Orléans
University Of Orléans is a renowned university that is among some of the most inexpensive universities in France.
Tuition for a general undergraduate degree at a public university France is typically around $189 Euros ($205 USD) per year. However, tuition is more expensive for certain fields of study, such as medicine or engineering.
**********
8. Berlin, Germany

Source: Instagram
Free University of Berlin
Most universities in Germany do not exceed $160 USD per semester. Most of those fees also include a public transportation pass for the semester as well.
One of the most prominent universities in all of Europe, Free University of Berlin (Freie Universität Berlin) is mostly known for its research contributions in sciences and humanities.
**********
9. Lund, Sweden

Source: Instagram
Lund University
Only PhD programs are free, and they are often paid. Universities in Sweden offer free PhD programs, and Lund University is just one of them. A PhD program usually consists of four years of research, so in many cases, the student is paid.
Lund University is one of Northern Europe's largest, oldest, and most prestigious universities. The city of Lund itself has over 82,000 inhabitants and has relatively mild climate compared to its Scandinavian neighbors. This is mainly due to its proximity to the sea.
**********
http://www.eurekalert.org/pub_releases/2016-03/uob-mtt030816.php
An estimated 2.3 million people living with HIV are co-infected with hepatitis C virus (HCV) globally, a new study by the University of Bristol and the London School of Hygiene & Tropical Medicine has found.
Of these, more than half, or 1.3 million, are people who inject drugs (PWID). The study also found that HIV-infected people are on average six times more likely than HIV-uninfected people to have HCV infection, pointing to a need to improve integrated HIV/HCV services.
HIV and HCV infections are major global public health problems, with overlapping modes of transmission and affected populations. Globally, there are 37 million people infected with HIV, and around 115 million people with chronic HCV infection. However, very little was known about the extent of HIV/HCV coinfection prior to this study, which was the first global study of its kind.
Sponsored by the World Health Organisation (WHO), the study was published online in The Lancet Infectious Diseases on February 24. WHO commissioned the study to inform an update of its guidelines on screening of coinfections and initiation of antiretroviral therapy, and to inform regional and national strategies for HCV screening and management.
The study systematically reviewed 783 medical studies from worldwide sources to build the first global estimates on the prevalence of HIV/HCV co-infection (measured by HCV antibody) as a public health problem.
Dr Philippa Easterbrook, from WHO's Global Hepatitis Programme said: "The study shows that not only are people with HIV at much higher risk of HCV infection, groups such as people who inject drugs have extremely high prevalence of HCV infection – over 80 Per cent. There is a need to scale-up routine testing to diagnose HCV infection in HIV programmes worldwide, especially among high-risk groups, as the first step towards accessing the new, highly curative HCV treatments."
Dr Lucy Platt, lead author and senior lecturer from the London School of Hygiene & Tropical Medicine said: "Despite a systematic search of published and unpublished literature, estimates were identified in only 45 per cent of countries and the study quality was variable. Improvement in the surveillance of HCV and HIV is imperative to help define the epidemiology of coinfection and inform appropriate policies for testing, prevention, care and treatment to those in need. This is especially the case in countries with growing populations of PWID and also in sub-Saharan Africa where the burden of coinfection is large due to high burden of HIV."
Professor Peter Vickerman, from the University of Bristol's School of Social and Community Medicine said: "This study shows how important injecting drug use is in driving the epidemic of HCV in people with HIV infection, especially in eastern European and central Asian countries. It also shows the need to scale up prevention interventions, such as needle and syringe programmes and opioid substitution therapy, as well as access to HIV and HCV treatment, to reduce morbidity and new infections."
The study focusses on prevalence of HCV antibodies that measures exposure to HCV but not active infection. Measuring the presence of active virus and the need for treatment requires an additional more costly viral test, which very few of the reviewed studies had done. Around 20-30 per cent of people exposed to HCV and found positive with antibody will clear the virus.
The study shows the greatest burden of HIV/HCV coinfection in Eastern Europe and central Asia, where there are an estimated 607,700 cases (27 per cent of all cases), particularly among PWID. The sub-Saharan African region accounts for 19 per cent of all cases, with 429,600 cases, due to high burdens of HIV.
The researchers included studies with estimates of HCV coinfection in the main HIV population, as well as sub-groups of PWID, men who have sex with men, heterosexually exposed and pregnant women, other high-risk groups and the general population. Studies were eligible if they included a minimum of 50 individuals.
The search focused on published medical literature, and excluded samples drawn from populations with other comorbidities, or undergoing interventions that put them at increased risk of coinfection.
###
The full article is available at: http://www.thelancet.com/journals/laninf/article/PIIS1473-3099(15)00485-5/fulltext
For further information, contact:

Simon Davies
University of Bristol
Tel: + 44 (0)117 928 8086 (office); 07866 783248 (mobile)
Email: simon.l.davies@bristol.ac.uk
Jenny Orton
London School of Hygiene & Tropical Medicine
Office: +44 (0) 20 7927 2802
Email: press@lshtm.ac.uk
Tunga Namjilsuren
Global Hepatitis Programme, WHO
Tel: +41 22 791 1073
Email: Namjilsurent@who.int
**********
Not a fish tale: Thanks to ocean pollution humans are ingesting plastic
Dahr Jamail
Truthout
Mon, 21 Mar 2016 21:00 UTC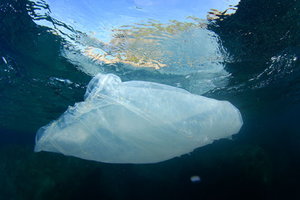 © Plastic Bag via Shutterstock
Humans generate more than 300 million tons of plastic annually – an amount equal to the combined body weight of the entire global adult human population – and nearly half of the plastic is only used one time before it is tossed away to eventually find its way to the oceans. So it should come as little surprise that by 2050, it is a virtual certainty that every seabird on the planet will have plastic in its stomach.
Recent estimates indicate that upwards of 8 million tons of plastic are added to the planet's oceans every year, the equivalent of a dump truck full of plastic every minute. That is enough plastic to have led one scientist to estimate that people who consume average amounts of seafood are ingesting approximately 11,000 particles of plastic every year.
The earth's oceans will have more plastic than fish by 2050, according to a January report published by the World Economic Forum.
Experts with whom Truthout spoke on the topic confirmed that these trends are likely to continue. Biological oceanographer Dr. Debora Iglesias-Rodriguez, with the National Oceanography Centre at Britain's University of Southampton, is very concerned about public indifference to the urgency of the situation.
"Marine pollution is a big issue," Iglesias-Rodriguez told Truthout. "There is this idea that oceans have unlimited inertia, but nanoparticles of plastic getting into marine animals and the food chain are affecting fish fertility rates, and this affects food security and coastal populations. Pollution is having a huge impact on the oceans and is urgent and needs to be dealt with."
"Unexpected Results"
In the North Pacific Ocean, there exists what has become known as the "Great Pacific Garbage Patch," a phenomenon scientists know as the North Pacific Subtropical Gyre.
Miriam Goldstein, a researcher at Scripps Institution of Oceanography at the University of California, San Diego, warned Truthout that by adding massive amounts of plastic into the oceans, humans are causing large-scale change to the oceans' entire ecological system.
Goldstein is the lead author of a study that revealed just how deeply into the oceanic ecosystem plastic has already embedded itself.
"We found eggs on the pieces of plastic, and these were sea skater [insect] eggs," Goldstein said. "Sea skaters naturally occur in the gyre and are known to lay their eggs on floating objects. So we found that the amount of eggs being laid had increased with the amount of plastic."
The North Pacific Subtropical Gyre's eastern section, located between Hawai'i and California, is estimated to be about twice the size of Texas. According to Goldstein, this vast "garbage patch" contains an "alarming amount" of plastic garbage, the majority of which is comprised of very small-size pieces.
Goldstein's study shows how the immense amount of plastic is creating dire consequences for animals across the entire marine food web. Not only is it leading to early deaths of animals that ingest it, but also humans then ingesting fish with plastic in their systems are at increased risk of cancer and other health issues.
Another Scripps study shows that nearly 10 percent of the fish collected during a trip to the gyre had plastic waste in their stomachs.
Comment: Study finds alarming amount of plastic and fibrous material in fish
Published in Marine Ecology Progress Series, Goldstein's study estimates that fish at intermediate ocean depths in the North Pacific Ocean could be ingesting plastic at the staggering rate of 12,000 to 24,000 tons per year.
Yet plastic will not likely be going away anytime soon. The use of plastic bags around the world has increased by 20 times in the last 50 years. One-third of all plastic packaging then escapes collection systems, and a large percentage of that plastic eventually ends up in the oceans, according to the World Economic Forum report.
Only 5 percent of plastics are effectively recycled, and the production of plastics is expected to increase by at least 1.12 billion tons by 2050.
"Our work shows there could be potential effects to the ocean ecosystem that we can't expect or predict," Goldstein said. "There are five subtropical gyres, one in each ocean basin, and they are natural currents. They are vast areas of the oceans; together they comprise the majority of the area of the oceans. So altering them on a large scale could have unexpected results on all kinds of things."
Ocean 3.0?
The amount of plastic floating in the Pacific Gyre has increased 100-fold in the past four decades. Meanwhile, phytoplankton counts are dropping, overfishing is causing dramatic decreases in fish populations, decreasing ocean salinity is intensifying weather extremes, and warming oceans are speeding up melting in Greenland, the Arctic and in Antarctica.
One warning of humanity's increasingly deleterious impact on the oceans comes from prominent marine biologist Jeremy Jackson of the Scripps Institution of Oceanography. In an article published in Proceedings of the National Academy of Sciences, Jackson emphasizes that, without profound and prompt changes in human behavior, we will cause a "mass extinction in the oceans with unknown ecological and evolutionary consequences."
The statement might sound extreme, until one considers the extent to which we impact the oceans, whether we realize it or not. As science journalist Alanna Mitchell has written about the oceans: "Every tear you cry … ends up back in the ocean system. Every third molecule of carbon dioxide you exhale is absorbed into the ocean. Every second breath you take comes from the oxygen produced by plankton." Dr. Wallace J. Nichols, a research associate at the California Academy of Sciences, told Truthout he finds plastic on every beach he visits across the globe, and added, "Probably every sea turtle on the planet interacts with plastic at some point in its life."
Not only is Nichols intimately familiar with the pollution crisis plastic poses to the oceans, but also he is well acquainted with the oceanic destruction already underway due to anthropogenic climate disruption (ACD).
He describes sea turtles as a "poster species" for the impacts of ACD: He said their eggs "are literally cooking on beaches now because the temperatures have moved out of the tolerable range."
"You often see the polar bear used as the poster species for climate change, but I think sea turtles are just as good of a poster species because they are everywhere and they are already being impacted as the ocean warms," Nichols added.
In addition to ACD and plastic, he notes that we are introducing too much pollution into the oceans, and taking too much out of them by way of overfishing.
"We're putting too much in, in all forms of pollution; we're taking too much out by fishing, overfishing and by catch; and we're destroying the edge of the ocean, the places where there is the most biodiversity, reefs, mangroves, seagrass etc.," he said. "Those are the three big buckets…. Almost every threat to the ocean falls into one of those. We need to put less in, take less out and protect the edges by making some of them off limits to human activity."
Nichols is deeply concerned by the pace at which negative changes are occurring across the oceans. He said that every time scientists have attempted to predict future scenarios, the pace seems to only quicken.
According to Nichols, despite scientists' ongoing attempts to adjust their models to keep up with the quickening of feedback loops and other issues, we are still unable to keep pace with the dramatic changes.
He believes "the clock in many ways has already run out," due to the fact that we are still increasing our use of fossil fuels, while continuing to generate so much plastic and pollution. Nichols says he is frustrated by the fact that despite there being more conversation about these issues now than ever before, that dialogue is still not translating into societal change or evolution.
Truthout asked Nichols if he sees the future becoming worse for the oceans.
"We're living in it now, from a climate change/fisheries/pollution/habitat destruction point of view, our nightmare is here; it's the world we live in," he said. "You see it everywhere now, the collapsing fisheries, the changes in the Arctic and the hardships communities that live there are having to face, the frequency and intensity of storms – everything we imagined 40 years ago when the environmental movement was born, we're dealing with those now."
Nichols concluded by describing three possible oceans. Ocean 1.0 is the pristine natural ocean, while Ocean 2.0 is the ocean we have now, which is a result of having, as he described it, lived under "the petroleum product regime."
"Ocean 3.0 is the future ocean, and it can either be a dead ocean, or we can really come up with some very innovative solutions that right now people aren't even talking about," he said.
To Nichols, a positive vision of Ocean 3.0 would entail new ways of getting food from the ocean that don't involve long lines and bottom trawling, both extremely destructive ways to fish commercially.
It would involve a whole new way of thinking about our packaging and a zero-waste approach to consumer goods, which, he believes, is all possible – if we can muster the political and personal motivation.
"We could have a healthy ocean in 50 years if we make some bold moves," he said. Those moves would need to include "a cleaner, more responsible set of actions for how we get energy from the ocean and how we use them as a source of food."
Without those actions happening en masse, Nichols fears we are headed for the "dead ocean" version of our future.
"The dire predictions – they are already here in many, many ways," he said.
About the author
Dahr Jamail, a Truthout staff reporter, is the author of The Will to Resist: Soldiers Who Refuse to Fight in Iraq and Afghanistan, (Haymarket Books, 2009), and Beyond the Green Zone: Dispatches From an Unembedded Journalist in Occupied Iraq, (Haymarket Books, 2007). Jamail reported from Iraq for more than a year, as well as from Lebanon, Syria, Jordan and Turkey over the last ten years, and has won the Martha Gellhorn Award for Investigative Journalism, among other awards.
Pollution Is A Real Issue

Source: imgur
Over the last decade humans have produced 10 times as much plastic as we have in the last century, and each year we throw away enough of the material to circle the earth 4 times. Americans alone throw away approximately 35 billion water bottles a year, all of which are still in existence in some form or another as plastic takes anywhere from 500-1000 years to disintegrate. The moral of this story? We use way too much plastic and that needs to change, or we (and the environment) could be faced with some serious consequences.
This albatross ingested so much garbage, most likely via the fish he was eating, that his body simply couldn't get rid of it, eventually leading to his death. Plastic makes up approximately 90% of the trash in the world's oceans, oceans that contain approximately 5 trillion pieces of garbage in total.
There's water under here somewhere…

NOEL CELIS/AFP/Getty Images
A child stands next to an actual river of trash in the Philippines.

Source: imgur/BraskaBoy
While waist trainers may be all the rage among human women, the hourglass shape is not ideal for tortoises. Cut up your plastic six-pack rings, people, this is unacceptable.
**********
NY Times Reveals How CIA Money Ended Up in Hands of Al Qaeda
by Matt Wilstein | 2:49 pm, March 14th, 2015

A new report from The New York Times' Matthew Rosenberg published Saturday reveals details about a 2010 deal between Afghan officials and Al Qaeda that resulted in $1 million of CIA money funding the terrorist group.
According to the report, Al Qaeda demanded $5 million for the release of an Afghan diplomat held hostage in 2010 and the Afghan government ended up using $1 million from a secret fund that the CIA provided them in monthly cash installments delivered directly to the Kabul palace of former President Hamid Karzai.
Rosenberg quotes letters sent between Osama bin Laden and one of his deputies after the Afghans raised the rest of the money from other countries and completed the deal:
"God blessed us with a good amount of money this month," Atiyah Abd al-Rahman, the group's general manager, wrote in a letter to Osama bin Laden in June 2010, noting that the cash would be used for weapons and other operational needs.
Bin Laden urged caution, fearing the Americans knew about the payment and had laced the cash with radiation or poison, or were tracking it. "There is a possibility — not a very strong one — that the Americans are aware of the money delivery," he wrote back, "and that they accepted the arrangement of the payment on the basis that the money will be moving under air surveillance."
he C.I.A.'s contribution to Qaeda's bottom line, though, was no well-laid trap. It was just another in a long list of examples of how the United States, largely because of poor oversight and loose financial controls, has sometimes inadvertently financed the very militants it is fighting.
​
Read the full report at nytimes.com.
**********