Inside a hospital in Venezuela
 The impact of Venezuela's economic collapse on its people is almost impossible to put into words.
But these images inside calamity-hit hospitals go some way to communicating the devastation.
Since oil prices plummeted, all aspects of everyday life – electricity, food, paper – have been rationed.
Critically, medical centers are in crisis.
Without soap, antibiotics, power, gloves and x-rays, surgeons are struggling to keep patients alive.
Pictures taken by New York Times photographer Meridith Kohut offer a glimpse inside some of the most notorious centers – while President Nicolas Maduro claims the socialist nation as the best healthcare in the world.
Scroll down for video

+7
Horrific: Jose Villarroel waits for hours in an emergency operating room at Luis Razetti Hospital in Puerto la Cruz, Venezuela, in April

+7
Life on hold: Julio Rafael Parucho, who suffered a serious head injury, and has had to wait a year for a follow-up operation because of a shortage of doctors in Puerto la Cruz
The Luis Razetti Hospital in the portal city of Barcelona looks like a war zone.
Patients can be seen balancing themselves on half-broken beds with days-old blood dried up on their bodies.
They're the lucky ones; most are curled up on the floor, blood streaming, limbs blackening.
Children lie among dirty cardboard boxes in the hallways without food, water or medication.
Without electricity or functioning machines, medics have had to create their own solutions. Two men who had surgery on their legs have their limbs elevated by makeshift slings made out of water bottles.
One man is missing half his skull after a severe head injury a year ago. He is still waiting for post-surgery treatment.
Last summer, the Daily Mail reported how rampant opossums had infested the Luiz Razetti Hospital, killing 17 newborns.
That was just the start of months of misery at the center, according to the New York Times.

+7
Lack of supplies: Jugs and soda bottles that doctors at Luis Razetti Hospital rigged to treat patients with broken legs in Puerto la Cruz

+7
No beds: Nicolas Espinoza's daughter sleeps in the children's cancer ward at Luis Razetti Hospital

+7
Marbelis Reinoso with her daughter, who has asthma, at a government-run clinic in Catia La Mar, Venezuela in April

+7
Patients rest in the hallways at the overcrowded public hospital in Merida, Venezuela, in January
In just one day, the newspaper's reporters witnessed the deaths of seven babies since there were no oxygen tanks, and doctors had to pump air into their lungs by hand.
A 68-year-old diabetic patient interviewed in the article has to have her leg amputated; the hospital did not have dialysis machines or the antibiotics she requires.
One had to have an almost-rupturing appendix removed without the proper tools or sanitation. Another died because the blood bank was closed due to a public holiday, which was randomly called by the government to save electricity.
President Nicolas Maduro has refused attempts to seek international or monetary support for the country's healthcare system that he says would effectively 'privatize' healthcare.
The socialist leader, Hugo Chavez's successor, claims such a move would have devastating impacts on the country.
And he even insists Venezuela's healthcare is one of the best in the world: 'I doubt that anywhere in the world, except in Cuba, there exists a better health system than this one,' he said.

+7
In denial: President Nicolas Maduro has refused attempts to seek international or monetary support for the country's healthcare system. He insists theirs is the 'best in the world' after Cuba
Since the economic collapse began to take hold of the country, Maduro has dedicated many of his speeches to boasting of Venezuela's strengths, and lashing out at other countries.
Like his late predecessor, Maduro regularly accuses the US of spying and illegal intervention.
On Tuesday, he told a press conference a U.S. military aircraft 'with lethal technical abilities' illegally entered Venezuelan airspace twice in seven days.
'Our military aviation detected the illegal entry, for unusual espionage tasks, of the Boeing 707 E-3 Sentry, which is an airborne early warning control center system that has all the mechanisms for espionage,' he told reporters at the presidential palace.
**********
Switzerland will become the first country in the world to hold a nationwide referendum on the introduction of a basic income on Sunday.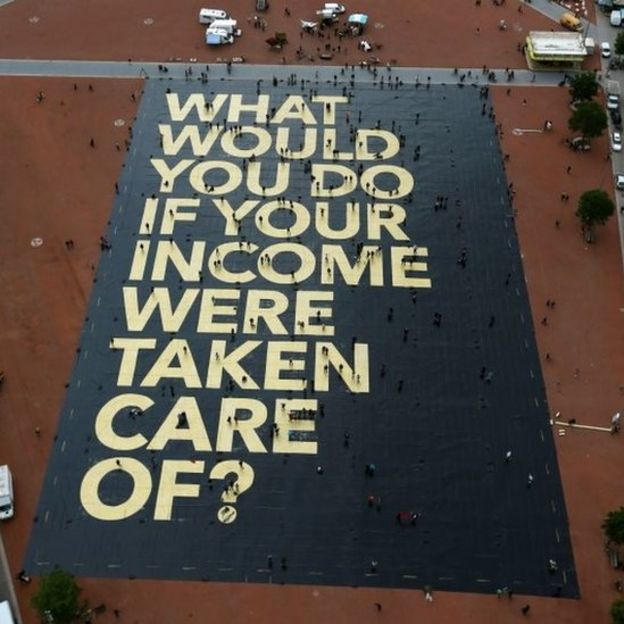 The proposal, if passed, would give every adult legally resident in Switzerland an unconditional income of 2,500 Swiss francs (£1,755; $2,554) a month, whether they work or not.Supporters point to the fact that 21st-Century work is increasingly automated, with more and more traditional jobs, in factories, retail and even in finance and accounting, being done by machines. And they do not need salaries.The campaign has staged some eyecatching demonstrations, including one in which hundreds of "robots" danced through the streets of Zurich, promising to "free" humans from the daily grind of Monday to Friday work, just to pay the bills."The robots are saying 'we don't want to grab your work and make you suffer'," said campaigner Che Wagner. "We want to make you free, that's why they want a basic income for us humans."
http://www.bbc.com/news/world-europe-36443512
**********
Switzerland 'rejects basic income', poll projections suggest
**********
Brexit: David Cameron to quit after UK votes to leave EU
Prime Minister David Cameron is to step down by October after the UK voted to leave the European Union.
Speaking outside 10 Downing Street, he said he would attempt to "steady the ship" over the coming weeks and months but that "fresh leadership" was needed.
The PM had urged the country to vote Remain but was defeated by 52% to 48% despite London, Scotland and Northern Ireland backing staying in.
UKIP leader Nigel Farage hailed it as the UK's "independence day".
The pound fell to its lowest level against the dollar since 1985 as the markets reacted to the results.
Flanked by his wife Samantha, Mr Cameron said he had informed the Queen of his decision to remain in place for the short term and to then hand over to a new prime minister by the time of the Conservative conference in October.
It would be for the new prime minister to carry out negotiations with the EU and invoke Article 50 of the Lisbon Treaty, which would give the UK two years to negotiate its withdrawal, he said.
"The British people have voted to leave the European Union and their will must be respected," said Mr Cameron. "The will of the British people is an instruction that must be delivered."
Bank of England governor Mark Carney said UK banks' "substantial capital and huge liquidity" allowed them to continue to lend to businesses and households.
The Bank of England is ready to provide an extra £250bn of support, he added.
The referendum turnout was 71.8% – with more than 30 million people voting – the highest turnout at a UK-wide vote since 1992.
Mr Farage – who has campaigned for the past 20 years for Britain to leave the EU – told cheering supporters "this will be a victory for ordinary people, for decent people".
Area-by-area in maps: See how people voted
Pro-Leave Conservatives including Boris Johnson and Michael Gove – who are both likely to be among contenders to be the party's next leader and therefore PM – had signed a letter to Mr Cameron overnight urging him to stay on whatever the result.
Mr Johnson made no comment as he left his London home where a large crowd had gathered.
Labour leader Jeremy Corbyn, who called for the UK to remain in the EU but was accused of a lukewarm campaign, said poorer communities were "fed up" with cuts and felt "marginalised by successive governments".
"Clearly there are some very difficult days ahead," he said, adding that "there will be job consequences as a result of this decision".
He said the point he had made during the campaign was that "there were good things" about the EU but also "other things that had not been addressed properly".
Lib Dem leader Tim Farron said Labour's leader had been "utterly gutless" in making the case for remaining in.
Former Labour Europe Minister Keith Vaz said the EU should call an emergency summit to deal with the aftermath of the vote, which he described as "catastrophic for our country, for the rest of Europe and for the rest of the world".
Germany's foreign minister Frank Walter Steinmeier described the referendum result as as "a sad day for Europe and Great Britain".
But Leave supporting Tory MP Liam Fox said voters had shown great "courage" by deciding to "change the course of history" for the UK and, he hoped, the rest of Europe.
Scotland's First Minister Nicola Sturgeon said that the EU vote "makes clear that the people of Scotland see their future as part of the European Union" after all 32 local authority areas returned majorities for Remain.
---
A less than united Kingdom
The EU referendum has revealed an ancient, jagged fault line across the United Kingdom. It is a scar that has sliced through conventional politics and traditional social structures, and it is far from clear whether the kingdom can still call itself united.
The referendum was ostensibly about membership of the European Union. But voters took it to be asking a different question: what kind of country do you want Britain to be?
Yesterday seemed to offer a fork in the road: one path (Remain) promised it would lead to a modern world of opportunity based on interdependence; the other (Leave) was advertised as a route to an independent land that would respect tradition and heritage.
Which path people took depended on the prism through which they saw the world.
---
Britain is set to be the first country to leave the EU since its formation – but the Leave vote does not immediately mean Britain ceases to be a member of the 28-nation bloc.
That process could take a minimum of two years, with Leave campaigners suggesting during the referendum campaign that it should not be completed until 2020 – the date of the next scheduled general election.
Once Article 50 has been triggered a country can not rejoin without the consent of all member states.
Mr Cameron previously said he would trigger Article 50 as soon as possible after a Leave vote but Boris Johnson and Michael Gove who led the campaign to get Britain out of the EU have said he should not rush into it.
They also said they wanted to make immediate changes before the UK actually leaves the EU, such as curbing the power of EU judges and limiting the free movement of workers, potentially in breach of the UK's treaty obligations.
The government will also have to negotiate its future trading relationship with the EU and fix trade deals with non-EU countries.
In Whitehall and Westminster, there will now begin the massive task of unstitching the UK from more than 40 years of EU law, deciding which directives and regulations to keep, amend or ditch.
The Leave campaign argued during a bitter four-month referendum campaign that the only way Britain could "take back control" of its own affairs would be to leave the EU.
Leave dismissed warnings from economists and international bodies about the economic impact of Brexit as "scaremongering" by a self-serving elite.
**********
The UK's biggest export is manufactured goods, while Ireland's is computers.
This is according to the Transforming World Atlas report by the Bank of America Merill Lynch.
The map acts as a reminder of the global economic dependence on oil, as the swathes of dark blue on the map attest to.
Some of the most important exports to countries are very obvious, such as coffee in Guatemala, whereas some are a little surprising to the trade novice, such as precious stones in India.
Canada's biggest exports are to do with cars, while Greenland and Iceland make their business in fish.
South America sees a mix of agricultural products, natural resources and machinery and transport equipment.
European markets are primarily based around machinery, while Asia and Africa have economies based around natural resources.
http://indy100.independent.co.uk/ar…d-on-every-countrys-major-export–W1r4WpVgwUb