GOP Senators Hand Control of Your Data to ISPs
The rule requires ISPs to get consent before they sell sensitive consumer data. Republican Senators and FCC members say it's unnecessary and harmful to ISPs.
Internet service providers could have an easier time selling their customers' data thanks to a Senate vote on Thursday that overturns a Federal Communications Commission rule requiring ISPs to get permission before selling consumer browsing history and other data.
The Senate voted along party lines to repeal the rule, with 50 Republicans voting yes and 48 Democrats rejecting the measure, Reuters reports. It was unclear when the measure will be up for a vote in the House of Representatives, although President Donald Trump is likely to sign it if it's successful there.
Senate Majority Leader Mitch McConnell said the Senate was overturning a regulation that "makes the internet an uneven playing field, increases complexity, discourages competition, innovation, and infrastructure investment," according to Reuters. The Internet and Television Association, a trade group made up of Comcast and many other ISPs, also hailed the vote.
The move comes after the FCC, now headed by Trump-appointed chairman Ajit Pai, blocked a rule put in place by the previous administration that would requires ISPs to obtain opt-in consent before sharing sensitive data like Social Security numbers, geolocation, health information, and web browsing history. Pai announced earlier this month that the FCC would stay the implementation of the new rule, describing it as "not consistent" with the privacy framework of the Federal Trade Commission.
In a joint statement following Thursday's Senate vote, FCC commissioner Mignon Clyburn and FTC commissioner Terrell McSweeney, both Democrats, condemned the legislation.
"This legislation will frustrate the FCC's future efforts to protect the privacy of voice and broadband customers," they said. "It also creates a massive gap in consumer protection law as broadband and cable companies now have no discernible privacy requirements."
The American Civil Liberties Union also voiced its opposition, with ACLU Legislative Counsel Neema Singh Guliani saying in a statement that it was "extremely disappointing that the Senate voted today to sacrifice the privacy rights of Americans in the interest of protecting the profits of major internet companies."
Also, as the ACLU notes, "passage of the resolution by Congress could prevent the FCC from issuing rules that are substantially the same in the future."
 **********
30+ YouTube Channels To Learn Programming
Tuesday, 22 September, 2015
With many fantastic online resources, especially video tutorials, learning to code by yourself has never been easier.
But while some channels are great, other might be a waste of your time. Moreover, some are great sources of useful tips and tricks for beginners, and some others are best for learning PHP or Java.
We created the list of the top channels based on the quality of content, views, and subscriptions.
With almost one million subscribers, the channel has an immense collection of programming tutorials, covering different programming topics, game development, Android development, design, and more. All videos are free and easy to follow and catch up to.
Check out the React JS tutorial for beginners to see their teaching style.
SlideNerd is a great resource for both professionals and beginners. It covers all sort of programming topics:  Java, JavaScript, Python, Android, iOS, Swift, all easy to follow and understand.
LevelUpTuts releases videos twice a week for front-end web developers. It teaches HTML5, Stylus, CSS, Sass, CMS (WordPress, Drupal, Magento), AngularJS, Meteor, and more design topics.
Treehouse provides a rich library of videos that offer in-depth and high-quality training in HTML, CSS, JavaScript, User Experience, Ruby, PHP, WordPress, iPhone and Android applications and tech business in general.
The channel focuses mainly on PHP, but it also explores CSS, Sass, Node.js, Laravel, and MySql. Codecourse has many videos on small projects, which are very useful for beginners.
Google Developers channel offers reports, reviews, tutorials, lessons, talks, and best practices about Android, Chrome, Web Development, Polymer, Performance, iOS and more relevant topics. You will also learn and get the latest news on Google services and technologies around mobile, the, web and the cloud.
Many great, clear, focused and easy to follow tutorials you will find on Will Stern's web development channel. There are especially great web development tutorials for beginners.
With LearnCode.academy you can quickly learn Node.js, Angular.js, Backbone.js, Deployment Strategies, HTML, CSS, JavaScript, Sublime Text, CSS Layouts, Responsive Design, Server Administration, Deployment Strategies, and more.
While the focus is on web design (CSS and HTML), Chris Coyier's channel also covers jQuery, PHP, MySQL, and other things that are not only useful to web designers but developers as well.
Coder's Guide offers videos on topics such as HTML web development, .net programming with Visual Basic, JavaScript, CSS, WordPress, RWD, and Bootstrap.
Apart from great game development tutorials, the channels also offer tutorials on Javascript, PHP, Android app development, HTML5, software engineering, and design.
easydevtuts is another interesting channel to help you to stay up to date with the latest trends in web development and design. The videos are to the point; without long or confusing explanations. You will find many Bootstrap and Sass tutorials.
Programming tutorial covers C++ programming, Java programming, Android Application Development, Data Structure, VB.Net, MySQL. It also provides great videos for beginners.
Programming is fun, this might be the main idea behind these tutorials. Browse the videos, and you will find interesting, easy to follow, basic and advanced, tutorials on PHP, MySQL, JavaScript, jQuery, Photoshop, Illustrator, and other programming topics.
The channel provides lessons on WordPress, RWD, HTML, CSS, JavaScript, jQuery. Tutorials here are especially useful and easy to follow for those who want to learn WordPress.
Code School is a well know online learning source for developers and designers. Their YouTube channel covers JavaScript, HTML/CSS, Ruby and iOS.
To teach is to learn, that is the idea behind kudvenkat channel. The channel covers  ASP.NET, C#, SQL Server, AJAX, WCF, JQuery, SSIS, SSAS, and SSRS. If you are interested in Microsoft.NET technologies, this is the place to go to and start learning.
DevTips is a good channel for web designers who want to improve their skills and a useful place for web developers as you can find great videos and tutorials on CSS, HTML5, RWD, and more. You might also find interesting videos related to IT businesses, entrepreneurship, career, personal growth and interviews with famous web designers and developers.
Derek covers a broad range of topics, but for beginners, there are extensive guides on PHP, Java, MySQL, web services, and other related topics. This channel has a lot of videos dedicated to Android development as well. You can also contact him and ask him to cover one particular aspect of web design as he takes requests from his followers.
Mike has over 15 years of web design experience, and he offers creative videos on front-end web development (HTML/CSS), UX design, as well as brand development, internet marketing, social media marketing, SEO, video marketing, concepts and traditional print design among other things. His channel is a great place to go to and further expand your skills once you master the coding basics.
In short, Quentin Watt teaches you web design and development. With his tutorials, you can learn jQuery, HTML5, CSS3, PHP, Bootstrap, and more.
For Ruby on Rails, CakePHP, and Laravel, visit Andrew Perk's channel. He can teach you the basics but also more "complicated" tricks. It's great source of tutorials on how to implement blogs in different frameworks.
Adam's videos cover a wide variety of topics but mostly focus on JavaScript, PHP, SQL, HTML, CSS, and ActionScript and more practical aspects of web design. Videos are informative, each focusing on a different skill and ability level, which is ideal for beginners.
You can also check out these channels for more useful tutorials:
WebDevMentors – Python, Bootstrap
Michiel Wouters – ASP.net, PHP
livelessons – NodeJS, Python, AngularJS
Source Decoded – JavaScript
Wiredwiki– Bootstrap, HTML5, CSS, Python
Helping Develop – PHP, jQuery, HTML, CSS
AbdulKhan – PHP, JavaScript, SEO, jQuery
mjdwebdesign – CSS, HTML, JavaScript
TheDigiCraft – PHP, HTML5, and CSS
pfltuts – web design
**********
Tiny Device Allows You To Track Your Vehicle Using Your Smartphone
October 14, 2016 at 11:17 am EDT | Sponsored by Trackr
TrackR. It is a state-of-the-art tracking device the size of a quarter. It's changing the way we keep track of the important things in our lives.

How Does it Work?
It's easy! Install the free TrackR app on your smartphone, connect the app to your device and you're ready to go! Simply attach TrackR to whatever you want to keep tabs on. The entire process of setting it up only takes 5 minutes or less.
You can attach it to your keys, briefcase, wallet, your latest tech gadgets and anything else you don't want to lose. Then use the TrackR app to locate your missing item in seconds.
"This device has saved me tons of time and money!"
Forget expensive GPS systems or tracking services. Nobody wants to pay expensive monthly subscription fees. We understand how stressful these things can be, and this is the reason why TrackR was created. This device is your VIP when you need to take care of more important things in life.
Remember the car scenario above? If you have the TrackR, you can just hide it under your car's floor mat, in the trunk or in the glove compartment. Somewhere it won't be found if your car gets stolen.
If you forget where you parked your car, whip out your smartphone and open the TrackR app. Tap on the "lost item" icon on the screen and the app will tell you the exact coordinates of the last known location of the TrackR.

With TrackR you'll gain peace of mind, knowing you can find your car quickly.
**********
Weeping Angel
The organization released thousands of documents it claims show how the US spy agency can crack open devices from Apple, Samsung, Google and Microsoft.
WikiLeaks says it's released thousands of documents showing the CIA's secret hacking tools that the agency can use to break into our phones, cars, computers and smart TVs.
The organization, which has published everything from US diplomatic cables to Hillary Clinton's campaign chairman's emails, on Tuesday posted the documents under the name "Vault 7." The documents could potentially reveal the agency's most important hacking techniques used to penetrate systems around the world. CNET is unable to verify if the documents are real or have been altered.
"We do not comment on the authenticity or content of purported intelligence documents," CIA spokesman Jonathan Liu said in an email.
If true, the leaks provide a glimpse into just how much access the CIA has into your life — thanks to the gadgets you carry around all day. The magnitude of the hacking tools are jaw-dropping; the documents suggest the agency was able to break into the underlying operating systems running iPhones, Android phones and Windows and Linux computers. That means it had access to data stored on the device, and even encrypted messages sent through popular services like WhatsApp, Signal and Telegram.
WikiLeaks has a long track record of releasing top secret government documents, and experts who've started to sift through the material said it appears legitimate, CBS News reported. Yet it's unclear whether these programs are still running or whether they affect the latest versions of each operating system.
These leaks come after more than a year of debate over government investigators accessing consumer devices. Frustrated at not being able to access encrypted information — which is scrambled and unreadable without a password — the government can purchase or develop its own hacking tools that get around encryption by unlocking devices.
This debate took off when the US Department of Justice sought to require Apple to help it open an encrypted iPhonebelonging to one of the San Bernardino shooters. After Apple fought back in court, the FBI said it had obtained another way to access the phone.
If the CIA could break into a phone's operating system, it wouldn't have to break the encryption; it would simply gain the same access to messages that regular users would have when unlocking a phone or computer.
Apple, Google and Motorola declined to comment on WikiLeaks' claims. Samsung didn't respond to a request for comment.
"We're aware of the report and are looking into it," a Microsoft spokesman said in an email.
Signal said it wasn't about messaging apps.
"The CIA/Wikileaks story today is about getting malware onto phones, none of the exploits are in Signal or break Signal Protocol encryption," said Moxie Marlinspike, the founder of Signal. "This story isn't about Signal or WhatsApp, but to the extent that it is, we see it as confirmation that what we're doing is working."
Telegram said on its website that the problem lies with operating systems and not encrypted messaging apps and that naming specific encrypted services is "misleading." WhatsApp declined to comment.
Edward Snowden, the former NSA contractor who leaked documents detailing NSA spy programs to journalists in 2013, wrote about the WikiLeaks documents Tuesday on Twitter. He said hacking the operating system is actually "worse" than hacking encrypted messaging services like WhatsApp.
The hacking tools described by WikiLeaks go beyond merely opening encrypted devices. The WikiLeaks press release says the documents show the CIA developed tools to turn Smart TVs into listening devices with a tool called "Weeping Angel," and sought to find ways to hack the control systems in internet-connected cars.
Like something out of a spy movie, other colorful codenames include "Brutal Kangaroo," a system to hide data images, or "Hammer Drill," which infects software distributed on CDs or DVDs. Other codenames include references to Pokemon.
WikiLeaks said the CIA had also "hoarded" vulnerabilities in the software run by tech giants like Apple and Microsoft, staying quiet about exploits so the agency could retain backdoor access.
WikiLeaks claims the leaks come from a high-security CIA network in Langley, Virginia. The US spy agency appears to have targeted computers, phones and smart TVs, according to CBS News.
WikiLeaks said in a tweet that the CIA showed "negligence" in not protecting the very information it was publishing.
https://www.cnet.com/news/wikileaks-cia-hacking-tools-phones-apple-samsung-microsoft-google/
**********
Several smartphone companies have tried making phones that can 'dock' to become desktop PCs. Microsoft has developed Continuum for Windows 10 Mobile, and Ubuntu Linux has Convergence. Now Samsung is giving it a shot, with the S8's 'DeX' desktop environment.
DeX works just like other solutions – just plug the S8 into the DeX dock, and connect a keyboard, mouse, and HDMI display. The phone then becomes a desktop computer, running Android apps in separate resizable windows. Any app compatible with either Android Nougat's multiwindow API or Samsung's old multiwindow solution should work.
Samsung is hoping businesses will adopt DeX, with the company working with Microsoft and Adobe to make their apps fully compatible. I'm not really sure how many regular consumers will actually want it, but the dock will be available globally once the S8 is released.
SEOUL, Korea – March 29, 2017 – Samsung Electronics Co., Ltd. announced Samsung DeX, designed to improve productivity for mobile professionals while reducing the need to carry multiple computing devices. Compatible with the Galaxy S8 and S8+, Samsung DeX provides an Android-based desktop-like experience that enables users to seamlessly access apps, edit documents, browse the web, watch videos, reply to messages and more, directly from the smartphone on a larger display, keyboard and mouse.
Samsung DeX provides the ultimate productivity environment. It's completely redesigned Android UI is optimized for use with a keyboard and mouse and includes multiple resizable windows, contextual menus and a desktop version Web browser. Key collaborations with Microsoft and Adobe enable Samsung DeX compatibility with Microsoft Office and Adobe mobile apps, including Adobe Acrobat Reader mobile and Lightroom Mobile, allowing desktop-like functionality and a user interface previously unavailable from a smartphone. For those mobile professionals and organizations that require access to Windows OS-based applications, Samsung DeX also allows users to remotely and securely access virtual desktops through partner solutions including Citrix, VMware and Amazon Web Services.
To start working, users simply insert their Samsung smartphone into the DeX Station, which connects the smartphone to an HDMI compatible monitor, and connect to any Bluetooth-enabled, USB or RF-type keyboard and mouse.
"The smartphone has become the central point for the modern mobile professional, and when giving a presentation or editing documents remotely, it means they can work effectively using just their smartphone. We developed Samsung DeX with the highly mobile worker in mind, giving them a convenient and flexible desktop experience," said Injong Rhee, CTO of the Mobile Communications Business at Samsung Electronics. "Our collaboration with key partners such as Adobe and Microsoft was essential in the development of Samsung DeX, as they share our vision for building excellence in mobile productivity. With Samsung DeX, enterprise users can also be assured their smartphone and data are protected by the Samsung Knox security platform built into the smartphone. Samsung DeX redefines what a smartphone can do to keep mobile professionals productive."
The DeX Station provides the connectivity professionals need, including two USB 2.0, Ethernet, USB type-C power-in and a cooling fan. The DeX Station also features Adaptive Fast Charging (AFC) technology to charge your Samsung smartphone quickly while connected. The DeX Station will be available globally with the Galaxy S8 and S8+ and may be offered as a packaged bundle depending on region.
About Samsung Electronics Co., Ltd.
Samsung inspires the world and shapes the future with transformative ideas and technologies. The company is redefining the worlds of TVs, smartphones, wearable devices, tablets, digital appliances, network systems, and semiconductor and LED solutions. For the latest news, please visit the Samsung Newsroom at http://news.samsung.com.
**********
10 Best Wi-Fi Hacking Apps For Android
Hacking, which was once considered the exclusive domain of the "experts" has become very common phenomenon with the rise of technology and advancements in the mobile field. Android phones are most popular because of the availability of millions of apps in market. But is it possible to hack Wi-Fi using Android smartphone? Yes, it is possible!
Android smartphones can run penetration testing and security test from hacking Android apps. With the help of a few applications and basic knowledge of the true capabilities of your Android smartphone, you, too, could dig into the world of hacking.
In this article, we have discussed some of the best wifi hacking apps for android smartphone. However, these apps will work only in rooted Android.
NOTE: Please note that the apps below allow you to hack your Wi-Fi network for testing purpose. DO NOT TRY HACKING other networks as this may be illegal in your country and you could be jailed for the offence.
WPS Connect is one of the best Wi-Fi hacking apps for android smartphones that are rooted . With this WPS Connect application, you can disable other user's internet connection on the same Wi-Fi network and can also easily hack any WPS secured Wi-Fi password. This app works with almost all routers. Just download this app in your smartphone and search for Wi-Fi signal. You can also view saved Wi-Fi password from this Android app.
Note: This app only works with WPS security enabled Wi-Fi.
This open source ethical hacking app is one of the most popular ones in this field. Similar to the net cut app in Windows, this app is capable of cutting off anyone's Wi-Fi over your network. Wi-Fi Kill is extremely useful when you have an open Wi-Fi not protected by a strong password. You can cut off the Wi-Fi of the intruder by just a few clicks on your device. This app is easy to use owing to its lucid and interactive interface and easy-to-use tools. Using this app, you can also see what other user is browsing and downloading in your Wi-Fi network.
WIFI WPS WPA Tester works on normal Android smartphones, if you want to just connect a WPS/WPA enabled Wi-Fi network without knowing the password. If you have a rooted Android smartphone, then you can view the hacked password.
Nmap is a popular network security scanner, which is also available for android devices. It is used by professionals for network exploration. It works on both non-rooted and rooted phones. However, if your device is rooted then you have access to some more features. You can download this app for your Android device. This app allows you to scan networks for finding ports and system details.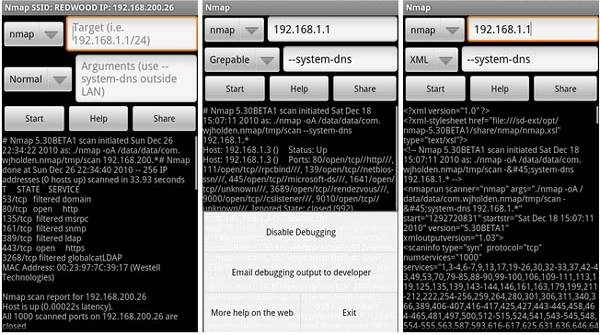 Wi-Fi Finder is a free app that has an online and offline directory of over 500,000 different hotspot locations in 144 different countries. The app relies on users submitting their local hotspot locations to a central Wi-Fi Finder server, it then stores and relays all its Wi-Fi information to all of its app users. It can view Wi-Fi hotspot detail, call location, get directions or share the hotspot, Filter results by location (cafe, hotel, etc.) or provider type, Scan for Wi-Fi hotspots around you.
Note: This app doesn't work with every router. You can hack only WPS and WPA secured wifi network.
Fing is a network discovery tool that will find how many users and devices are currently connected to your Wi-Fi network. It also offers several networking utilities such as Ping, DNS Lookup and trace route—all which can be used for troubleshooting and analyzing connection issues or to ferret out anything connected to your network that shouldn't be. You can also check every device's MAC address and his vendor name.
Arpspoof is an open source tool for network auditing originally written by Dug Song as a part of his dsniff package. It redirects packets on the local network by broadcasting spoofed ARP messages. Arpspoof displays the packets that the victims are sending to the device, but it doesn't save them. This app redirects traffic on the local network by faking ARP replies and sending them to either a specific target or all the hosts on the local network paths.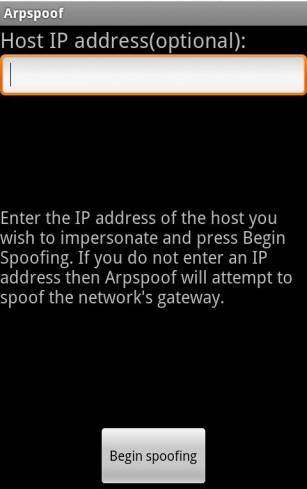 Network Spoofer lets you change websites on other people's computers from an Android smartphone. After downloading, simply log onto a Wi-Fi network, choose a spoof to use and press start. Even though this is not exactly a penetration testing tool, it can still show you how easy or difficult it is to hack a particular network with your Android.
Wi-Fi Inspect is a multi-tool intended for Computer Security professionals and other advanced users that wish to monitor the networks they own or have permission, i.e. the app is a security audit tool and not a hacking too.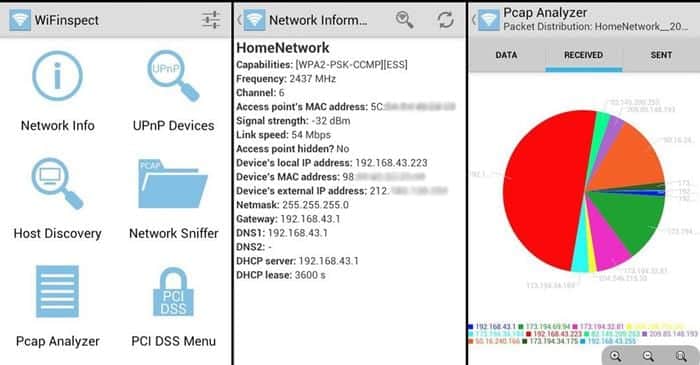 Wi-Fi You is a powerful app that collects millions of Wi-Fi passwords shared by end users worldwide and stores & distributes them from our cloud server for you to enjoy free network and traffic saving. It will be your Wi-Fi key and will automatically find all available Wi-Fi networks nearby. With one single click, you can connect to the free Wi-Fi.
https://www.techworm.net/2016/12/top-10-best-wi-fi-hacking-apps-android.html
**********
The syringe slides in between the thumb and index finger. Then, with a click, a microchip is injected in the employee's hand. Another "cyborg" is created.
What could pass for a dystopian vision of the workplace is almost routine at the Swedish start-up hub Epicenter. The company offers to implant its workers and start-up members with microchips the size of grains of rice that function as swipe cards: to open doors, operate printers or buy smoothies with a wave of the hand.
The biggest benefit, I think, is convenience," said Patrick Mesterton, co-founder and chief executive of Epicenter. As a demonstration, he unlocks a door merely by waving near it. "It basically replaces a lot of things you have, other communication devices, whether it be credit cards or keys."
The technology itself is not new: Such chips are used as virtual collar plates for pets, and companies use them to track deliveries. But never before has the technology been used to tag employees on a broad scale. Epicenter and a handful of other companies are the first to make chip implants broadly available.
And as with most new technologies, it raises security and privacy issues. Although the chips are biologically safe, the data they generate can show how often employees come to work or what they buy. Unlike company swipe cards or smartphones, which can generate the same data, people cannot easily separate themselves from the chips.
"Of course, putting things into your body is quite a big step to do, and it was even for me at first," said Mesterton, saying he initially had his doubts.
"On the other hand, I mean, people have been implanting things into their body, like pacemakers and stuff to control your heart," he said. "That's a way, way more serious thing than having a small chip that can actually communicate with devices."
Epicenter, which is home to more than 100 companies and roughly 2,000 workers, began implanting workers in January 2015. Now, about 150 workers have the chips. A company based in Belgium also offers its employees such implants, and there are isolated cases around the world in which tech enthusiasts have tried them out in recent years.
The small implants use near-field communication technology, or NFC, the same as in contactless credit cards or mobile payments. When activated by a reader a few inches away, a small amountof data flows between the two devices via electromagnetic waves. The implants are "passive," meaning they contain information that other devices can read, but cannot read information themselves.
Ben Libberton, a microbiologist at Stockholm's Karolinska Institute, says hackers could conceivably gain huge swaths of information from embedded microchips. The ethical dilemmas will become bigger the more sophisticated the microchips become.
"The data that you could possibly get from a chip that is embedded in your body is a lot different from the data that you can get from a smartphone," he says. "Conceptually, you could get data about your health, you could get data about your whereabouts, how often you're working, how long you're working, if you're taking toilet breaks and things like that."
Libberton said that if such information is collected, the big question remains of what happens to it, who uses it and for what purpose.
So far, Epicenter's group of cyborgs doesn't seem too concerned.
"People ask me, 'Are you chipped?' and I say, 'Yes, why not?'" said Fredric Kaijser, the 47-year-old chief experience officer at Epicenter. "And they all get excited about privacy issues and what that means and so forth. And for me it's just a matter of I like to try new things and just see it as more of an enabler and what that would bring into the future."
Epicenter workers stage monthly events where attendees can receive the implant.
That means visits from self-described "body hacker" Jowan Osterlund from Biohax Sweden who performs the "operation."
He injects the implants — using pre-loaded syringes — into the fleshy area of the hand, just next to the thumb. The process lasts a few seconds, and more often than not, there are no screams and barely a drop of blood. "The next step for electronics is to move into the body," he says.
Sandra Haglof, 25, who works for Eventomatic, an events company that works with Epicenter, has had three piercings before, and her left hand barely shakes as Osterlund injects the chip.
"I want to be part of the future," she laughs.