Gravitational waves
One hundred years ago Albert Einstein in his general theory of relativity predicted the existence of a dark side to the cosmos. He thought there were invisible "gravitational waves", ripples in space-time produced by some of the most violent events in the cosmos – exploding stars, colliding black holes, perhaps even the Big Bang itself. For decades, astronomers have gathered strong corroborative evidence of the existence of these waves, but they have never been detected directly – until now. They were the last part of the general theory still to be verified.
Astronomers have used light to study the universe with optical telescopes for hundreds of years. We have expanded that view hugely since the middle of the 20th century, by building detectors and instruments sensitive to all the forms of what physicists mean by light: the electromagnetic spectrum, from gamma rays to radio. Yet the discovery of gravitational waves represents our first steps into studying the universe through the gravitational-wave spectrum, which exists independently from light, probing directly the effects of gravity as it spreads across the cosmos. It is the first page in a whole new chapter for astronomy, and science.
How we made the discovery
The discovery dates back to last September, when two giant measuring devices in different parts of the US called LIGO (Laser Interferometer Gravitational-Wave Observatory) caught a passing gravitational wave from the collision of two massive black holes in a faraway galaxy. LIGO is what we call an interferometer, consisting of two 4km "arms" set at right angles to each other, protected by concrete tubes, and a laser beam which is shone and reflected back and forth by mirrors at each end.
When a gravitational wave passes by, the stretching and squashing of space causes these arms alternately to lengthen and shrink, one getting longer while the other gets shorter and then vice versa. As the arms change lengths, the laser beams take a different time to travel through them. This means that the two beams are no longer "in step" and what we call an interference pattern is produced – hence the name interferometer.
The changes in the length of the arms are actually tiny – roughly one million millionth the width of a human hair. This is because the signal from a gravitational wave from far out in the cosmos is mind-bogglingly small by the time it reaches us. As if detecting this were not difficult enough, all manner of local disturbances on Earth make it worse, from the ground shaking to power-grid fluctuations; and instrumental "noises" that could mimic or indeed completely swamp a real signal from the cosmos.
To achieve the astounding sensitivity required, almost every aspect of the LIGO detectors' design has been upgraded over the past few years. We at the University of Glasgow led a consortium of UK institutions that played a key role – developing, constructing and installing the sensitive mirror suspensions at the heart of the LIGO detectors that were crucial to this first detection. The technology was based on our work on the earlier UK/German GEO600 detector. This turned LIGO into Advanced LIGO, arguably the most sensitive scientific instrument ever, to give us our first direct glimpse of the dark universe.
A long time ago …
What a glimpse it was. The two black holes that collided were respectively about 29 times and 36 times the mass of our sun (shown in the computer visualisation below). It is incidentally the first direct evidence that black holes exist, can exist in a pair, and can collide and merge. Comparing our data with Einstein's predictions allowed us to test whether general relativity correctly describes such a collision – they passed with flying colours.
The black-hole collision

The merger occurred more than one billion light years from Earth, converting three times the mass of the sun into gravitational wave energy. In a fraction of a second, the power radiated through these waves was more than ten times greater than the combined luminosity of every star and galaxy in the observable universe. This was a truly cataclysmic event a long time ago in a galaxy far, far away. In Star Wars Darth Vader tells us not to "underestimate the power of the dark side". This amazing discovery shows how right he was.
Of course our discovery isn't just about checking if Einstein was right. Detecting gravitational waves will help us to probe the most extreme corners of the cosmos – the event horizon of a black hole, the innermost heart of a supernova, the internal structure of a neutron star: regions that are completely inaccessible to electromagnetic telescopes.
Could we ever harness gravitational waves for practical applications here on Earth? Could new insights about the dark universe help us, perhaps in the far future, not just to measure gravitational fields but to manipulate them, as imagined in the space colonies and wormholes of Christopher Nolan's Interstellar? That is much harder to predict, but the lesson of history is that new phenomena we discover and explore frequently lead to disruptive technologies that come to underpin our everyday lives. It might take a few centuries, but I am confident the same will be true with gravitational waves.
http://www.rawstory.com/2016/02/gra…tury-heres-how-it-happened-and-what-it-means/
**********
In-Ear Device That Translates Foreign Languages In Real Time
he creator says he came up with the idea when he met a French girl
http://www.waverlylabs.com/2016/05/faqs-about-early-bird-and-launch-date/
1. How much will it cost?
Retail is expected to be $249-$299
2. How much is the early bird?
Early bird will be first come first serve. A limited quantity will go for $129, then another round for $149, and then a few more Late Early Bird options for $179+. Signup here:
3. When can I preorder the Pilot?
The preorder campaign is scheduled to launch on May 25th. We will keep everyone updated via email. As long as you have signed up for the launch then you will be alerted.
4. When will they be delivered?
We are releasing a translation app this summer for basic translation. This is included in your purchase. However, the earpieces require much more testing, manufacturing and production time. Therefore, we anticipate the earliest will be in late fall/early winter, although fulfilling all orders could take until next spring. Again, it is first come first serve.
5. What's included?
The full package includes the Pilot and secondary earpiece (2 earpieces total), 1 portable charger, and an accompanying app. The app is where the languages are downloaded for the earpiece.
6. What languages will be supported?
We are first introducing latin/romance languages this summer (English, Spanish, French, Italian, etc), however additional languages will be available very soon after, including East Asian, Hindi, Semitic, Arabic, Slavic, African, etc.
NOTE: Additional language packs will be available for a premium fee, however ALL early adopters who order during our launch campaign on May 24th – 25th will always receive these new language packs FREE.
7. Will it translate for my dialect?
Every language has various dialects and the earpiece is designed to translate common dialects, although thick accents could disrupt this.
8. How does it work?
The first generation works only when you are speaking to someone who also has an earpiece. That is why the package comes with two earpieces. Future generations of the earpiece will be updated to listen to EVERYTHING happening around you, not just the person you are talking to.
9. What if the other person doesn't have an earpiece?
The app can be used on their phone, but of course, the whole purpose of an earpiece is to have the face-to-face interaction without having to use a phone like a zombie!
10. Does it work offline?
Yes it is designed to work offline for overseas use.
**********
T-Mobile is continuing its 'un-carrier' shtick with a stock handout, Frostys and other freebies
http://www.recode.net/2016/6/6/11867962/t-mobile-uncarrier-promotion
After years of lashing out at rivals, you might think T-Mobile chief John Legere would be getting tired, or at least hoarse.
Nope.
On Monday, Legere is taking fresh aim at the rest of the industry, announcing the 11th in its series of "un-carrier" moves. T-Mobile is set to announce its latest in a webcast at 10 am PT, and we'll update things as it does. (Update: There is more below but in a nutshell, T-Mobile is giving postpaid customers a free share of stock and offering both prepaid and postpaid customers weekly freebies each Tuesday, including free pizza, Vudu movie rentals and Wendy's Frostys.)
While there is more than a little gimmick involved in the un-carrier campaign, there have also been some significant game changers among the initiatives that T-Mobile has unleashed.
Here are three that stand out:
The first was T-Mobile's move in October 2013 to offer far cheaper global roaming for those traveling abroad. Calling became cheaper, texting free and data unlimited, albeit capped at slow 2G speeds. Still, that meant that those without a massive budget could afford to take their phone on overseas trips without being forced into airplane mode.
The next significant move, in June 2014, was to offer unlimited streaming music from services like Spotify, without having to tap into one's high-speed data limit.
Third, there was last year's Binge On promotion, which offers unlimited video streaming from a number of services. This one has a catch, though. Users have to agree to limit the quality of their video streams in exchange for not having services like Netflix and Hulu count toward their data cap.
T-Mobile has faced some criticism over Binge On, both for not making things clear enough and among some net neutrality advocates who fear that making certain services free creates winners and losers. T-Mobile has made tweaks to Binge On to make it easier to turn off the service.
The efforts have paid off for T-Mobile, which has garnered nearly all of the growth in the industry for core smartphone subscribers in the past couple of years, with AT&T and Verizon posting gains only by adding tablets and other connected devices.
And let's not forget the move that started it all: T-Mobile's March 2013 announcement that it was doing away with two-year contracts and subsidized phones.
If you want to watch the event live, it's here. Otherwise, we will bring you the highlights.
Update,10 am: "We're not slowing down," Legere said, kicking things off from the company's location in New York City's Times Square.
Legere said this un-carrier stuff is all about thanking the company's customers who have helped it double in size.
He's going on a tirade against rewards points systems. (AT&T announced a new rewards system last week.)
"We just want to say 'Thank you,'" he said. "I'm going to thank you like you've never been thanked before."
10:06 am: Every Tuesday, customers can use an iOS and Android app to get things like a free Vudu movie rental, a free Wendy's Frosty and a free Domino's pizza as well as a surprise gift each week.
This week's "surprise" is a free ticket to the movie "Warcraft."
Other carriers want to screw you, Legere says with his typical brashness, while T-Mobile is offering dinner and a movie.
There are two more announcements coming.
10:10 am: T-Mobile is giving its customers stock in the company, with each primary postpaid account holder getting one share. "I'm turning customers into owners."
No publicly traded company has done this, Legere says.
Those who recommend T-Mobile can get more stock. For every friend who opens an account, customers get another share (up to 100 shares a year.)
And he takes aim at Sprint, saying this isn't like that other company's stock, which is trading at 50 cents. (For the record, Sprint shares are at $3.76; T-Mobile's stock is at $43.41)
10:15 am: T-Mobile operating chief Mike Sievert comes out to explain the third "thank you" and talk about specifics for the previous options. The Tuesday promotion applies to T-Mobile-brand customers who are prepaid or postpaid and requires a one-time validation.
"We're not asking you to spend more in any way," Sievert said.
The stock applies to postpaid accounts and goes to primary account holder, he said. Customers do have to sign up for a brokerage account, but he said there are no fees for selling or transferring the share in the first year.
"You do have to claim it to get it," he said, which also happens in the new app.
10:18 am: Promotion No. 3 is a free hour of Gogo Wi-Fi service on every domestic flight, an expansion of a current offer that gives customers free texting. T-Mobile is also adding unlimited messaging on services like WhatsApp, iMessage and Google Hangouts.
10:19 am: And that's it for the webcast. But Legere and Sievert are talking to the media in a bit.
10:51 am: Update from the media call.
First, a couple quick clarifications. All the "thank you" offers apply to T-Mobile-brand customers, not to those on T-Mobile's MetroPCS brand. The stock is only for postpaid customers.
Legere clarified that a key goal of the latest moves is to keep customer churn low.
Companies in the cellphone business spend a fortune trying to sign up new customers and lure away the best customers from rivals.
Asked what the focus is this year, Legere said the No. 1 focus is continuing to improve the network and bidding in the upcoming FCC spectrum auction.
The company is also thinking about next-generation 5G networks and Internet-of-Things devices, but he said most of the talk from rivals is rhetoric.
"Unlike the others, we never lose sight of the core of what we do," he said.
As for the pizza, movie and other promotions, Legere and Sievert said that in some cases T-Mobile is buying the rewards and in others the partners are providing them. In no cases, though, is the company sharing customer data, they said.
10:56 am: T-Mobile clarified that its brokerage partner, Loyal3, is buying shares on the open market and that T-Mobile is not itself issuing new shares (which would dilute current stock ownership).
10:58 am: Asked about potential merger and acquisition activities, Legere noted that historically the U.S. market has been segmented and divided by wired and wireless, telecom and cable, whereas customers don't see things that way.
"Customers want to use all of the infrastructures together in a seamless way," he said, adding he expects to see consolidation over time and sees T-Mobile as a potential partner or merger candidate with a cable company.
11:02 am: Legere lashed out at the rewards program AT&T introduced last week, saying it looked like something created by a hastily convened task force aiming to get ahead of T-Mobile's announcement.
"They proved my point that loyalty programs are broken," he said. "I just want to thank them."
11:04 am: CFO Braxton Carter said the company isn't raising its expectations for customer additions for the year, saying it anticipated this effort when it offered its projections for the year.
11:07 am: As for 5G, Legere said that things have already hit the point of ridiculousness, saying Verizon "got caught with their pants down" on network issues and is using 5G to deflect attention.
Network chief Neville Ray added that consumer 5G cell service remains a 2019 or 2020 issue for the industry. What AT&T and Verizon are really talking about is either fixed wireless service to compete against home broadband or other things that come before true 5G cell service.
"We're not behind anybody," Ray said. "We have our own trials and testing work. They have nothing unique."
11:08 am: Asked about Sprint hiring Verizon's former pitchman, Legere addressed his comment to Sprint CEO Marcelo Claure.
"Marcelo, he's an actor and he hasn't acted for a long time," Legere said. "I was thinking we could get former Sprint CEO Dan Hesse to do an ad."
**********
The truth about solar-powered energy
**********
10 Things we have heard and re-told but are completely false
**********
IoT for Small Business: Effects, Opportunities & Platforms
Business Insider Intelligence Exclusive: The data provided here is an excerpt from the Internet of Things Report, a comprehensive report that covers the market trends in the IoT industry. For complete analysis, learn more about BI Intelligence and the IoT Report.
Shardayyy/Flickr
The Internet of Things is poised to change how we live and work as more devices across the glove become connected.
BI Intelligence, Business Insider's premium research service, expects that there will be more than 24 billion connected devices on Earth by 2020 — approximately four devices for every human being on the planet.
And as the IoT expands, it will have a particularly profound effect on businesses, especially small businesses. Several IoT business opportunities will be created in the coming years as we head into an increasingly connected world.
Below, we've compiled a detailed rundown of new IoT business platforms and the potential those platforms will create in the near future.
Effects of IoT on Small Businesses
Businesses will be the top adopter of IoT solutions in the next few years. And this will create tremendous benefits for the businesses that choose to wholeheartedly embrace this growing trend, as there are three ways the IoT can improve their bottom line: 1) reduce operating costs; 2) increasing productivity; and 3) expanding to new markets or developing of new product offerings.
BI Intelligence expects that from 2015 to 2020, business investments in the IoT will grow from $215 billion to $832 billion. This is just one slice of the overall pie, as compounded, we project more than $6 trillion will be spent on IoT solutions between 2015 and 2020 among businesses, consumers, and governments.
BII
Business Opportunities in IoT
The Internet of Things might seem like it only benefits large corporations with massive budgets, but the IoT has already started to bear fruit for small businesses, too.
In fact, approximately 57% of small business think the IoT will have a significant effect on their bottom line, according to an AVG survey.
Take, for example, Bigbelly, founded in 2003 by two college students. The company manufactures solar-powered devices that, on the surface, look like regular garbage cans. But inside rests a sophisticated trash compactor with sensors that monitor how full the cans are and sends notifications to the appropriate officials through the cloud when the cans need to be full.
This enhances efficiency and reduce costs because trash collectors can adjust their routes to avoid cans that do not need to be emptied.
"New York City sometimes collects trash three times per day; that's how fast the [garbage cans] fill up," Leila Dillon, vice president of global marketing and North American distribution at Bigbelly, told Forbes. "With our stations, you can reduce that because of our compact technology and better capacity."
As a result, New York City has reduced its trash collection frequency in some locations from three times a day, seven days a week to just twice a week.
IoT Platforms for Small Businesses
It's clear that the IoT will affect small businesses, but how will those changes manifest? There is no shortage of devices that small businesses can leverage in order to take advantage of the IoT.
Smart locks from companies such as August, for example, can give small businesses peace of mind and help their wallets by circumventing the need to hire security guards. To take this a step further, companies can purchase connected cameras to monitor their offices in real time.
Another popular device is the mobile credit card reader that connects to smartphones and tablets. Square is the household name in this regard, as businesses from food trucks to flea markets use the card reader to process transactions easily.
And if you need to keep track of shipped products, smart fleet trackers can save time and money and reduce customer frustration.
But That's Not All…
The IoT business opportunities are numerous, and only time will tell just how companies across the globe will seize those opportunities and reap the benefits. But business is just one piece of the world that the IoT will transform. The Internet of Things will fundamentally alter healthcare, finance, transportation, utilities, and even entire cities.
That's why BI Intelligence has spent months putting together the greatest, most comprehensive resource on the IoT: The Internet of Things: Examining How The IoT Will Affect The World.
To get your copy of this invaluable guide to the IoT universe, choose one of these options:
Subscribe to an ALL-ACCESS Membership with BI Intelligence and gain immediate access to this report AND over 100 other expertly researched deep-dive reports, subscriptions to all of our daily newsletters, and much more. >> START A MEMBERSHIP
Purchase the report and download it immediately from our research store. >> BUY THE REPORT
The choice is yours. But however you decide to acquire this report, you've given yourself a powerful advantage in your understanding of the fast-moving world of the IoT.
**********
Haptic skinsuit
**********
lifehacker.com The Best Browser Extensions that Protect Your Privacy
Alan Henry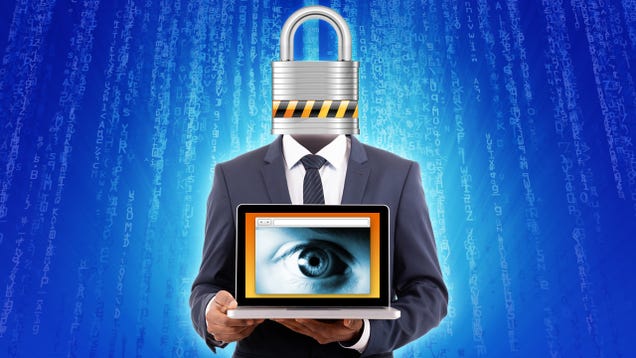 <svg xmlns="http://www.w3.org/2000/svg" class="svg-icon svg-zoom-in"><use xlink:href="http://lifehacker.com/the-best-browser-extensions-that-protect-your-privacy-479408034?utm_campaign=socialflow_lifehacker_twitter&utm_source=lifehacker_twitter&utm_medium=socialflow#iconset-zoom-in"></use></svg>
There are a ton of browser extensions that promise to protect your privacy, which leads to some natural questions: Which is the best? Do they all do the same thing? What should I really download? In this guide, we're going to look at the most popular browser extensions that promise to protect your privacy online, and give you our recommendations.
We've talked about why you should care about your privacy several times here, so whether you choose to do something to protect yourself is up to you—we're not going to rehash it. Instead, we're going to dive into the tools available to keep your data safe. Don't worry, though. You don't need to download a ton of apps to keep yourself safe and your data close to pocket. Here are the best in each group.http://lifehacker.com/5904966/why-yo…
<aside class="referenced-wide referenced-fullwidth js_inset tmpl_referencedGroupFullWidth clearfix core-decorated-inset"> </aside>Update: A lot has changed since we first published this post. We've refreshed it with new options in each category, removed dead extensions that are no longer available, and updated each section with new contenders and updated information. Our big picks are the same (AdBlock Plus for ad blocking and Disconnect for browser-based privacy,) but uBlock Origin is a great alternative to ABP that we encourage you to try out. Similarly, Disconnect still has its amazing browser plugins, but they also have a new premium package that's worth discussing if you want whole-desktop and mobile privacy protection.
Block Ads, Scripts, and Popups with AdBlock Plus
Ad and script blockers give you control over your browsing experience. They can block ads on the sites you visit and kill third-party scripts and widgets that send your data to who knows where. However, with great power comes great responsibility: If you don't know how to use them, these tools can break the sites you read, rendering them unusable until you figure out what to allow and what to block. Plus, blocking ads can has a very real impact on the site and the people who work on it (like us here at Lifehacker). Even so, it puts the power into your hands to decide which sites are worth supporting and which are just too annoying to use without an ad-blocker.
AdBlock Plus (Firefox/Chrome/Safari) blocks banner ads, pop-up ads, rollover ads, and more. It stops you from visiting known malware-hosting domains, and also disables third-party tracking cookies and scripts. Plus, there are a ton of things you can do with it beyond just blocking ads. We think it has the right combination of ease-of-use, on-and-off toggling, whitelisting capabilities, and hands-off management that makes it a tool that anyone can pick up and use. Power users can get their hands dirty with different subscription lists and tweaking the active lists they use, but basic users can enable it and walk away.http://lifehacker.com/everything-you…
<aside class="referenced-wide referenced-fullwidth js_inset tmpl_referencedGroupFullWidth clearfix core-decorated-inset"> </aside>The Alternatives:
In our opinion, Adblock Plus is your best bet, but there are a few other extensions that do the same thing. Here are your other options:
uBlock Origin for Chrome and Firefox: uBlock Origin, the version of uBlock managed and maintained by the original developer (you can read the whole uBlock vs. uBlock Origin controversy here if you care, but our recommendation is uBlock Origin) is just as powerful as AdBlock Plus—perhaps moreso, because it gives you more control over what's blocked and what's allowed than ABP does. It's also much lighter on system resources, and it doesn't come with some of the issues ABP has with companies paying the makers of ABP to let their ads through. The only reason uBlock Origin isn't our top pick here is because it's a little advanced for novice users, and it blocks a bit more than ABP does, so you'll need to get your hands dirty to really customize it, and b: ABP has features—like cleaning up Facebook, hiding YouTube comments and other cruft, and more—that uBlock Origin doesn't…at least not until you're enough of a power user to add them yourself. If you do consider yourself a power user though, skip ABP and install this instead.
NoScript (Firefox) and ScriptSafe (Chrome, formerly ScriptNo): Both disable all scripts from running on pages without you specifically adding them to an allow list. This includes Java, JavaScript, Flash, and others. They're powerful, but they're also really aggressive, and will break an awful lot of sites. If you use them, you have to be up to the task of digging through scripts on every new site you visit to figure out which ones will make the site even work properly. Plus, AdBlock Plus already does this (and is less aggressive), you just have to add the right filters.
http://lifehacker.com/ublock-is-a-fa…
<aside class="referenced-wide referenced-fullwidth js_inset tmpl_referencedGroupFullWidth clearfix core-decorated-inset"> </aside>We should say here that if you don't use AdBlock Plus for some of those advanced features, like trimming YouTube's cruft or blocking specific things, you should give uBlock Origin a try. It'll do wonders for your browser's memory consumption, and you'll get a more powerful and customizable tool as a result—although you may need to do some tweaking to get it to work just the way you like it.
Stop Everyone from Tracking Your Browsing with Disconnect
Anti-tracking and anti-cookie extensions have exploded. We covered a number of them when we discussed how you can stop companies from tracking your movements on the web. Since then, the market has only grown, with more extensions and apps that all honestly do the same thing, with little more than UI tweaks and differences between them.http://lifehacker.com/5887140/everyo…
<aside class="referenced-wide referenced-fullwidth js_inset tmpl_referencedGroupFullWidth clearfix core-decorated-inset"> </aside>Disconnect Private Browsing (Firefox/Chrome/IE/Safari) is our pick because it protects you from tracking, malware, and malvertising, and offers secure Wi-Fi and bandwidth optimization features that just aren't available in other tools. It blocks third party tracking cookies and gives you control over all site scripts and elements from a simple-to-use toolbar menu. When malware injects ads onto popular pages, or ad networks are hijacked by embedded malware, Disconnect can protect you from that as well—and it happens more often than you might think. It also protects you from tracking by social networks like Facebook, Google, and Twitter, which use your browsing even off-site to collect data about you. Finally, Disconnect protects you from sidejacking (or widgetjacking), where an attacker can use stolen cookies to access personal data without having to know your password, with its Secure Wi-Fi feature. http://lifehacker.com/disconnect-2-s…
<aside class="referenced-wide referenced-fullwidth js_inset tmpl_referencedGroupFullWidth clearfix core-decorated-inset"> </aside>The Alternatives:
Disconnect is our favorite of the bunch, but there are other extensions that do the same thing (or some of the same things) if you need alternatives:
Privacy Badger (Chrome/Firefox) launched not too long ago as a project of the Electronic Frontier Foundation. Since it's the new kid on the block, it tries to take the best of all of the extensions that came before it. It's pretty lenient though, and blocks objectionable activities and builds a blocklist as it observes bad behavior, instead of blocking certain sites, cookies, and activities out of the box. This makes it more lightweight, but offers a bit less protection out of the gate—or at least until it learns based on your behavior. You also get an easy-to-control toolbar button that's absolutely clear about the information recorded about you. The "green/yellow/red" system shows you whether you're being tracked across sites, and you can toggle the options at any time to lock things down.
Do Not Track Me (Firefox/Chrome/IE/Safari): Do Not Track Me offers a drop-down browser toolbar that shows you which tracking cookies and scripts have loaded on a site, and gives you the option to disable them entirely. It's similar to other tools, but with a friendly, colorful UI. It also leaves plug-ins and scripts enabled until you specifically turn them off. Disconnect is much more powerful and feature rich, Do Not Track Me might appeal to people who want to leave everything on and disable items selectively.
Ghostery (Firefox/Chrome/Safari/IE): Much like the others, Ghostery blocks tracking cookies and scripts from running by default. It'll also show you what it's blocked, so you can see whether the items it's blocked are harmless or intrusive. Ghostery's database is huge, and gives you the power to block all, some, or none of the things that it finds. Unfortunately, Ghostery has its own problems selling data to advertisers, so you may want to steer clear if that doesn't sit well with you.
http://lifehacker.com/privacy-badger…
<aside class="referenced-wide referenced-fullwidth js_inset tmpl_referencedGroupFullWidth clearfix core-decorated-inset"> </aside>You could argue that Disconnect, Do Not Track Me, and Ghostery all do the same thing, but we still think that Disconnect is the most robust of the three. We like Privacy Badger's "learn as you go" approach, but we can't argue that it leaves you with less protection out of the gate than any of the others here. That said, Disconnect's newest version is only available for Firefox and Chrome, so if you prefer Safari, IE, or Opera, we'd suggest going with Do Not Track Me instead.
Some of this comes down to personal preference, what doesn't break the sites you visit, and what works best in the browser you use most often, so don't hesitate to try something else if one doesn't work. The worst that can happen is you're extra protected, and none of these add-ons have that much resource overhead.
Get Desktop and Mobile Protection with Disconnect Desktop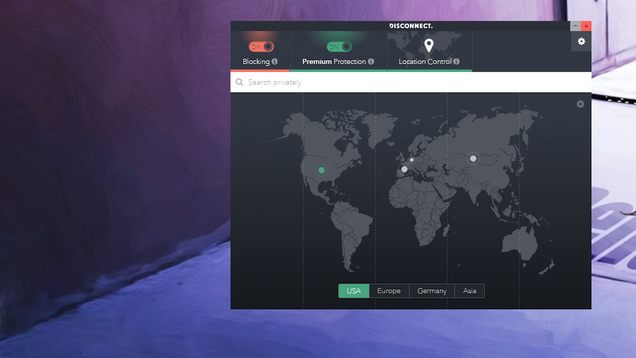 <svg xmlns="http://www.w3.org/2000/svg" class="svg-icon svg-zoom-in"><use xlink:href="http://lifehacker.com/the-best-browser-extensions-that-protect-your-privacy-479408034?utm_campaign=socialflow_lifehacker_twitter&utm_source=lifehacker_twitter&utm_medium=socialflow#iconset-zoom-in"></use></svg>
Disconnect's browser tool is a must-download, and we recommend it for everyone who wants a little privacy—or even who wants to speed up their web browsing experience, since you'll see noticeably faster page loading and browsing times once all of that tracking and advertising cruft is disabled. If you want to take things a step further though, Disconnect's new whole-desktop package rolls in the Private Browsing features we mentioned above with a proxy and VPN that keeps all of your browsing safe. It checks your connections against Disconnect's known list of malware-packed ad networks, third-party tracking tools, known malware hosts and sites, and more, and then just blocks it from ever resolving. http://lifehacker.com/disconnect-off…
<aside class="referenced-wide referenced-fullwidth js_inset tmpl_referencedGroupFullWidth clearfix core-decorated-inset"> </aside>The free version of Disconnect's desktop suite includes the browser plugins we mentioned above with Disconnect's private search, and a basic proxy that keeps your browsing safe. If you upgrade to Disconnect's premium offering ($5/mo or $50/yr) you get those features along with mobile apps for iOS and Android to protect your browsing and block malware and adware on the go (which also happens to block a lot of ads), a full-fledged VPN to encrypt your traffic (and to get around pesky location restrictions,) and more.
It's a great service, and frankly there aren't alternatives to this one because it's such a holistic package. That said, the premium cost may be too much for some people. We definitely think you should subscribe to a VPN, especially when you're on Wi-Fi or using untrusted networks, but Disconnect's is designed for privacy and security, not necessarily anonymity or file transfer like others we've highlighted. Weigh your needs before opening your wallet. For many people, the Disconnect browser extensions are all the protection you'll need, but there's nothing wrong with supporting a project that's keeping the web safer for all of us. http://lifehacker.com/5940565/why-yo…
<aside class="referenced-wide referenced-fullwidth js_inset tmpl_referencedGroupFullWidth clearfix core-decorated-inset"> </aside>Additional Privacy Tools You Should Have

In addition to privacy protecting tools and ad blockers, a few other add-ons, utilities, and services came up while we were researching this piece that you shouldn't roam the web without.
HTTPS Everywhere (Firefox/Chrome) is a must-have regardless of what other security tools you opt to use. Once installed, the extension will shunt your connection to SSL whenever possible, and will try to find secure versions of the sites you visit. It's a great way to protect your browsing without really lifting a finger. Best of all, it just updated to keep you safe on thousands more sites around the web.http://lifehacker.com/https-everywhe…
<aside class="referenced-wide referenced-fullwidth js_inset tmpl_referencedGroupFullWidth clearfix core-decorated-inset"> </aside>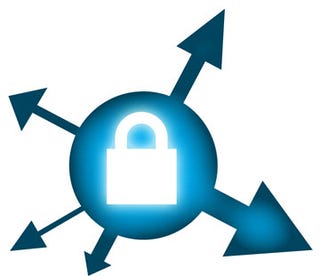 <svg xmlns="http://www.w3.org/2000/svg" class="svg-icon svg-zoom-in"><use xlink:href="http://lifehacker.com/the-best-browser-extensions-that-protect-your-privacy-479408034?utm_campaign=socialflow_lifehacker_twitter&utm_source=lifehacker_twitter&utm_medium=socialflow#iconset-zoom-in"></use></svg>
A Virtual Private Network (VPN) encrypts all of your internet traffic and offers the most possible protection from prying eyes. We've covered VPN services in detail before, including what to look for, what makes a good one, and some great providers to try. Look for a provider that keeps only the minimum required logs for troubleshooting purposes, offers strong encryption, is well regarded by its users, and offers multiple exits locations. Contrary to common belief, don't just spring for any offshore VPN—just because your VPN provider is in a far-off country doesn't mean it's secure, or at all private. For more suggestions, our friends at TorrentFreak just updated their list of providers that take your anonymity seriously, and it looks a bit like ours. If you're just looking for a free or freemium service to keep you protected while you're out and about, and you're not ready to try on a full, paid, VPN service yet (or roll your own), try Hideman or Tunnelbear.
Antivirus and Antimalware utilities are essential to protecting security. It may sound like "How to Internet: 101," but taking care to avoid suspicious sites, practice good internet hygiene (eg, not opening suspicious attachments, checking file names before you download, etc), and keep updated antivirus and antimalware tools on your PC is important. Often the term "privacy" is couched in terms of advertising and marketing, but the risk of identity theft and getting infected with ransomware is growing. We've recently updated our pick for the best antivirus app for Windows, and we have some options for Mac as well. Looking for antimalware? These suggestions will get you started.http://lifehacker.com/the-difference…
<aside class="referenced-wide referenced-fullwidth js_inset tmpl_referencedGroupFullWidth clearfix core-decorated-inset"> </aside>Other Security Tools You Probably Don't Need, but May Want
We've covered the most important privacy and security tools you need already, but there's always another step you can take to make sure your communications can't be intercepted and read by third parties. Here are a few other tools you might consider:
http://lifehacker.com/how-to-encrypt…
<aside class="referenced-wide referenced-fullwidth js_inset tmpl_referencedGroupFullWidth clearfix core-decorated-inset"> </aside>
Web of Trust (WOT): (Firefox/Chrome/Safari/IE) WOT does a great job at ranking sites by reputation, and will show you whether a specific site has been known to host malware or is loaded with tracking cookies and scripts that could result in malware or adware on your system. It's not an ad blocker or anything, but it does rank and notify you when the site you're visiting is less than trustworthy. Advanced users may not need the hand-holding, but beginners and anyone else who wishes they could see behind the veil of what's loaded when they visit a site may.
Encryption for Email and Chat: If you want to take desktop security to a whole new level, you might consider encrypting your email and instant messages. Our favorite chat clients for Windows and Mac, Pidgin and Adium (respectively) can both do this pretty easily. If you need another option, we've mentioned TorChat as well. For your email, SafeGmail or Mailvelope gets the job done for Gmail and other webmail users. For everyone else, PGP is the way to go. Here's how to set it up.
Tor (Windows/Mac/Linux) encrypts your web traffic and bounces it across a series of other computers, known as relays, to keep their location and browsing private and anonymous. Granted, that anonymity only goes so far: traffic leaving a Tor exit node is unencrypted, so while traffic inside the Tor network is encrypted and anonymous, ultimately your browsing comes out of someone else's pipe and looks like normal web traffic. Tor is built for anonymity with a nod to security—not the other way around. You can read more about how Tor works here. It's a great way to stay anonymous on the internet, but don't mistake it for something like a VPN.
http://lifehacker.com/what-is-tor-an…
<aside class="referenced-wide referenced-fullwidth js_inset tmpl_referencedGroupFullWidth clearfix core-decorated-inset"> </aside>There's a ton of overlap between a lot of these tools, which is why we wanted to trim the fat and pick specifics that we think you should install. Keeping too many on your system isn't necessarily a bad thing, but it can slow your computer down at worst, and at best it doesn't offer you any additional protection. If you're not using any because you're not sure which to use, now you have some solid options. Either way, the tools are at your fingertips. It's never been easier to take the reins for yourself and make the web an opt-in experience instead of an opt-out one.
**********
Can our need for a carbon-free future override our fears of nuclear energy?

Unlike coal and natural gas plants that emit carbon emissions while producing electricity, nuclear generates none. So why aren't more states getting onboard?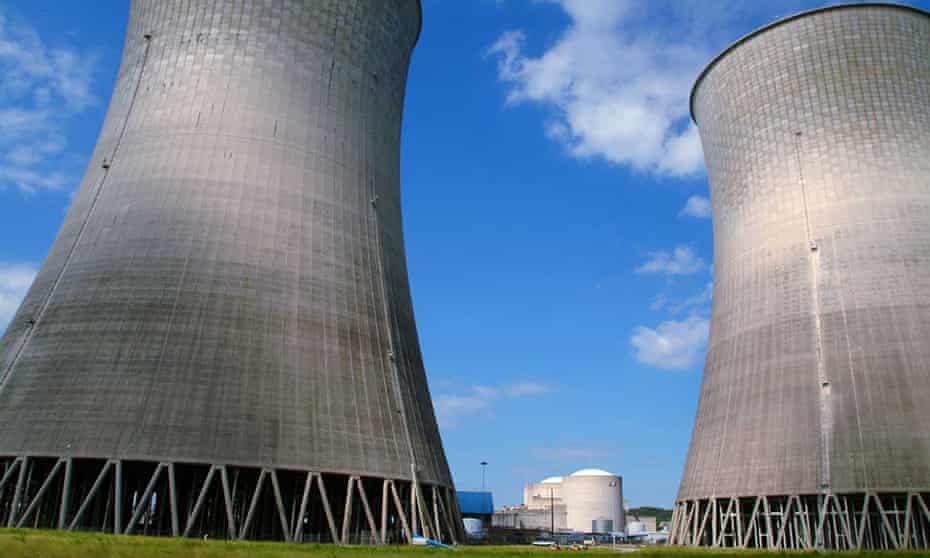 When Watts Bar 2 is fully operational, it will be the 100th operating nuclear power plant in the US. Photograph: Bechtel
Nestled between Chattanooga and Knoxville, Tennessee, the Watts Bar 2 nuclear power plant sits on 1,700 acres in an area friendly to nuclear power. It's near Oak Ridge National Laboratory, which might be best remembered for its work on the Manhattan Project. The 1,150-megawatt plant is undergoing testing to go fully online this month, and will join the existing 1,100-megawatt Watts Bar plant, which already provides 650,000 area homes with electricity that emits zero carbon emissions.
When Watts Bar 2 is fully operational, it will be the 100th operating nuclear power plant in the US, the country with the most nuclear power stations in the world.
Watts Bar 2 is making history for being the first nuclear power plant to be built in the US in two decades. Its existence also happens at a time when the role of nuclear power in the country's energy future is uncertain. While states such as California are shutting down nuclear power plants over safety concerns, other states see nuclear power playing an important role in their march to replace fossil fuels with energy sources that emit little or no emissions. Georgia and South Carolina, for example, are currently building plants.
The number of states that support nuclear is by no means high. Although 29 states have renewable energy goals, until recently, only Indiana and Ohio expressly included nuclear energy in those strategies. But other states are starting to craft plans to subsidize nuclear power generation, which accounts for20% of the nation's total electricity production.
Unlike coal and natural gas plants that emit carbon emissions while producing electricity, nuclear generates none and accounts for63% of the country's zero-emission electricity, according to the Nuclear Energy Institute (NEI), a nuclear power advocacy group.
New York recently joined the two other states by including nuclear as part of its clean energy plan, which calls for 50% of its electricity to come from renewable sources by 2030. The move illustrates the difficulties of reaching the goal with renewables such as solar and wind alone.
"If you think of the time it will take to make those renewable additions, we are digging the hole too deep on carbon emissions and losing time. New York did the right thing," said Paul Meier, an environmental engineer at Blumont Engineering Solutions, specializing in modeling energy and emissions scenarios.
The new plan also includes an unusual subsidy program to pay struggling nuclear plant owners more for the power. The subsidy program reflects a major shift in energy planning in an era of historically low natural gas prices, increased availability of renewable energy and new technology development to generate and deliver electricity more efficiently.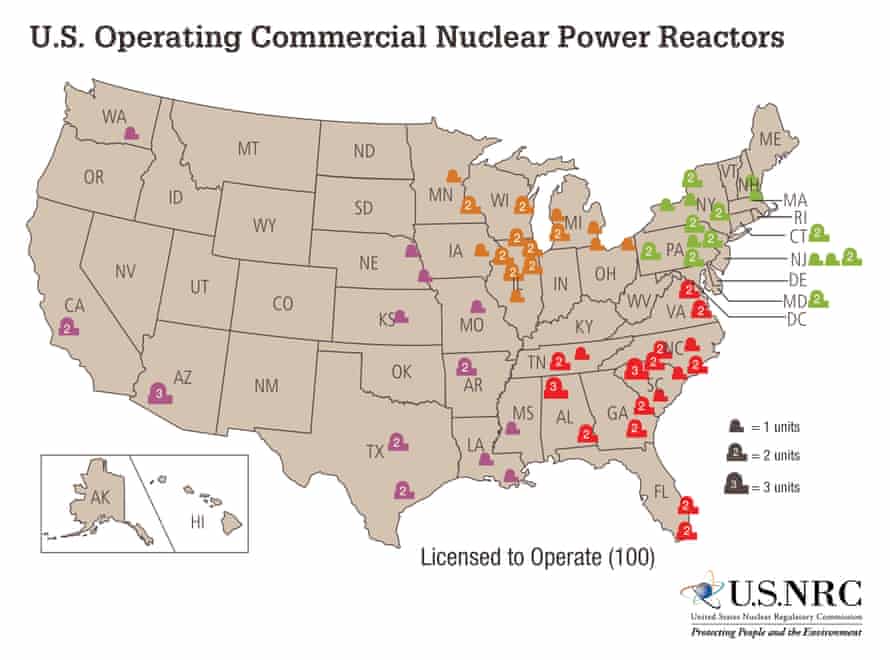 US nuclear reactors. Photograph: US Nuclear Regulatory Commission
New York experiment
What makes New York's subsidy program unique is it's the first time that nuclear power will receive the same environmental and social benefits ascribed to wind and solar, said Gene Grecheck, former president of the American Nuclear Society, a professional organization of engineers and scientists and a current co-chair of a committee at the society that advises state policy makers.
Unlike wind and solar energy which receive hefty federal and state subsidies, nuclear providers have not seen the same support despite providing a consistent, large scale and reliable carbon-free energy. The enormous cost of developing a nuclear power plant and safety concerns that grew out of the three melting Fukushima Daiichi nuclear reactors in Japan in 2011 have made nuclear seem a risky option for addressing climate change.
Each nuclear power plant could take around $10bn and 10 years to develop and build, said Matt Crozat, NEI's senior director of business policy. Justifying that cost is tough at a time when natural gas doesn't have the same risk profile, and its price is low.
The US Energy Information Administration estimates the cost for producing electricity averages $56.40 per megawatt hour at new, basic natural gas plants and $99.70 per megawatt hour at nuclear plants. The production costs, which take into account tax credits, average $50.90 per megawatt hour for wind power and $58.2 per megawatt hour for energy from solar panels.
As a result, nuclear is a particularly expensive energy in states that allow multiple electricity retailers to do business in the same region. A utility that buys nuclear power will likely have to raise the price it charges and become a less desirable option. In states that allow utilities monopolies, such as California, the utilities need to justify the higher rates when they seek state approval to charge customers more, but they don't have to worry about competition.
Since 2013, about 13 nuclear plants around the country have been or are slated for shutdown, largely because of low natural gas prices and the rise of renewable energy, NEI said. California plans to close its last nuclear power plant in about nine years. Illinois has not come up a plan to avoid early retirement for two plants. Nebraska's nuclear plant will close, said Edward Kee, chief executive officer of the Nuclear Economics Consulting Group. Ohio is trying to come up with a plan to keep its Davis-Besse nuclear plant going.
Under the new program, New York is requiring its energy suppliers to start, in April 2017, to pay to pay a premium for nuclear energy because of its environmental benefit.
The higher revenues will make two of New York's plants profitable and help the third at least break even, said Lela Jgerenaia, US power market analyst at Bloomberg New Energy Finance. In 2015, the average wholesale electricity prices for the two plants ranged from $22.49 per megawatt hour to $39.36 per megawatt hour. The average cost of running nuclear power plants nationwide is about $35 per megawatt hour to run, Kee said.
If the three struggling plants in New York closed today, the state's carbon emissions would increase by more than 31m metric tons during the next two years, resulting in public health and other societal costs of at least $1.4bn, the governor's office said. In the first two years of the 12-year program, the credits are forecast to cost about $1bn and raise residential power bills by less than $2 a month, the office added.
Geoffrey Heal, professor at Columbia Business School with a focus on environmental economics, applauds New York's decision to create the zero-carbon emission credits, rather than seek to close and replace them with natural gas plants.
"If you really want to reduce carbon substantially – and the US stated in its Paris (climate agreement) submission that it would like for these carbon emissions to be down 80% by 2050 – that would mean basically taking all fossil fuels out of electricity production. If you're going to go carbon free in power generation, you have to have wind, solar and nuclear," Heal said.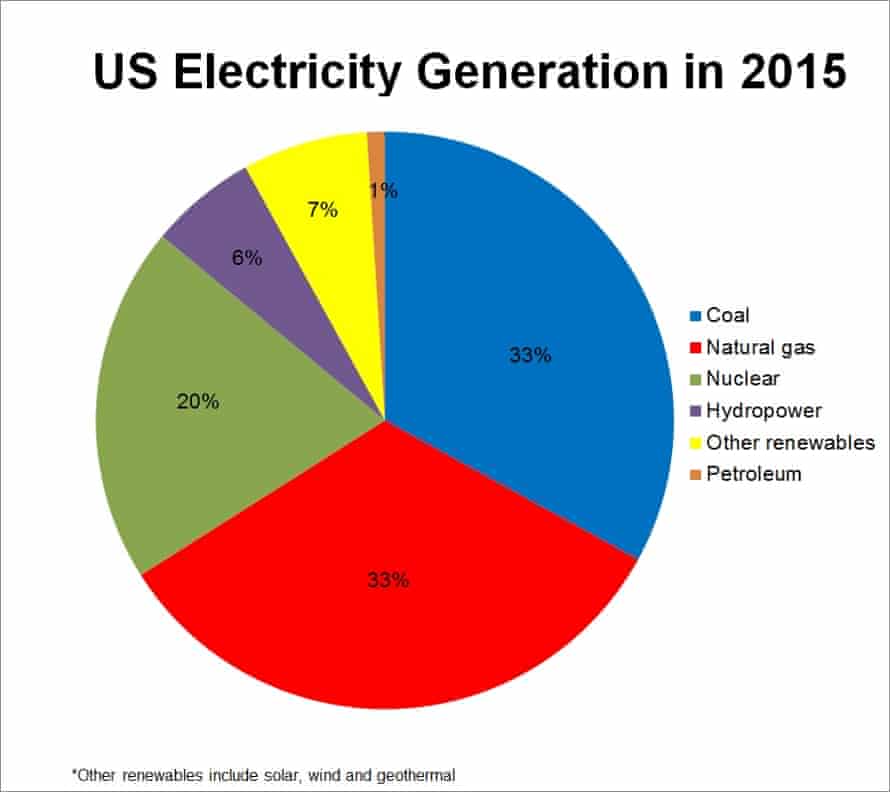 US electricity generation in 2015. Illustration: Ucilia Wang/The Guardian/US Energy Information Administration
Nuclear is tough to love
Whether New York will lead other states to use emissions credits to support nuclear power is too early to tell, Grecheck said.
Public opposition to nuclear has historically played a role in prolonging the time and cost of developing a power plant. But lately, some environmentalists believe climate change is so far gone they're willing to overlook the pitfalls of nuclear, including the headache with disposing of toxic nuclear waste.
For Bob Brecha, professor and research director for the Hanley Sustainability Institute at University of Dayton in Ohio, the best role currently for nuclear is to be a substitute for fossil fuels until wind and solar, along with technology to store these intermittent energy sources, can meet 100% of the power needs.
Environmental objection remains strong for groups such as the Sierra Club, which opposes to the nuclear provision in New York's clean energy plan.
"It does not make sense to force New York's consumers to buy expensive, dangerous nuclear power when real clean energy options are available for less, and with costs continuing to fall," said John Coequyt, global climate policy director, for Sierra Club.
Unless natural gas prices go up, the future of new nuclear production may only occur in states, such as Georgia and North Carolina, that allow electric monopolies, said Christopher Muir, utilities analyst at S&P Global Market Intelligence. Georgia and South Carolina are two states currently building plants.
Southern Company's $8bn Vogtle plant in Georgia will be the largest US nuclear plant when it's scheduled to open by 2020.
The Vogtle Power Plant in Georgia, majority owned by Southern Company, will be the largest US nuclear plant when it's scheduled to open by 2020. Southern Company's share of the project is estimated at $8bn, and some estimates place the entire price tag at $21bn.
"Completing the new units at Plant Vogtle remains the best cost option for meeting Georgia's future energy needs – once the new units come online they will put downward pressure on customer rates and provide reliable, carbon-free energy for 60 to 80 years," said Craig Bell, spokesman for Georgia Power, a subsidiary of Southern Company.
**********