Why you need life insurance for your child
http://www.blackenterprise.com/mone…y/why-you-need-life-insurance-for-your-child/
Far too many people around the world today are talking and thinking about the nightmare of young people and children dying too soon. The passing of the late Whitney Houston's daughter, Bobbi Kristina, is but one example and it weighs on the hearts and minds of millions.
As a parent, I can tell you it's almost impossible to let your mind 'go there' and even think about the possibility of losing a child. It's unthinkable, unnatural, and unbelievable. Needless to say, it is very difficult to talk to people about getting life insurance for their children. I'm going to have to challenge you, however, to sit with those feelings and quiet your mind so that you can really listen to the ways in which getting a life insurance policy for your child is simply good parenting. Here are three reasons we often don't consider:
The money you build up in the policy can be used for education costs
Your child will have life insurance in the event he/she ever becomes ill and uninsurable
You're helping your child protect his family and have money for life events like buying a home
BlackEnterprise.com had a conversation with Christopher Gatty, a financial adviser for Reby Advisors, about this. Gatty explained why it's important to keep an open mind about insuring your children as part of your effort to create financial stability for your family, for generations to come.
BlackEnterprise.com: The concept of life insurance for a child is such a difficult topic to bring up when it comes to financial planning. What are some of the things parents should consider?
Gatty: There's no question the concept of insuring children is morbid, but death is not really the primary purpose for this. Yes, you would get a death benefit to help cover things like funeral costs in the event of your child's death, but there is so much more that can be done in terms of financial planning for things like education costs. It can allow you to fund future expenses that can otherwise be a shock to your or your child's overall financial plan.
BlackEnterprise.com: Can you elaborate on how a life insurance policy can be used for education costs?
A good option here is a variable universal life policy (VUL). With a VUL, you're building a cash value. That cash can be invested in different accounts and deliver the returns possible from investing in the financial markets. If you can, you should invest the maximum allowed by the IRS. As this money grows, it is not taxed as income. Saving for college this way can also allow you much more flexibility than, say, a 529 college savings plan. That money can only be used for qualified education expenses – like tuition, books, and room and board. You also pay taxes when you withdraw money from a 529 plan. The funds you build in your VUL are not taxed. Another important consideration when you save for college is that, in most cases, the value of the VUL is not considered an asset and does not have an impact on financial aid eligibility.
BlackEnterprise.com: In addition to education, you've said that a life insurance policy can help children pay for big 'life' expenses when they're older.
Gatty: I've done this for my own child. He's 10-years-old. I'm paying about $1,600 a year on a $350,000 policy. By the time he is 50, he can cash out the policy and will have enough to buy a house or provide financial security for his own family. It's important to get over the shock value of thinking of life insurance for a child and think about the benefits it can provide to so many aspects of their lives.
Gatty: It could be one of the best things you do for your child. We don't like to think about the fact that our children could develop disease or illness while they're young or when they're adults. The reality is, however, if that happens, they won't be able to get life insurance for their loved ones and dependents. Think about what that would be like for them and realize how big this insurance can be in their lives.
Gatty adds that when it comes to this kind of financial planning for your children, you're primarily looking at variable universal life or whole life insurance policies. To understand and maximize the benefits these can offer, it's important to talk to a financial professional to see how they fit within your overall budget and goals.
**********
When your clients are facing one of the more turbulent markets in recent memory, should you be recommending variable universal life insurance to your clients? For that matter, should you be recommending any variable life policy?
Such policies can fluctuate with market conditions. They invest through subaccounts, which are mirror images of mutual funds. Losses may mean higher or more premiums to pay, or no death benefit, in a worst-case scenario.
If the market performs well, of course, variable life can be a less-expensive way to buy permanent life insurance, particularly for people who need life insurance and want an investment component. But in a prolonged down market, chances are good the variable life product will underperform a traditional life policy.
"It all depends on the underlying choices made by the investor," says Marvin Feldman, president and CEO of the Life and Health Insurance Foundation for Education (www.life-line.org).
Approximately 20 life insurance companies sell nearly 95% of variable premium. Among the top 10 are Hartford Life, Metropolitan Life, John Hancock, Axa Life, Prudential Life and Lincoln National. They account for slightly more than half the market, according to Larry Rybka, CEO of ValMark Securities Inc., an independent broker-dealer in Akron, Ohio.
"There are a smaller number of carriers that sell the product," he notes," because it requires scale, meaning you have to sell a certain amount of it to be viable for a company to manufacture it."
A little less than 25% of the total permanent insurance market consists of variable life insurance. The first generation of VUL policies in the early 1980s subjected the consumer to the risk that if investment performance did not meet projections, the premium could go up or, if uncorrected, the policy would lapse. Since then, says Rybka, the most innovative companies have created a new generation of hybrid variable policies that incorporate premium and death benefit guarantees.
The investment component of variable universal life resides in the various subaccounts. Life insurance companies typically offer from 40 to 60 different choices, ranging in risk from equities to fixed-income types of investment, to emerging market investments and everything in between. Some companies have their own proprietary subaccounts. Others use a combination of their own and outside accounts to give investors more choice.
"Instead of investing in a general account, it gives the policyholder control over how the additional money is invested to grow that pot of cash," explains Cliff Barron, variable-life line leader at Hartford Life. "The concept is you're going to put money in today and grow that pot of cash for the future."
Assuming that market conditions are benign, the increasing value in these subaccounts-minus the management fees and charges-represents the policy's cash value. "The expenses are similar to those in a traditional life policy," says Feldman. "They include mortality charges, fees, taxes and other operating expenses. The one main additional fee you'll find in a VUL policy is the management fee charged to the individual subaccounts, and that fee will vary based on the type of subaccount, higher for aggressively managed accounts and lower for accounts that require less management."
According to Hartford Life, such insurance is most appropriate for those investors with a higher risk tolerance, those who are comfortable investing in equities and in search of other tax-favored means of investing besides a 401(k) or IRA. It's suitable as well for investors who have a death benefit need for their beneficiaries, and also a good fit for more affluent investors with estate planning needs, who may wish to pass their wealth on to their beneficiaries.
One of the knocks against the earlier-generation VUL products is that they involve a combination of investments and insurance. "Combining investments and insurance is like combining oil and water," says Aaron Skloff, CEO of Skloff Financial Group, a wealth management firm in Berkeley Heights, N.J. "They generally result in a bad combination. Too often the investment choices are limited or, even worse, exclude key aspects of a properly diversified portfolio. Many times the investments are limited to the inferior proprietary subaccounts from the insurance company's lineup."
Skloff also criticizes the way such policies are sometimes sold. "Many insurance agents illustrate double-digit rates of return within the policies, an unreasonable expectation for most policyholders. It was these aggressive expectations in the mid-late 1990s that led many VUL policyholders to believe they could discontinue their payment premiums early. An unusually strong investment performance in the late 1990s reverted back to the mean, and in the following decade many VUL policies imploded."
Feldman says such criticism may be partly accurate but not totally so. Most companies, he says, may have proprietary products, but they usually include a mix of other subaccounts representing different types of families of funds.
John Resnick, an estate planner at Resnick & Associates in Harrisburg, Pa., and host of a syndicated radio show on business moguls called Legends of Success, criticizes the cost of VUL policies. He feels mortality and expense (M & E) charges, which he says are often buried within the fine print, are too high.
"One thing that is certain," says Resnick, "is that mortality costs with the policy are guaranteed to increase as the insured gets older. One thing that is uncertain is the performance of the side investment funds. So if you combine increased mortality charges with a less-than-expected rate of return on the investment, the policy can implode and lapse without value."
Rybka disagrees with this assessment and counters: "None of the expenses are disclosed in a traditional product, whereas with a variable product, the SEC requires a prospectus and an accounting to the penny in a detailed confirmation state for each premium."
In Resnick's opinion, term life insurance is a better deal for investors under certain circumstances than VUL because it is less expensive. "The reason it is so inexpensive is not because Santa Claus is at the helm of the insurance company," he says," but if you hold onto the term policy for the long run, it will either cancel itself out or the premiums become unaffordable as the insured gets older. The only day you'll see the term insurance or the mortality charges of VUL not increase is the day that younger people start dying faster than older people."
Daniel B. Roe, chief investment officer of Budros Ruhlin Roe, a wealth management firm in Columbus, Ohio, also feels term insurance is "the most appropriate solution for assuring liquidity upon one's death. Only those that sell life insurance try to make it more complex to fabricate the 'need' for VUL. Any other use simply allocates capital to a less optimal environment due to the greater expenses of investments within a VUL policy, as well as the conversion of potential capital gains to ordinary income."
Feldman says, "It all boils down to the needs of the client and determining the best solution given the client's problems to be solved."
Guy Cumbie, a planner in Fort Worth, Texas, and a past president of the Financial Planning Association, does not object to VUL insurance as a product nor does he object to its higher expenses, but he says investors have to exercise caution because of its complexity.
"The no-load, low-load guys that are supposed to wear the white hats in the insurance world, at least in the eyes of the planning community, have a product," Cumbie says. "It's not necessarily a disastrously expensive product, it's just complex and therefore subject to abuse, but there's nothing inherently bad about it.
"The more there is a definitive need at the death for a specific death benefit, the more caution you need to exercise utilizing that kind of product."
Rybka believes many of the criticisms against VUL are unjustified. He says the newer variable universal products address many of the concerns advisors and investors have about costs and risk in VUL. He points out that in the newer products, "your premium and death benefit are guaranteed, so it doesn't matter if the cash value fluctuates."
Further, he maintains: "The advantage of an equity-based cash value creates a compelling case for many clients. All insurance companies are financial intermediaries. They buy financial instruments like mortgages, bonds and equities and repackage them to provide benefits for the consumer like death benefits. With universal variable life, the consumer can have the compounding power of equities working for him."
Not all these policies are created equal, of course. As you would investigate any product, you have to be a good shopper and look under the hood. Determine how the products have performed over time. Make sure you look at the underlying subaccounts, and ascertain whether there are a good number of choices across the style box. Your clients' needs may change as they get closer to their retirement goals, and they may want to reallocate their investment choices.
Says Feldman: "It really comes back to what the client needs, and then the advisor should recommend the product most appropriate for that situation. The advisor, whether insurance or financial, needs to keep the needs of the client in the forefront."
**********
Coverdells ESAs (Educational Savings Account) was once called an Educational IRA. The Coverdell ESA allows for a maximum annual contribution of $2,000 per student. The earnings in the account grow tax-free as long as distributions are used for eligible expenses, which are not limited to college costs. The funds in a Coverdell can also be used to cover costs associated with attending elementary or secondary school, be it public, private, or religious. These costs can include uniforms, computers, and transportation. The Coverdell does carry an income restriction. So if you are a single person who makes whose GROSS income is between $95,000 and $110,000, joint income is $190,000-$220,000 the contribution limit is phased out. (The phase-out is ratable, i.e., if you're single and your income is halfway between $95,000 and $110,000, then you can contribute $1,000 — half of the maximum.) But if you exceed those income limits, don't worry. Just give the money to the kid and let him open the Coverdell ESA himself. Funds must be used by the time the beneficiary turns 30 years old. However, the account can be transferred to a relative (including cousins, step-relatives, and in-laws). If funds are used for a nonqualified expense, earnings will be assessed a 10% penalty and they'll count as ordinary income to the beneficiary.
529 plans can be used just like an investment account or can be prepaid to lock in today's college prices. Most people use it as an investment account though. Investments in a 529 savings plan grow tax-free as long as the money is used to pay for qualified higher-education expenses (tuition, fees, books, supplies, and room and board). While contributions to the 529 are not federally tax-deductible, some states permit a partial or complete state tax deduction to residents. The contribution limits to 529 plans are very high — more than $200,000 in most cases. Most of these plans have no age or income limitations, so higher-bracket taxpayers can participate. Unlike a custodial account (e.g., Coverdell, UGMA, UTMA), the assets in a 529 college savings plan remain in your control. With only a few exceptions, your kids can't grab the money and run off to Europe when they reach the age of majority. You decide when distributions are made, and what the funds will be used for. If you remove the earnings from the 529 plan and decide not to use them for higher-education expenses, you'll not only pay taxes on those earnings, but you'll get zapped with a 10% penalty. However, most 529 plans will allow you to change beneficiaries. So, if your child decides not to attend college, you can transfer the 529 plan account to a new beneficiary who is directly related to your kid (including cousins, step-relatives, and in-laws).
http://www.fool.com/college/compare.htm
http://www.savingforcollege.com/articles/coverdell-ESA-versus-529-Plan
**********
**********
Why Most High Schoolers Don't Know How to Manage Their Money
Do your children know the ABCs of money management?
High school students are studying up on calculus, advanced chemistry, and world history, but most aren't learning fundamental money lessons to help them financially navigate the real world.
Such is the case with Jessica Pollack's son Adam, an 18-year-old who graduated in May from Los Alamitos High School in Orange County, California. Much to Jessica's chagrin, the school doesn't require its students to take a personal-finance class to graduate. "It's a top-rated school, but there is no personal-finance requirement, which is just astonishing to me," Jessica says. "There's a technology requirement that's statewide. As a technology teacher, I appreciate that, but these kids are exposed to computers and technology all the time. Yet when it comes to buying the computer and financing it, they're clueless."
Like Jessica's son, odds are your children will graduate from high school without being taught basic money lessons, including how to create a budget or write a check. Only 13 states require high school students to take a personal-finance class to graduate, according a survey released in March by the nonprofit Council for Economic Education (CEE). And although the recession has raised awareness about economic issues, it appears those heightened concerns have only prompted a few states to require a personal-finance class.
Interest is there, opportunity is not. An interest in personal finance among high school students doesn't appear to be the issue. A recent poll by Sallie Mae found that 84 percent of high school students desire more financial education. Among 16- to 18-year-olds, 86 percent said they would rather learn about money management in the classroom than make financial mistakes in the real world, according to a 2011 survey by investment bank Charles Schwab.
Parents have also expressed concerns over their children's lack of financial knowledge. According to an August survey by MasterCard, 64 percent of parents with college-bound children are worried about their children's ability to manage money.
A number of high schools appear to be doing the bare minimum to educate students about personal finance, says Ted Beck, who serves as chairman of the Jump$tart Coalition for Personal Financial Literacy, which trains teachers on how to instruct classes on personal finance. Beck also heads up the National Endowment for Financial Education (NEFE), a nonprofit that provides teachers with personal-finance training tools and the public with financial-education resources on its website, Nefe.org. He says many schools bring in guest speakers, but that it's not enough. "You can't learn a language in two hours, so having a two-hour visitor coming in to talk about money really doesn't provide the students with what they need," he says.
Nan Morrison, president and chief executive of the CEE, says state governments are so focused on teaching the core subjects of math and English that personal finance often gets overlooked. "If you can't read and you can't count, all bets are off," she says. She adds that many cash-strapped states lack the funding to institute a personal-finance course.
Conflicting viewpoints within a state's bureaucracy can also be an obstacle, says Maryland Comptroller Peter Franchot. Franchot is the key proponent behind a petition drive for the Maryland General Assembly to pass a bill in 2012 that would require all Maryland high school students to complete a standalone course in financial literacy to graduate. He says the state's current approach, which involves incorporating personal finance into other courses, is ineffective. "Embedding of financial literacy in classes is just a sop to avoid this issue, and it's developed by the education bureaucracy as a way to control their turf. That's why I haven't been able to get it through the legislature," he says. "Ultimately we will have it in Maryland, but you kind of have to drag the bureaucracy into it kicking and screaming."
Beck sees the same tug-of-war in states throughout the country. "You can't wave a wand and say, 'Every school must teach this now,'" he says.
Franchot adds that many state officials who oppose the bill cite funding costs as their biggest concern. However, he points out that Maryland's Carroll County, which chose independently to implement a standalone financial literacy course for all eight of its high schools, did so with just $37,700. The only recurring cost is $325 per teacher for a one-time training course, Franchot says. "The idea that you have to hire a bunch of new teachers and incur all sorts of new textbook costs and other sorts of expenses just isn't true," he says.
Discomfort among teachers and parents. Although Carroll County's training course was a minimal expense, Beck says getting teachers to feel comfortable teaching the subject may be a bigger challenge. If teachers provide students with misinformation about the dos and don'ts of personal finance, it can have serious implications on their livelihood. Approximately 64 percent of Wisconsin teachers surveyed by the University of Wisconsin—Madison said they felt unqualified to address the state's financial literacy standards, and few felt "very competent" lecturing a class on topics such as risk management and debt. But more than 70 percent of teachers polled in a nationwide NEFE survey said they are willing to receive formal financial-education training to teach a financial literacy class.
Many parents are also uncomfortable with teaching their kids about money management. David Bruzzese, who coauthored the book The Teen's Guide to Personal Finance: Basic Concepts in Personal Finance that Every Teen Should Know with Joshua Holmberg, chalks it up to parents lacking confidence in their own financial knowledge. He says many parents haven't learned critical financial values themselves, so teaching their children may do more harm than good. "Parents may be passing along bad financial habits to their kids because that's all they know," Bruzzese says.
Morrison of the CEE agrees: "To say it's a parent's responsibility seems unfair—unfair to the parents and unfair to the kids. You can't ask people to be responsible for teaching something if they haven't received the education themselves."
Consequently, money is among the lowest priorities in conversations between parents and their children—below talks about the importance of good manners and the benefits of good eating habits, according to a survey by Harris Interactive released in August.
So what role should parents play in teaching their children about money? Bruzzese says parents don't necessarily need to impart financial lessons to their children, but they should encourage discussions about the topic. Beck of NEFE agrees: "This should be a discussion, not a lecture," he says. "You want to make sure it's a comfortable thing to talk about around the dinner table."
While parents may not need to teach their children about advanced subjects like 401(k)s and mutual funds, they can teach the basics, such as the difference between wants and needs. Another important concept is learning how to apply the time value of money. "Not spending $1.50 a day on a soda can have a big impact on a person's financial future, and that's something that young kids need to understand," Bruzzese says.
Tamsen Butler, author of The Complete Guide to Personal Finance For Teenagers & College Students, says parents need to be financial role models. "If you're running around and you're buying a luxury car when you can't even afford to buy groceries without a credit card, you're setting a bad example for your kids," she says.
A look inside one personal-finance classroom. Some parents avoid the subject of money altogether. "My parents don't talk about finances whatsoever. The stock market comes up a lot, but that's pretty much the extent of what we talk about," says Jake Gallagher, a junior at Rock Bridge High School in Columbia, Mo.
Instead, Gallagher learns about money management in a personal-finance course—required by the state of Missouri for graduation—taught by Susan Lidholm. Lidholm's class is a one-semester course, but the school also offers an accelerated version online in the summer. It covers such topics as budgeting, banking, using credit wisely, and investing in human capital. "We all make mistakes in the finance world, but our class can help them avoid some of those catastrophes," Lidholm says.
As part of its consumer skills unit, Lidholm's class provides students with a real-world simulation that teaches them how to make practical decisions with their money. The students go to a car dealership, choose a vehicle, and then research what would be a fair price, as well as calculate the estimated personal-property and sales taxes.
Curriculum material is a minimal expense, Lidholm says. In lieu of a textbook, the Missouri Council on Economic Education provides support to teachers, supplying them with lesson plans and other materials. "We don't use a textbook because the economy changes so quickly that textbooks would become outdated fast," Lidholm says. She adds that there is a lot of free material available to teachers, so educators can create a tailored curriculum that meets their state's requirements.
Perhaps a testament to the importance of making the class a requirement is that several students in Lidhom's course say they wouldn't have taken the course if it was optional, but they're glad they did. "I probably wouldn't have taken this by choice, but if I had the chance to do it over again, I would take it because we've learned so much about finances and how they apply to our future," says Joshua Baumer, a junior at Rock Bridge High School.
Personal-finance competitions are another way for teachers to foster student interest in the subject. Lidholm served as coach to a Missouri team that included students from Rock Bridge in last year's National Personal Finance Challenge. To prepare, the students met twice a week to go over an expansive list of possible questions—chiseling down to such specifics as when you can cash in your IRA without incurring a penalty (it's 59 1/2). After winning regionals, the team went on to claim the national championship title. Lidholm says it's gratifying to watch her students take such an interest in personal finance that they spend time outside class to learn about it.
Timing and empowerment. Is high school the right time for students to take a personal-finance class? Or should it be taught earlier, in middle school or even elementary school? The Maryland State Board of Education's president and vice president, along with the state's interim superintendent, wrote a column published in the Washington Post in February arguing that financial education can't wait until high school, citing experts who say children begin to develop their understanding of money much younger.
Yet Lidholm says she thinks teaching the class to high school juniors syncs well with what's going on in their lives—they're getting driver's licenses and figuring out how to finance their first car, becoming more aware of gas prices, and starting to earn money from part-time jobs. And as juniors, they can learn about the implications of taking on student-loan debt while they're considering what college to attend. It's also worth learning how credit works, before they go off to college and get bombarded with credit-card offers their first day on campus.
Proponents of financial literacy say getting high school students to feel in control of their own financial lives is a matter of finding the right teacher, the right curriculum, and enough governmental support.
http://money.usnews.com/money/perso…schoolers-dont-know-how-to-manage-their-money
**********
The best and worst states to raise children in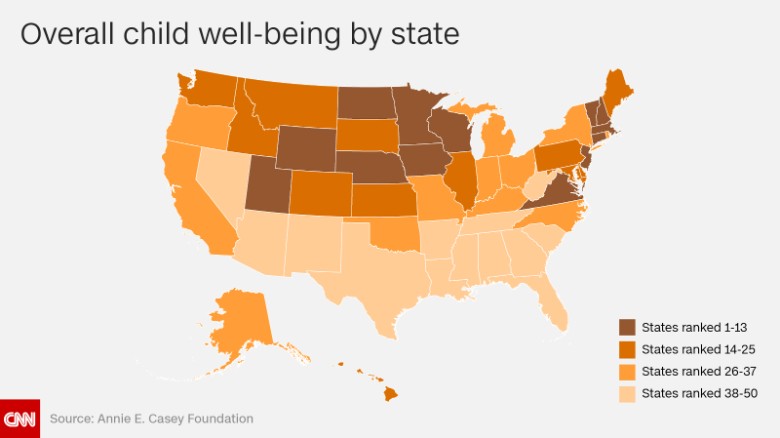 (CNN)Minnesota reigns as the most kid-friendly state to raise a family for the second year in a row, according to an Annie E. Casey Foundation study released Tuesday.
Parents in Mississippi and New Mexico, however, might find reason for concern as those states rank among the lowest.
The foundation's Kids Count Data Center tracks ethnographic data in all 50 states to gauge the well-being of children across the nation, focusing on factors that affect the way children grow up.
They use a
carefully developed methodology
to tally each state's composite score in four main categories: Economic and health conditions, education and quality of communities.
The Northeast region took most of the top billing overall, though the study notes vast improvement in the Midwest over the past 10 years that's seen those states to compete for higher ranks.
The poorest states — mostly in the south, according to the study — consistently score the worst. This year followed suit.
These states joined Minnesota at the top of the overall list:
1. Minnesota
2. Massachusetts
3. Iowa
4. New Hampshire
5. Connecticut
These states rounded out the bottom of the list:
46. Alabama
47. Nevada
48. Louisiana
49. New Mexico
50. Mississippi
New Mexico had the highest rate of children in poverty — 30 percent across the state, according to the study.
The Data Center considers children to be in poverty if they're under 18 and their family's annual income falls below the U.S. Census Bureau poverty line that's set just under $24,000. The national average leveled at 22 percent of kids in 2014, according to the study.
Comparatively, just 15 percent of kids in Minnesota fall below the poverty line.
The foundation found that 58 percent of kids in Puerto Rico are considered to be in poverty, though the U.S. territory was not qualified in the study's overall ranking.
Other notable findings from the study include:
— Ten percent of Mississippi teens aren't in school and not working, which is more than double Minnesota's rate; and a third of Mississippi high schoolers don't graduate on time.
— Only 23 percent of fourth graders are considered proficient at reading in New Mexico—that's 12 percent lower than the national average.
— Massachusetts had the lowest percentage of 8th graders not proficient in math in 2015 at 49 percent. Alabama, in contrast, had the highest rate — 83 percent.
— Nationally, 6 percent of children lacked health insurance in 2014. That's a 40 percent improvement from 2008.
*********
75 Percent of Black California Boys Don't Meet State Reading Standards
 By Matt Levin | May 31, 2017 | EDUCATION
Three of four African-American boys in California classrooms failed to meet reading and writing standards on the most recent round of testing, according to data obtained from the state Department of Education and analyzed by CALmatters.
More than half of black boys scored in the lowest category on the English portion of the test, trailing their female counterparts. The disparity reflects a stubbornly persistent gender gap in reading and writing scores that stretches across ethnic groups.
Posted below, the data provide a unique glimpse of how gender interacts with race and class in mastery of basic reading, writing and listening skills tested on state exams. While California publishes separate figures on the performance of various ethnic and economic groups, it does not make public a more detailed breakdown of how boys and girls are performing within those groups. State officials say they do not sort the data that way because of complexity, cost and time constraints.
Unlike in math, where girls have caught up to boys in California and elsewhere, female students in general maintain a sizable lead over their male classmates in the language arts. While initiatives to encourage girls to learn math and science have received considerable publicity, the gender reading gap is viewed less as a problem warranting action.
"I wouldn't put this in the same category of severity or concern as other achievement gaps," said Tom Loveless, an education researcher for the Brookings Institution, a public policy think tank in Washington, D.C. "But there needs to be greater awareness of this."
The gap spans all grade levels. Boys in high school score better than those in grade school, but girls outperform them by consistent margins at every age. And a higher family income does not appear to even things out.
The gap is not unique to California. In states that administer the same standardized exam as California, girls outscore boys by similar margins. In international reading comprehension exams, girls best boys in nearly every country and at nearly every age.
The phenomenon is nevertheless worrisome because it may compound other educational disparities California has attempted to close for decades, without success.
"If boys don't read as well as girls, and if that persists all the way through K-12, it means when you reach certain thresholds like college, it places the males at a disadvantage," says Loveless. "The ability to read well has a lot to do with the ability to get into college and the ability to do well while you're in college."
What explains the poor scores? And why doesn't the state provide more detailed data?
Certainly scores aren't the only educational area in which black boys trail their peers. African-American boys are more likely to be suspended and drop out of school than other demographic groups, in California and elsewhere.
But the reading data is sobering. As early as fourth grade, for example, nearly 80 percent of black boys failed to meet state reading standards. Of all ethnic groups for which the state collects data, black boys trailed black girls by the widest margin.
"Part of this may be structural, in having texts that aren't relevant to the experiences and legacy of African-American boys," said Chris Chatmon, founding executive director of the African-American Male Achievement program at the Oakland Unified School District. "When a lot of the curriculum you have access to isn't familiar, or doesn't acknowledge your past or your present, you have a tendency not to be engaged with it or want to read it."
While the state makes it relatively easy for parents to look up the test scores of African-Americans at local schools, the data is not broken down by gender. So it may be difficult to identify schools where black boys are performing well, as well as schools that are struggling.
"The state should report this data," Ryan Smith, executive director of the education reform advocacy group Ed Trust-West, said via email. "One of the consistent things we find in our research is that schools and districts closing gaps for students of color tend to do more with data, not less."
The data limitation is not unique to California—detail is lacking in many other states' public-facing test results. A spokeswoman for the California Department of Education said producing more detailed data is under consideration, but "schools and districts already have the capacity to create student results by all kinds of cross-tabulations."
Are girls inherently better readers? Isn't that what they used to say about boys being better at math? What does the research say?
Education researchers have multiple theories about why girls routinely outperform boys on reading and writing tasks.
Loveless explains three main schools of thought. One longstanding explanation—that some hidden biological difference in development makes girls inherently better readers and writers—still has support in some quarters.
"That there is something about the male and female brains–that we're just hardwired differently—if that's really true, …at that point it's doubtful we're really going to be able to fix it," he says.
However, the supposition that "hardwiring" made boys superior in math and science has appeared to fade over time, as girls in California and elsewhere have matched boys on standardized tests.
A second explanation holds that cultural norms involving masculinity and reading may be at play—that it's not considered manly to read and write or even excel academically. Several studies have shown that boys increasingly see school as a female pursuit and that various cultural cues depict reading and writing as feminine activity.
But the consistency of the gender gap internationally and over time casts doubt on that explanation. In cultures as varied as Finland's and Japan's, girls still score better on standardized tests.
Finally, many point to how schools are structured—a lack of sufficient recess to allow high-energy boys to blow off steam, reading materials unrelated to male interests and a predominantly female teaching workforce. But Loveless cautions that those arguments stem less from empirical research and more from old-fashioned stereotypes.
And again the gap persists in foreign education systems, many of which are radically different from ours. In addition, international and state reading tests are routinely tested for gender bias.
That leaves researchers like Loveless without a conclusive answer.
For its part, the California Department of Education is noncommittal on whether the gender reading gap is worthy of the administration's attention. Differences between boys and girls still pale in comparison to differences found by race, ethnicity and class.
"There have often been gender gaps in performance," a department spokesman said by email. "These gaps show up in different ways depending on what is being measured.…Some gender gaps are more noticeable within certain race/ethnicities."
https://calmatters.org/articles/dat…-california-boys-dont-meet-reading-standards/
**********
Child care now costs more than in-state college tuition
Most parents with young children work outside the home. So they need an affordable, high-quality, easily accessible place to leave their kids while they work.
Good luck with that.
The average cost of full-time daycare for kids up to the age of 4 has reached $9,589 a year, according to a new report from the think tank New America. That now tops the average cost of in-state college tuition, which runs about $9,410.
That means parents earning the national median household income (a little north of $53,000) would need to shell out 18% of their income for the care of just one child.
The younger your child, the higher your bill. Infant care costs about 12% more than toddler care. It ranges from a low of $6,590 a year in Arkansas, or 15% of median state income; to a high of $16,682 in Massachusetts, or about 25% of median income there.
And, of course, the lower your income, the higher your level of stress over footing the bill. Minimum wage workers, on average, will have to fork over nearly two-thirds of their pay for child care.
Having a nanny at home will cost far more – an average of $28,353 a year. Put another way, that's more than half of U.S. median household income, 188% of the income for a single minimum wage worker or three times the cost of average in-state college tuition.
The authors of the New America report stress the value of early care to foster a child's brain development and ability to learn. "An effective system should be built on three pillars: affordable cost, high quality and easy availability. That is not happening in the current fragmented, patchwork system," they wrote.
Only 11% of child care centers nationwide are accredited, the report said. And 20% of families said they use more than one child care arrangement in any given week, both paid and unpaid.
The top five states with the highest overall care score are Connecticut, New Hampshire, Massachusetts, Rhode Island and Minnesota.
The bottom five states with the lowest overall score are West Virginia, Mississippi, New Mexico, Nevada and Oklahoma.
(Here's New America's state-by-state look at child care costs, quality of care and availability.)
An issue Clinton and Trump can't ignore
For the first time, the issue of how to make child care more affordable is getting serious attention in a presidential election.
Hillary Clinton and Donald Trump have now both proposed a few ways to get at the problem – although their proposals are very different.
Clinton wants to cap the cost of child care at no more than 10% of a family's income up to a certain amount. She also wants to guarantee 12 weeks of paid family leave and universal pre-K for 4-year olds.
Trump would let women who have babies collect six weeks of unemployment benefits if their employers don't offer paid leave. Working and stay-at-home parents could take a deduction for their child care costs. And families could save up to $2,000 a year in a new tax-advantaged account to cover costs for child care, private school tuition or after-school programs.
For her part, Clinton still needs to offer more specifics on how her plans would work. And Trump needs to tweak his proposals to better help low- and middle-income families who need the help the most.
But that both candidates have put forth real proposals is a step forward in the national conversation on the issue, child care advocates noted.
**********
Can You Use the '529' Money for Grad School?
Experts answer this and other questions about strategies for college savings

Our college Q&A column addresses whether 529s can be used for grad school, what to do with extra 529 money, help from grandparents, and more. PHOTO:ISTOCKPHOTO/GETTY IMAGES
By
CHANA R. SCHOENBERGER
October 9, 2016
13 COMMENTS
When planning for college expenses, tax-advantaged "529" accounts have been a popular savings tool. But readers are often unsure about the details. Questions about the state-sponsored plans, which typically invest in mutual funds, continue to dominate our college-finance mailbag. Here are experts' latest answers.
***
If our only child receives a full scholarship, or we decide to not tap into his 529 for his undergraduate expenses, can we use it for grad school? Can we keep the account in his name and then will it to another beneficiary? Does it have to be liquidated at our death?
Yes, 529 funds can be used for graduate school. You can also change the beneficiary to any direct relative of the original beneficiary; this can be done at any time and doesn't need to be done through a will. And note that if your child receives a scholarship, you are permitted to withdraw that amount from a 529 without incurring penalties, though if the money isn't used for educational expenses, you pay income taxes on any earnings.
In terms of how ownership transfers fit into your estate plan, you'll want to consult an estate lawyer because 529 plans can have different rules on this. For some plans, you can designate a successor owner or contingent account holder. Upon death, ownership would transfer to that person, says Karen Wallace, a senior editor at fund researcher Morningstar.
One exception, she notes, is "if the parents have made a five-year lump-sum contribution, which allows you to 'superfund' a 529 plan and avoid paying federal gift taxes if you spread the amount equally over five calendar years and complete IRS form 709 with your federal tax return in each of those five years." In that case, if the parents die before the end of that five-year period, there could be estate-tax consequences, she says.
***


ILLUSTRATION: DAN PAGE
My daughter, age 28, has extra money in her 529 account because she received significant scholarship assistance during college. I did not know at that time that I could withdraw the amount of the scholarship from the 529 account without paying tax or penalty. Can I get it out tax- and penalty-free now, even though she graduated several years ago?
Scholarship withdrawals don't incur penalties but you do incur income taxes on any earnings. There is no requirement that you withdraw money from a 529 in the same year that you receive a scholarship, although it's a good idea, says Thomas Rowley, director of retirement and education strategies at Invesco. To be safe, though, since it is years later, check with the plan administrator to make sure you can still properly withdrawal the money and not pay the 10% penalty on any gains you earned.
***
I have eight grandchildren and as they reached grade school I started each of them with a 529 account, contributing $400 a month to each and increasing it to $1,000 a month during high school. I am listed on each of their college bursars' accounts as a person to share financial information, so that when the school notifies the student that a payment is due, I receive the same notification. Upon receipt I email Vanguard to sell enough of the investment to cover the cost and send the money to my bank. I then forward the money to the school. Is there anything wrong with my system?

You should check with your tax adviser on whether your reporting requirements are different if the check is made out to you or the school directly, says Ms. Wallace. Note, also, that "schools receiving money from a [grandparent-owned] 529 plan may treat it in a way that has a big reduction on financial aid," she says. If your student has a chance at qualifying for financial aid, you may want to look into the best time to withdraw those 529 funds—such as junior or senior year—so as not to jeopardize any aid award the student might get.
***
Instead of using a 529 account, can a grandparent use the gift-tax exclusion to help grandchildren pay for college expenses? And if a grandparent pays college tuition and dorm costs directly to the university, am I correct that the money isn't considered a gift and isn't taxed?
Yes. You are allowed to give a grandchild (or anyone else) up to $14,000 a year without having to file the gift-taxform, and the child can use that money for college (although once the money is transferred, you lose control over how it is spent). You can also pay the school directly without gift tax kicking in, "although many schools consider this type of payment as student support, which can result in a dollar-for-dollar reduction in aid eligibility when the student applies for financial aid the next year," Mr. Rowley says.
JOURNAL REPORT
MORE IN INVESTING IN FUNDS & ETFS
Be aware that the gift-tax exclusion for direct payments to colleges only covers tuition; withdrawals from 529s can also cover qualified educational expenses such as computers, room and board, and books, he says.
"A better solution may be to contribute to the student's 529 plan," which is assessed at a lower percentage than student income in the financial-aid calculation and therefore has a lower impact on aid reduction, Ms. Wallace says.
***
I've read about waiting to withdraw money from a 529 until a student is a junior or senior, to better enable that student to qualify for grants. Where, then, do people expect to get the money for the first few years? Doesn't this tactic defeat the purpose of having a 529 at all?
Don't fret, there generally is no need to wait. After all, the Free Application for Federal Student Aid, or Fafsa (used to determine need-based financial aid), considers both assets and income anyway.
"It's important to realize that whether or not you withdraw the money from a 529 account that lists your child as a beneficiary, the money in the account will be counted as assets in the federal formula for student financial-aid eligibility," Mr. Rowley says. Parents' assets are counted at a 5.64% rate, students' at 20%, and grandparents' assets aren't counted at all, even if they hold 529 accounts with the student as the beneficiary.
But grandparent-owned accounts can be an issue, which is where that "waiting" advice comes from: While money that comes out of a parent-owned 529 for educational expenses isn't considered student income for aid calculations, if a grandparent owns the account, 50% of withdrawals count as student income, which can affect aid. That's why experts suggest using parents' 529s for the first few years of college, and grandparents' 529s for later years.
Ms. Schoenberger is a writer in New York. She can be reached atreports@wsj.com.
Corrections & Amplifications:
Withdrawals from a "529" college-savings plan that aren't for qualified educational purposes will incur income tax on any earnings, but if the withdrawal is because of offsetting scholarships the student received or other exemptions, there won't also be penalties. An earlier version of this article incorrectly stated that money taken out because of a scholarship will incur neither taxes nor penalties. (Oct. 10, 2016)
https://www.wsj.com/articles/can-you-use-the-529-money-for-grad-school-1476065100
**********