The incredible life of private equity titan Robert Smith, the 268th wealthiest American
Jonathan Marino
Oct. 2, 2015, 8:46 AM
Robert F. Smith, CEO of Vista Equity Partners.robertfsmith.org
Robert F. Smith, CEO and founder of private equity firm Vista Equity Partners, just graced the cover of Forbes' richest Americans issue.
With a net worth of $2.5 billion, he's ranked No. 268 on Forbes' list of wealthiest Americans.
That puts Smith ahead of early Facebook investor Jim Breyer, who has a net worth of about $2.4 billion, and on par with private equity veteran and Philadelphia 76ers co-owner Josh Harris, who has earned $2.5 billion to date.
He also displaced Michael Jordan, becoming the second-richest African-American in the US — behind Oprah Winfrey.
It's the latest accomplishment in a stellar 12 months for the leader of one of Silicon Valley's budding software and technology investors. Last October, Smith and Vista closed a fund nearing $6 billion, the firm's biggest ever.
He also got hitched to Hope Dworaczyk, mother of his young son, in a wedding that can only be described as epic.
He faced an uphill battle in Silicon Valley from early on
Smith gave the commencement speech at American University's 2015 graduation, where he spoke about his earliest attempts to get work in Silicon Valley while he was still in high school.
"I dug up the phone number for Bell Labs to ask about summer internships. They said I could apply if I were a junior or senior in college. I said that was fantastic, because, while I was only a junior in high school, I was getting A's in computer science and my advanced math courses, so it was like I was in college. Much to my dismay, they disagreed."
But he was persistent and eventually got his way.
"I called back every day for two weeks straight. The HR director stopped taking the calls after the second day but … I left a message with my phone number. Then I called every Monday for about five months, and every Monday the receptionist chuckled and took a message. I kept at it. To my great surprise, Bell Labs HR Director finally called me back — in June. An intern from MIT hadn't shown up, and they needed someone fast."
Smith spent years working as an intern at Bell
Smith attended Cornell for undergrad but he never lost touch with Bell Labs. He continued to do work there as an intern during his summer and winter breaks before graduating Cornell with a chemical-engineering degree.
After Cornell, Smith headed to Columbia University
Smith would go on to earn his MBA from Columbia University. Afterward, he headed straight to Wall Street, taking a job at Goldman Sachs. "When I finished business school and decided to join the tumultuous world of investment banking, my family and friends spoke up with concerns about my sanity," he said in his American University commencement speech.
Smith would rise to cohead of enterprise systems and storage-investment banking, advising on $50 billion of deals from 1994 to 2000.
Smith launched Vista Equity Partners after leaving Goldman Sachs
Smith left Goldman Sachs, where he worked on tech M&A, in 2000 and launched his own private equity firm. In the 15 years since, Vista Equity Partners has generated outsized returns for investors and grown to nearly $16 billion in assets, according to Forbes. It is considered to be one of private equity's up-and-coming firms.
His former colleagues at the bank thought he was crazy
"When I left my post at Goldman Sachs just after we had gone public to set up a private equity firm called Vista Equity Partners … my mentors and colleagues at Goldman thought I had lost it," he said in his speech earlier this year.
"I was never mad at those folks, in fact I'm grateful for their advice and concern. In their caution, I found my courage. In their doubts, I found my resolve. In their warnings, I found my voice and chartered my own journey."
Smith's investing strategy is to back Silicon Valley's least-known companies
Silicon Valley may be best known for billion-dollar valuations and soaring real-estate prices, but Smith's strategy is practically contrarian: He's investing in software and technology companies that aren't in the least bit flashy. The New York Times recently called Vista's hiring strategy "decidedly unusual" for how it uses tests to whittle down candidate lists.
Smith's private equity firm is generating monster returns
Vista Equity funds' performance, regularly returning 30% to investors.
In the years since Vista's founding, the firm has generated bumper returns for investors and gradually increased assets under management. Smith's fund collected nearly $6 billion for its most recent fund, despite only setting out initially to collect less than $4 billion.
Smith has the respect of many of his Wall Street peers.
Smith's strategy — as well as his work ethic — have won him praise on Wall Street. He's the "antithesis of [Blackstone CEO Steve] Schwarzman," a tech-industry banker told Business Insider. The banker went on to praise Vista, as well, saying "there is no shortage of PE shops that have succumbed to style creep and/or chasing fleeting trends, but Vista has remained focused on enterprise software and technology."
Another banker told Business Insider that Smith was "one of the smartest men I've ever met."
Smith is a donor to Democrats
Many private equity executives are regular donors to campaigns on both sides of the aisle, and for good cause — this year, there's legitimate concern about how the tax break on which the industry depends will be treated by the incoming administration. Smith is no different: He has donated to Democrats, including Hillary Clinton and New York Sen. Chuck Schumer.
Smith still has the time for some recreational activities
Smith also serves as the chairman for the Robert F. Kennedy Center for Justice and Human Rights; he's a member of the Cornell Engineering College Council, and a trustee of the Boys and Girls Clubs of San Francisco. He's also a board member of Carnegie Hall in New York — and, when he finds the time, he's a fly fisherman, according to his bio.
Smith is now the second-richest African-American, behind Oprah
With his arrival at the No. 268 spot on Forbes' list, Smith moves into elite company. He's the second-richest African-American, only trailing Oprah Winfrey after displaced NBA Hall of Famer Michael Jordan in the magazine's rankings.
When he took an investment from Dyal Partners, Neuberger Berman's private equity unit, in Vista, it valued his firm at $4.3 billion. Smith still controls a majority stake in Vista.
Smith said that being African-American in private equity has caused him difficulty: "I know that's the reason certain limited partners don't back us," he told The New York Times.
**********
Black College Student Jewell Jones Makes History As Youngest Lawmaker In Michigan
http://www.essence.com/news/jewell-jones-makes-political-history-michigan
http://michiganjournal.org/2016/11/10/jewell-jones-to-be-youngest-state-rep/
https://www.facebook.com/jonez95
https://www.facebook.com/unitedforjewelljones
https://ballotpedia.org/Jewell_Jones
**********
From the StartupBus to RocNation, former P&G exec aims to upend audio ads
The UpTake: Rodney Williams' came up with his idea for using audio tags to precisely target relevant advertising aboard the Startup Bus. Now, he has a public-private partnership and has signed Jay-Z's Roc Nation.
From electronic billboards to automated emails, marketers have long employed the latest technology in hopes of delivering the right message to the right consumer at the right time.
While social media and mobile communication provided groundbreaking ways to pinpoint the customer and customize the message, the issue of timing has remained a significant hurdle—and one that Lisnr, an audio-based marketing and content distribution platform, aims to turn into an advantage.
The Cincinnati startup, launched in 2012, provides clients with a streamlined medium for delivering optimum content to their target consumer, at the ideal moment.
"This is opening up a whole new media source, being able to push a message based on the audio around a consumer," said Rodney Williams, CEO and co-founder of Lisnr.The concept was born in March 2012 when the five founders met on a Cincinnati StartupBus, a venture that gives teams of potential tech entrepreneurs three days to develop and then pitch their concepts. Less than six months later, the new company was on its way, with seed-stage funding from CincyTech, a public/private partnership that invests in startup technology companies.
While app-based services such as Shazam also use audio content recognition, Williams, a former brand manager at Procter & Gamble, said the similarities end there.
Ultrasonic signals, which are inaudible to humans but detected by smartphones' microphones, are at the heart of Lisnr technology. Lisnr places these audio "tags" in clients' media, such as a song. If the free app is downloaded on a smartphone, it will continuously "listen" for tags. When a tag is detected, Lisnr sends a notification to the user that additional content is available.
For consumers, that timing allows for an additional level of interaction that's become known as the "second-screen experience." If someone is listening to music, for example, Lisnr might deliver exclusive news about an upcoming release from the artist. At an event, the app might activate features that interact with show. Last year, electronic dance trio Swedish House Mafia partnered with the company to prompt fans to access a light-show feature during the concert.
For marketers and brands, the approach allows for extremely targeted messaging with users who are already engaged and provides ample opportunities for cross-marketing.
To date, Lisnr has focused on music and live entertainment, but because the tags can be placed in any audio source, Williams says the potential applications are endless.
This year, the company hopes to close a new round of funding and expand on their notable successes from 2013 – including generating over $500,000 in revenue and signing Roc Nation, the entertainment company founded by hip-hop mogul Jay-Z.
**********
The American Dream Achieved by Self-Made Ohio Industrialist Through Hard Work and Determination
Stephen L. Hightower Has Created One of the United States Most Prosperous African-American Owned Businesses.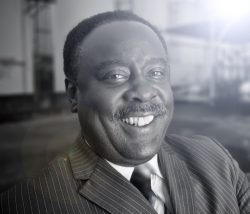 New York, NY, August 19, 2015 –(PR.com)– What began in 1957 as a small family-owned janitorial service company outside of Cincinnati, Ohio, Hightower Family corporations has since blossomed to that of a non-traditional tight market segment of the energy sector.
Through persistence, drive and determination, Stephen L. Hightower has methodically built his wholesale fuel distribution business into an energy solutions enterprise that today is recognized throughout North America and Africa for its customer service, integrity, creative fuel distribution model and expert handling of complex upstream and downstream issues.
In 1984 Stephen started Hightowers Petroleum Company (HPC) based in Middletown, Ohio, as a licensed Motor Fuel Dealer. With foresight and continuing innovation, HPC developed a "Virtual Marketplace" throughout the United States with the ability to provide gasoline, diesel, "DEF", fleet cards, disaster response, generator programs, and alternative energy nationally and internationally.
Stephen has been a leader in the energy sector for over 30 years. As President & CEO of Hightowers Petroleum Company, he has built the company into the largest African-American owned downstream petroleum marketer in the U.S. Today, servicing Fortune 500 customers including General Motors Company, Ford Motor Company, Kroger Company, Federal Express, Duke Energy and AK Steel among others. Additionally, he is principle owner of Hi-Mark Construction Group and HP Energy, a developer of energy efficiency projects.
Surpassing annual revenues of over $345 million has landed HPC as one of Black Enterprise 100's list of the nation's largest Black-owned industrial/service companies, with an additional $30 million with his other affiliates.
Stephen has remained active in the international community since 1984, primarily in Nigeria, South Africa, and Mexico; He maintains relationships with most of the major energy companies across the United States. Stephen continues to be a leader in the industry while providing value and innovation to all of his customers.
Through the leadership of Stephen L. Hightower, Hightower Family corporations continue to provide its customers with unique processes; in addition has built a supply chain that "Exceeds Expectations" while "Fueling America's Energy Needs" one customer at a time!
Stephen served on the Board of the Society of Independent Gasoline Marketers of America (SIGMA). He was appointed by the Secretary of the Department of Energy to the National Petroleum Council and is active on Capitol Hill with the Cincinnati USA Regional Chamber of Commerce Government Affairs Committee, NACS, SIGMA, OPMA Legislative committees as well as a member of the 21st Century Council of the Congressional Black Caucus Institute. He is a member of the Wright State University Foundation Board of Trustees.
He was appointed to the National Park Foundation's Board of Directors by President Barack Obama and confirmed by Secretary of the Interior, Kenneth Salazar. Stephen also serves on the Corporate Roundtable for the National Black Caucus of State Legislators.
A lifetime resident of Middletown, Ohio, Stephen majored in Business Management and Communications at Wright State University and completed executive management programs at the University of Virginia – Darden School of Business, the Kellogg School of Management at Northwestern University, Tuck School of Business at Dartmouth and Robbins Research Institute.
Stephen also remains extremely active delivering emotionally riveting speeches to businesses, entrepreneurs, and students on perseverance, leadership, and fulfilling your dreams!
For more information, please visit www.StephenHightower.com.
**********
TRAP KITCHEN:
**********
**********