Aliko Dangote lives as you might expect, given he's the richest person in Africa and resides in the same country being bullied by the insidious Boko Haram terrorist group, which finds something noble in kidnapping village girls. Located on Victoria Island, a wealthy Lagos enclave that has a moat in the form of a lagoon and the far eastern shores of the Atlantic Ocean, his mansion comes with all the trimmings: massive black gate, bulletproof windows, Big Brother video surveillance, guards and a secret entryway.
After I enter, a butler motions to a sitting room overlooking a patio and a blue-tiled pool. The three-story fortress is shielded from the 90-degree heat by powerful air-conditioners (themselves presumably shielded from Nigeria's notoriously unreliable electric grid by diesel generators). Dangote, round-faced with a trimmed graying mustache, appears from upstairs dressed in khakis and a casual blue button-down. The 57-year-old can seem miscast in the role of industrial titan, often speaking so softly that he mumbles.
As breakfast arrives by the platterful, including plantains, smoked chicken in red sauce, diced sweet potatoes, white fish and sausage, he sticks to coy conversation. Whether about his country's fraught presidential election ("It's going to be tough for both parties") or his cement company's long-delayed overseas listing ("Maybe next year"), he has little to say.
On one subject, though, he is always articulate. "Nigeria is one of the best-kept secrets," Dangote says. "A lot of foreigners are not investing because they're waiting for the right time. There is no right time."
Nigeria does provide fertile opportunity for vast wealth. As evidence, look no further than Dangote's No. 67 rank on the World's Billionaires List and his $14.7 billion fortune–mostly from three majority stakes in publicly traded cement, sugar and flour companies. And he doesn't arrive here alone. In another dramatic sign of his country's emergence, Nigeria has overtaken South Africa on FORBES' 50 Richest in Africa ranking. Thirteen Nigerians earned spots in 2014, including a trio of new billionaires.
Dangote and these other Nigerians power Africa's largest economy. The drop in crude prices prompted the oil-rich country's stock index to plunge 40% last year, taking Dangote's net worth down in lockstep–no surprise, since his companies account for almost a third of the nation's benchmark index (his $10.3 billion drop in net worth was the world's largest last year). But the underlying fundamentals are strong. From 2010 to 2013, Nigerian GDP expanded by an average of 5% a year. (It now totals some $500 billion, or a third larger than South Africa.) Even with the oil glut, forecasters believe this year's growth will top 5%. In fact, according to a widely cited Citigroup C -0.2% report, economists expect Nigeria to have among the fastest average annual GDP growth in the world between 2010 and 2050.
There are other r easons for international interest as well. In the shadow of rising Islamic militancy, which has destabilized the Middle East and now threatens to do the same to parts of Africa, President Obama recently issued an executive order tasking U.S. business executives with strengthening trade ties to sub-Saharan Africa (the council includes heavy hitters from Wal-Mart, G.E. and McKinsey). Prior to that, in May 2014, he dispatched Penny Pritzker to Nigeria, the first visit by a Commerce Secretary in two decades. America's foreign direct investment in Nigeria reached a continent-leading $8.2 billion in 2012, the last year for which statistics are available. Overall U.S.-Nigerian trade was $9.8 billion last year. Nigeria sells far less oil to America these days–it exported $2 billion of the black stuff last year as the U.S.' tenth-largest supplier–so most of that trade comes through other goods and services.
Keeping Nigeria successful is critical. The country is already Africa's most populous, with more than 170 million people, and that figure will swell to 210 million by 2020. By 2050 Nigeria is forecast to overtake the United States (440 million to 400 million). Yet a majority of the people subsist on less than $1.25 a day. About half are illiterate; most are very young (the country's median age is 18.3). And 50% of rural Nigeria lacks access to clean drinking water. It's hard to imagine the government coming to grips with it all, even if oil prices recover. Nigeria consistently ranks in the bottom quarter of the most corrupt countries in the world, according to Transparency International, and is proving a feckless pursuer of the Boko Haram thugs terrorizing the northeast.
All of which makes Dangote–well connected, wildly wealthy and ready to do business–an increasingly important player on the world stage. "Anyone doing business in Africa," says David Rubenstein, the cofounder of the Carlyle Group and a fellow billionaire, "knows Dangote."
THE ROOTS OF DANGOTE'S rise lie 150 miles south of the Sahara in his hometown of Kano, Nigeria's second-largest city. A dusty metropolis, Kano has been a trade center and commercial hub since its establishment in the 10th century, thanks to its strategic location on the edge of the vast desert. Egyptian perfumes, incense, inks and mirrors dominated at first, then leather goods. The camel caravans became lucrative enough to fight over; wars broke out with neighboring kingdoms. When the British arrived in the late 1800s, Kano was West Africa's most important business center.
Under British rule, Sanusi Dantata, Dangote's grandfather, grew rich trading commodities like grain oats and rice, and ranked as one of Kano's wealthiest citizens. Dantata insisted on personally raising his grandson–not an unusual arrangement in northern Nigerian culture–and instilled a businessman's mind-set in Dangote at a young age. At 8, he turned allowance into startup capital. "I would use it to buy sweets, and I would give them to some people to sell, and they would bring me the profit," Dangote says. "When you are raised by an entrepreneurial parent or grandparent you pick that aspiration. It makes you be much more aggressive–to think anything is possible."
The country was growing up, too. Post-colonial instability, including countless coups and a civil war in the 1960s, was eclipsed by an oil boom in the 1970s. During that decade, the economy grew 18% annually, with many of the spoils going to well-connected elites. Despite the explosion of revenue, the World Bank still considered Nigeria–along with countries such as Bangladesh, Ethiopia, Chad and Mali–as "low income," a candidate for international aid.
Dangote, a Muslim, attended AlAzhar University in Cairo and studied business. After graduation, he asked his grandfather for permission to move to Lagos. A $500,000 loan from his uncle set up 21-year-old Dangote as a trader of rice, sugar and cement.
He was well capitalized and a naturally talented trader. He imported sugar from Brazil and rice from Thailand and sold them locally at a huge markup. At his height, he says, he was pocketing $10,000 in profit a day. "Things were quite good," he says. "It allowed us to create an awful lot of cash."
He also worked the politicians. According to a State Department cable unearthed by WikiLeaks, Dangote "held exclusive import rights in sugar, cement, and rice, using such advantages to do volume business and undercut competitors." Dangote flatly denies this.
Dangote's success landed him firmly on America's radar. A 1994 diplomatic cable singled him out as a businessman to know in Nigeria and drew attention to his clan's homes in Kano, Lagos, London and Atlanta. The State Department report also highlighted the annual family vacation to the States.
A 1995 trip to Brazil convinced him to shift from trading to manufacturing. Why continue to play middleman when he could make the stuff in Nigeria instead and pocket even more profit? His resolve was strengthened in 1999, when Nigeria held its first democratic presidential election in six years, choosing a bespectacled former military ruler and chicken farmer named Olusegun Obasanjo, whom Dangote had known since 1981. As a key part of his platform, Obasanjo pledged to protect and promote domestic industry.

Dangote Cement operates ten plants, including the largest in Africa, supplying 53% of the total Nigerian market.
That's all Dangote needed to hear. Dangote Sugar started in 2000 and quickly expanded the annual production capacity of its refinery at Lagos' Apapa Port to 1.44 million tons, enough to satisfy 90% of national demand. By the time Dangote Sugar debuted on the Nigerian Stock Exchange in 2007, sales had quadrupled to $450 million. The flour firm, which began in 1999 and also produces pasta and noodles, followed a similar trajectory. It began with a single mill, tripled revenue to $270 million, increased capacity eightfold to 1.5 million tons–then joined Dangote Sugar on the NSE in 2008, the same year Dangote became the first Nigerian on FORBES' World's Billionaires list, at No. 334. In 2005 Dangote secured a $479 million loan led by the World Bank's International Finance Corporation–Nigerian banks didn't have the ability, or the stomach, to put up the cash alone–and agreed to plunk down $319 million of his own money to build a cement factory. Dangote Cement listed on the NSE in 2010 as a $1.3 billion-in-sales company. The three companies today do a combined $3 billion in revenue; while Dangote Flour operates at a loss and Dangote Sugar's net margin falls in line with Brazilian peer Cosan, the cement company is wildly profitable, with a margin of 52%–about double that of close competitor LaFarge Africa.
Obasanjo, reelected in 2003, worked overtime to ensure that any Dangote challenger who entered the market did so with a significant handicap. At the time Dangote's sugar and flour companies went public, raw sugar was taxed 12 times less than refined sugar, wheat 6 times less than flour. Dangote Cement prospered from restrictive licenses. The companies retain a vice-like grip on their industries today, controlling at least half of the cement and sugar markets and about 25% of flour. "When Obasanjo took over, he took guys with him," says a Nigerian belonging to the country's overlapping circle of business and political elites. "He gave them a leg up."
Last August, as the Islamic State overran northern Iraq and Boko Haram was declaring its own caliphate in Nigeria, the White House held a U.S.-Africa trade summit in Washington, D.C. A highlight was the announcement of a $5 billion fund backed by Wall Street billionaire Steve Schwarzman's Blackstone Group–and Dangote. They plan to invest in infrastructure companies throughout sub-Saharan Africa. "We can do well as investors, and the countries will do well," Schwarzman says. "We're aware that operating in Africa isn't as easy as many other places. You have to have a very strong local partner, and we were lucky enough to find Aliko. He's done a remarkable job."
Rubenstein, of the Carlyle Group, sought out Dangote as well when raising money for his firm's first sub-Sahara-focused fund in 2012. Dangote ultimately invested in the $700 million fund. "His name carries a great deal of weight," Rubenstein says. "If you say he's an investor with you, that carries a lot of weight. He's helped us." The Carlyle fund has so far invested in five companies, including a $147 million deal last November for Nigeria-based Diamond Bank, a retail lender.
It's all part of Dangote's fast-rising international profile. He's a Davos regular, and appeared with Goodluck Jonathan, Nigeria's current president, on a panel about investment potential in Africa at the 2014 World Economic Forum. Even four years ago, he was there making a familiar pitch: "Don't give any more aid to Africa," he said. Invest with local partners instead. "You will make money, and we'll make money, and it's better for everyone."
But it is not in Dangote's nature to rely on others to prosper. Mostly, he relies on himself. He trusts few others with real power at his companies, often making decisions with little more than gut feeling, says a former top executive. "Ultimately all the decisions sit with the boss, Dangote, rather than the senior management," the executive says.
Self-reliance and a supremely healthy ego blend seamlessly into a cult of personality at Dangote's firms. Portraits of him hang on the walls. The average Dangote employee seems to virtually worship him. "I'm going to be a big man, I'm going to be the next Dangote," a lab technician at the one of the cement plants says over and over again until his sentiment is recorded on paper. A lieutenant warns that Dangote will walk out of a meeting if it starts even a minute late.
But Dangote is hardly the hermetic workaholic ("I don't think I'll ever retire") he puts on. "He attends more parties than anyone I know," says Jim Ovia, a banker and close friend. One Sunday last month found Dangote on his yacht–christened Mariya after his mother–and then flying to Geneva on Monday to see his grandchildren. Later that week he met first with the French general counsel and then with Davido, Nigeria's biggest pop star.
Another recent social call: breakfast with former president Obasanjo, then onto Abuja to meet the current president. Dangote has good reason to keep up with Jonathan, whose government still enforces Obasanjo-era high tariffs on imports that compete with Dangote's key products. Indeed, the State Department has come to see Dangote as completely inseparable from the Nigerian government. "But without him a lot of people wouldn't have jobs," says a former U.S. diplomat in Africa. "And Nigeria would be weaker."
JONATHAN'S REIGN MAY SOON END: He faces a surprisingly strong challenger in this month's presidential election, and Boko Haram's unchecked bloodshed is at least partly to blame. The insurgents have killed an estimated 20,000 people, displaced more than a million and now control some 20,000 square miles within Nigeria. Jonathan's opponent–a retired army general–is seen by his supporters as the best man to finally defeat the terrorists.
For Dangote, the upheaval has meant lower demand for his cement ("There are places in the north where no one is thinking of building a home," one Dangote executive says), and he cut cement prices twice last year, most recently by 14% in November. But whether it's Jonathan or someone else ruling Nigeria, observers find it difficult to believe that anyone would shut him out of the presidential palace. He's simply too important to the economy.
Oil represents another big play. He is busy building a refinery some 40 minutes by car outside central Lagos. He explains with uncharacteristic glee that the recent drop in prices will actually make construction easier. His suppliers will be desperate … and easy pickings. "We will be the only ones around," he says. "We will carry a big knife and cut them on prices."
The refinery, Dangote says, can be profitable even at $50 to $70 a barrel. Raw crude for the refinery will come from multiple suppliers. If all goes according to plan, it'll produce 650,000 barrels a day–a variety of gas, diesel and jet fuel. Dangote would basically walk away with a monopoly on refined oil in the country: The four Nigerian National Petroleum refineries are viewed as corrupt to the point of nonfunctioning.
To make it happen, Dangote plans to invest some $10 billion to $11 billion in the project and an adjacent petrochemical plant, with at least $6.75 billion in debt financing. Dangote threw a big celebration the day he signed the loan terms at the Hilton in Abuja. Guests included state governors, bank executives and, naturally, the president.

Dangote wants his companies to have a combined market value of $100 billion; an oil refinery is the next part in that grand plan, and he wants it to go public by 2020.
Terraforming is almost complete on the refinery's 10-square-mile site–a jungle swamp now turned into a sandy expanse. A drive-through reveals a few stick huts, the last remnants of native villages that were there before Dangote arrived. Dangote executives promise the government has compensated the displaced natives well. As a stream of black Dangote trucks pass–one with a full bed of armed guards–a woman scurries inside a hut and shoots back a dark look.
The convoy pulls to a halt on a palm-tree-lined beach, a tropical paradise more suited to multimillion-dollar condos than refining petrochemicals. It's a goner, though, the future home of another Dangote empire. "The refinery will start in 2018 if we finish on time," Dangote says, optimistic as always. "By that time all the dead bodies will have been removed from the street. All the trouble will be gone."
**********
Meet the Woman Behind Angola's New $300-Million Steel Mill
The Parson's grad just pulled off a first for Angola.
Sanga de Almeida is not a woman who conforms to expectations.
The daughter of Angolan diplomats, she took a job as VP and CMO of K2L Capital, an Angolan holding company, without ever having lived in the country. She has no background in the steel, real estate or construction, K2L's primary businesses. Indeed, she studied fashion merchandising at the Parsons School of Design, and still dresses the part, arriving for a meeting at Fortune's office in a fur and fashion-forward heels.
Yet de Almeida was the driving force behind K2L's latest $300-million accomplishment: opening ADA Steel, the first-ever mass producing steel mill in Angola.
Inside the ADA factory Courtesy of K2L Capital
The need for diversification
The mill, which officially opened on Dec. 15, is one of a few major private investment projects in Angola, country in southern Africa that was devastated by a civil war that began in the 1970s and continued in fits and starts until 2002. To say the country needs this mill is an understatement; this year has been an incredibly painful one in terms of Angola's economy, says southern Africa expert Anne Fruhauf, a senior vice president at Teneo Intelligence. "This comes at a very good time for a government that's desperate for good news," she says.
Fruhauf explains that Angola's economy is extremely dependent on oil—it makes up more than 90% of the country's exports and about 75% of the government's revenues, she says. Given the slumping oil market, diversifying the economy is at the top of the agenda for the office of Jose Eduardo dos Santos, the dictator who has been president of the country since 1979.
Courtesy of K2L Capital
The birth of the ADA Steel project
With oil powering most of its economy, Angola is heavily reliant on imports. That lack of home-grown resources is precisely what prompted Georges Choucair, founder and CEO of K2L, to embark on the ADA Steel project. After coming to Angola from Senegal 23 years ago, Choucair began his real estate development business in 2003, importing all necessary steel from Brazil and Western markets. Eventually, K2L expanded into distribution of the metal as well; the company currently controls 70% of the imported steel market, according to Choucair.
Yet relying on imports is dangerous, says Choucair. He learned this firsthand in 2009, when a crisis in raw materials sent steel prices through the roof. Burned by the experience, Choucair decided it was time to start making the metal himself. After visiting some of the world's biggest mills, and receiving authorization from the Angolan government—a task that took a year and a half to complete—he began the project in 2012.
How steel found Sanga
De Almeida met Choucair in 2012, while she was was working for the Angolan embassy in Holland. Having just finished her masters' degree at Parsons, she was completely taken aback when Choucair proposed that she come work with him in her parents' home country. The daughter of Angolan diplomats, de Almeida spent her formative years in Paris, Ethiopia, and Morocco—but never in Angola.
"I'm good with handbags, not steel," she recalls telling Choucair, when he suggested that the then-29-year old de Almeida join K2L to "take care of anything related to image." She didn't take the idea seriously until she visited the country and realized how large of an impact she could have there. "It's such a new country that things have to be established literally from the ground up," she says.
One example: The hard-won battle of providing the mill with the infrastructure it needs to operate—an undertaking that fell to de Almeida. New to the industry and the country, she created relationships with government ministers, partnering with them to build a high-voltage line 52 km from the ADA Steel factory. The line, which went up in October, now provides electricity to the mill, as well as to a swathe of the country that previously had limited access to power.
Angolan ADA factory workersCourtesy of K2L Capital
A woman in a man's world
De Almeida and Choucair maintain that no money has changed hands between K2L and the government. Dos Santos' regime is notoriously corrupt, with the president and his supporters reportedly taking kickbacks from companies wishing to operate within the country. In 2012, the International Monetary Fund reported that 32 billion in oil revenue was missing from the country's ledger.
According to de Almeida, the scale of the project allowed K2L to do business without paying off the government. The regime was concerned that K2L would take its investment elsewhere if it encountered difficulty or corruption, she says.
De Almeida is often the only woman in the factory, which employs 600 people. "It's very awkward," she says. "[Some of] those men haven't seen a woman in three months." Being the sole woman can be difficult, and de Almeida has had to resort to playing tough on many occasions. "I have to step out of who I really am and be harsher," she explains.
Whatever it is she's doing seems to be working. The electricity line is in place and the mill is open for business. "She is a fish in the sea," says Choucair. "She is swimming."
What next?
2015 is a difficult time to be in the steel business, says Fruhauf, pointing to the fact that steel prices have been particularly low, and that other African steel projects—particularly in South Africa—have been struggling. "It fits with the broader theme of industrialization, but in terms of profitability this is challenging," she says.
De Almeida is confident in the project's viability, however. "Steel is not doing well in the world, but for a country like ours it makes complete sense," she says. "Everything that stands has steel in it and we're going to produce that steel." ADA has the capacity to produce 500,000 tons of steel per year.
"We lack infrastructure. We're young. We're getting there," she says. "And it's my job to make sure we do."
http://fortune.com/2015/12/22/k2l-angola-steel-mill/
*********
KKK Member Walks up to Black Musician in Bar-but It's Not a Joke, and What Happens Next Will Astound You

Daryl Davis is no ordinary musician. He's played with President Clinton and tours the country playing "burnin' boogie woogie piano" and sharing musical stylings inspired by greats like Fats Domino, Chuck Berry and Jerry Lee Lewis. He's a highly respected and electrifying performer who is currently an integral member of The Legendary Blues Band (formerly known as the Muddy Waters Band,) and he rocks the stage all over the nation.
Davis' travels, of course, have always afforded him the opportunity to meet a huge range of diverse people, but perhaps nothing could have prepared him for the moment that would change his life.
It was 1983 and Davis was playing country western music in an (informally) all-white lounge. He was the only black musician in the place and when his set was over, a man approached him. "He came up to me and said he liked my piano playing," says Davis, "then he told me this was the first time he heard a black man play as well as Jerry Lee Lewis." Davis, somewhat amused, explained to the man: "Jerry Lee learned to play from black blues and boogie woogie piano players and he's a friend of mine. He told me himself where he learned to play." At first, Davis says, the man was skeptical that Jerry Lee Lewis had been schooled by black musicians, but Davis went on to explain in more detail. "He was fascinated," says Davis, "but he didn't believe me. Then, he told me he was a Klansman."
Most people in this day and age probably would have turned and ran right out of that good ol' boy's bar, but not Davis. He stayed and talked with the Klansman for a long time. "At first, I thought 'why the hell am I sitting with him?' but we struck up a friendship and it was music that brought us together," he says.
That friendship would lead Davis on a path almost unimaginable to most folks. Today, Davis is not only a musician, he is a person who befriends KKK members and, as a result, collects the robes and hoods of Klansmen who choose to leave the organization because of their friendship with him.
The road to these close and authentic friendships, Davis says, involved a lot of learning on his part. He'd had racist experiences and had long wanted to write a book about race relations, but hadn't had the opportunity to sit down and talk to a Klansman. His upbringing was extremely diverse, and his first experience with organized racism was a shock. He explains:
I was raised overseas in integrated schools. I had had a racist experience already but I didn't know people organized into groups whose premise was to be racist and exclude other people. It seemed unfathomable to me. My parents were in the Foreign Service and I was an American embassy brat, going to international schools overseas. My classes were filled with anyone who had an embassy: Japanese, German, French, Italian. It was multicultural but that term did not exist at that time. For me it was just the norm. Every time I would come back (to the US,) I would see people separated by race. When my father was telling me about (the KKK) at the age of 10 it didn't make any sense to me. I had always gotten along with everyone.
When Davis decided he needed to write a book about the KKK, he knew he had to find the friend he'd made in the country western bar. Davis tracked him down eight years after they had first met. "I went to his apartment unannounced," Davis says. "He opens the door and sees me, and he says 'Daryl! What are you doing here?' He stepped out of his apartment and I stepped in. He said 'what's going on man? Are you still playing?' I said 'I need to talk to you about the Klan.'"
At first, his friend resisted, saying he would not give Davis the information he was seeking. "He would not do it because he was fearful," Davis says. "He thought I would be killed. I said 'well give me the guy's number and address.' He finally gave me Roger Kelly's number and address but he told me: 'don't go to his house; meet him in a public place.'" Davis immediately began making plans to approach Kelly, who at the time was the leader of the KKK in Maryland.
"My secretary called him," Davis says, "and I told her, 'do not tell Roger Kelly I'm black. Just tell him I am writing a book on the Klan.' I wanted her to call because she's white. I knew enough about the mentality of the Klan that they would never think a white woman would work for a black man. She called him and he didn't ask what color I was, so we arranged to meet at a motel."
That meeting, says Davis, was fraught with tension from the start. Kelly arrived at the motel with a nighthawk-a bodyguard dressed in military style fatigues-complete with a firearm.
We met at a motel, and I sent my secretary down the hall to get an ice bucket and sodas so I could offer Mr. Kelly a beverage. The room, by coincidence, was set up so that if the door opened, you could not see who was inside…Right on time there's a knock on the door. A bodyguard dressed in military gear comes in with a KKK beret and a gun on his hip. Mr. Kelly is directly behind him in a dark blue suit. The bodyguard comes in and sees me and freezes in his tracks. Mr. Kelly trips and slams into him like they were dominoes.

I saw the apprehension so I got up and walked over and said 'Hi Mr. Kelly, come on in.' He shook my hand, the bodyguard shook my hand, and they came in. Mr. Kelly sits down and the bodyguard stands at his right. He asked for identification and I handed him my drivers' license. He says 'oh you live on Flack Street in Silver Spring.' Well, I didn't need him coming to my house and burning a cross or whatever, and here he is calling off my street address. I wanted to let him know not to come to my house so I said 'yes, and you live at…' and I said his street address. I made it clear-'let's confine our visit to this hotel room.'
But I had no reason to be concerned. One of his Klan members lived right down the street from me. It was coincidence.
The tension, however, continued, Davis says, and eventually reached a fever pitch.
Every time my cassette would run out of tape, I would reach down into my bag and pull out another. Every time I reached down, the bodyguard would reach for his gun. He didn't know what was in the bag. After a while he relaxed and realized nothing was in the bag but cassettes and the bible. After about an hour, there was a very loud, strange noise which was ominous, and I was apprehensive. In the back of my mind, I heard my friend in my head saying 'Mr. Kelly will kill you.' I stood up and slammed my hands on the table, and I felt my life was in danger. When my hands hit the table, my eyes locked with his, and he could read them. We stared into each other's eyes. The bodyguard was looking back and forth at us, but then my secretary Mary realized what had happened.

The ice bucket had melted and the cans of soda shifted, and that's what made the noise! We all began laughing at how stupid we all had been. In retrospect, it was a very important lesson that was taught. All because a foreign entity of which we were ignorant, entered into our comfort zone, we became fearful of each other. The lesson learned is: ignorance breeds fear. If you don't keep that fear in check, that fear will breed hatred. If you don't keep hatred in check it will breed destruction.
After that defining moment, the meeting was much more relaxed. Davis became friends with Kelly and eventually went on to befriend over 20 members of the KKK. He has collected at least that many robes and hoods, which he has hanging in his closet. He also is viewed as being responsible for dismantling the entire KKK in Maryland because things "fell apart" after he began making inroads with its members there.
He says that KKK members have many misconceptions about black people, which stem mostly from intense brainwashing in the home. When the Klansmen get to know him, he says, it becomes impossible for them to hold on to their prejudices. He explains:
This Klansman and I were riding around in my car and the topic of crime came up. He made the remark that all black people had a gene that makes us violent. I said 'Gary, what are you talking about?' He said 'Who's doing all the shootings?' I said 'let me tell you something, I am as black as anyone you've ever seen and I've never done a drive by or a shooting.' After a time I said 'you know, it's a fact that all white people have within them a gene that makes them serial killers. Name me three black serial killers.' He could not do it. I said 'you have the gene. It's just latent.' He said 'well that's stupid' I said 'it's just as stupid as what you said to me.' He was very quiet after that and I know it was sinking in.
Davis also became close with Robert White, a Grand Dragon in the KKK. "I respect someone's right to air their views whether they are wrong or right," Davis says. "Robert White was a Grand Dragon who had gone to prison numerous times. I said I wanted to interview him for my book. At first, he was very violent and very hateful but we talked for a long time. Over time, he began thinking about a lot of things he had done and said that were wrong. He quit the Klan. Toward the end he said he would follow me to hell and back. …and he gave me his robe and hood, and his police uniform."
Davis recounts his experiences with the KKK in his book Klan-Destine Relationships. He says his friendships are real and intimate, and that he does typical things with his friends who are in the Klan. He has even served as a pallbearer at a Klansman's funeral and attended another's wedding. When asked about the fear many people feel when confronted with images of KKK members, he says "It's just material. You have to address what's in the person head and in their heart."
Indeed, Davis says that the best way to break down barriers and improve race relations is for two people who disagree with each other to sit down and talk:
A lot of people have anti-racist groups. They get together and meet and have a diverse group and all they do and sit around and talk about how bad discrimination is. Then someone says 'there's a Klan group across town. Why don't we invite them to come and talk to us?' and the other person says 'Oh no! We don't want that guy here!' Well, you're doing the exact same thing they are. What's the purpose of meeting with each other when we already agree? Find someone who disagrees and invite them to your table.

Invite your enemy to talk. Give them a platform to talk because then they will reciprocate. Invite your enemies to sit down and join you. You never know; some small thing you say might give them food for thought, and you will learn from them. Establish dialogue. It's when the talking stops that the ground becomes fertile for fighting.
Davis currently keeps busy by playing in his band and touring the country giving lectures. He is planning a second follow-up book to Klan-Destine Relationships. He says there's no need to be afraid of the KKK because at least they make their intentions clear, whereas racism can manifest in anyone, and it is often invisible. He urges those who wish to combat racism to reach out to those who have misconceptions about race.
"When two enemies are talking," he says, "they're not fighting."
By: Rebecca Savastio
Sources:
Interview with Daryl Davis
**********
The remarkable story of TCU's Rhodes scholar, Caylin Moore
http://www.espn.com/college-footbal…arkable-story-tcu-rhodes-scholar-caylin-moore

As part of a project for Dear World, TCU's Caylin Moore put details of his life on his body, and it shows only some of what he faced on his way to becoming a Rhodes scholar. Courtesy of Dear World
On a Tuesday night in October, TCU safety Caylin Moore stands on the football field at O.D. Wyatt High School in Fort Worth, Texas, talking about the perfect pushup.
Moore asks for a volunteer. A boy wearing a yellow Southside Hornets T-shirt agrees to demonstrate. Moore compliments him on his form, then turns back to the group of kids and their parents.
Growing up in Southern California, Moore's family struggled financially. Dinner often came from the Dollar Menu at McDonald's or Carl's Jr. There were times when Moore's mother didn't have enough money to feed all three of her kids. "She would say, 'Cay, You can only get one item,'" Moore recalled. "So I would just do pushups to take the pain from my stomach to the pain in my arms."
Sometimes, Moore did pushups until he passed out in a pool of sweat. But he also built his upper body, which helped him excel in football, and that helped him reach college. Rather than give in to the many burdens on his shoulders, nudging him closer to the ground, Moore literally pushed back.
He wants kids in Fort Worth to know they can push back, too.
"He tells them, 'The way you do a pushup is the way you function in life,'" said Jacinto Ramos Jr., one of Moore's professors at TCU. "When you do a proper pushup, you're developing your body, and he's telling them they need to develop their mindset the same way.
"The story is about understanding the struggle, understanding what perseverance looks like for these kids in the inner city, and yet pushing through all of that."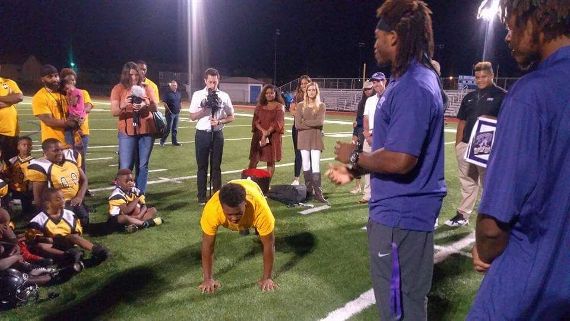 A simple pushup is a teaching point for TCU's Caylin Moore in his talks with kids. He teaches them that no matter what adversity they face, they can push through it. He's living proof. Courtesy of Jacinto Ramos, Jr.
Where do you even begin?
You can learn a lot about someone from his/her Instagram profile. Caylin Moore's reads:
112th and South Central Avenue. CA | TCU Football #21 | TCU Spark | It won't make sense on paper | Janitor.
Janitor? We'll get to that later. But another line — It won't make sense on paper — jumps out.
"I always come to that quote in my head," Moore said.
Life isn't linear or logical, and Moore's experiences add up only because they all actually happened to him. He's the son of a convicted murderer and a sexual assault survivor. He spent most of his childhood sharing a bed with his mother and two siblings, living in a house without hot water on the crime-ridden border of Compton and Carson, south of Los Angeles. He collected cans and bottles to buy football cleats, blossomed in Snoop Dogg's youth league and went on to play in high school and college. He has been a Fulbright scholar and, yes, a campus custodian. At TCU, he majors in economics, minors in math and sociology, and carries a GPA of 3.934.
He turned 22 in June.
Last month, he was among the 32 men and women awarded the 2017 Rhodes scholarship, and next year, Moore will study at Oxford University in England.
"I look at everything I've been through, everything I'm doing, it's enough to reduce me to tears sometimes," he said. "I've been through amazing, impossible things, to a point where it's like, 'Wow, hard work and opportunity wasn't the only thing that did that.' There was some divine intervention."
Moore's life didn't begin on 112th and South Central Avenue. (It's the location of his high school.) Born in Hollywood, Moore spent his first six years living with his parents and siblings in a house in Moreno Valley, near Riverside.
"We had a five-bath, four-bedroom house; we had seven vehicles," said Moore's mother, Calynn Taylor Moore. "We had what looked like the Cosby life. It was like a Monet: From a distance, it looks beautiful, but up close, it's all messed up."
Inside those walls, Taylor Moore's husband, Louis Moore, was psychologically abusive toward her. She twice saw him physically abuse Caylin, just 2 at the time. In 2000, she left him, taking the children to live with her mother in Compton. Taylor Moore filed for divorce but still feared for her safety.
"In open-court divorce proceedings," Taylor Moore said, "when the judge asked him to identify me, he said, 'I wouldn't identify that b—- until she has a hole in her head.'"
Taylor Moore tried to maintain a normal life for her kids. She initially kept Caylin (pronounced Kai-Linn) and his older sister, Mi-Calynn — both named after their mother — in school in Moreno Valley. They rose at 4 a.m. to make the 70-mile drive from Compton. Taylor Moore then drove nearly 50 miles to Santa Ana to attend law school.
The family lacked means, but Taylor Moore, who eventually earned a law degree and a master's in clinical psychology and theology, enriched her children in other ways. They went to museums and plays and learned about art. Taylor Moore introduced her sons to football in the Snoop Youth Football League, and she even became the league's first female head coach.
She always told her kids: It doesn't matter if we live in the hood; the hood doesn't have to live in us.
"She established that even if you don't have a whole lot, you can do a whole lot with the little you do have," said Caylin's younger brother, Chase, who plays football at Holy Cross. "She showed us you don't have to have $1 million to be a good parent."

Chase Moore (right) is hardly surprised by anything Caylin does anymore. Chase thinks his big brother will "shock the world." Courtesy of Moore family
Dying to live instead of living to die
Caylin Moore was too young to understand what happened to his mother. All he remembers is that in 2004 she went to the hospital for heart surgery and came home in even worse shape.
The surgery had been a success, but two nights later, a male nurse sexually assaulted Calynn, using her morphine drip to sedate her. She was too afraid to say something right away, knowing she had about a week left in her stay. She recounted what had happened in a survey the hospital sent later.
Back home, she slipped into a deep depression.
"I laid on the couch for probably a month," said Taylor Moore, who received a settlement from the incident, although the nurse never faced criminal prosecution. "I don't know how I got up to go to the bathroom, I don't know how I ate other than my daughter was helping to feed me. I don't know how I existed."
One day, her middle child approached the couch: Get up. You've got to live. You've got three kids. We need you!
Caylin walked his mother to the bathroom. He brought a chair from the dining room and put it in the tub, covering it with plastic. He then undressed Taylor Moore and began bathing her.
"At some point," she recalled, "when he was washing my hair, something inside of me clicked and said, 'You know what? This pity party is over. Your baby is bathing you because he wants to bring you back to life. Live!' And that's what I did."
Five years later, Moore encountered another family crisis, this time involving his father, who hadn't been involved in Moore's life since the divorce. In August 2009, after a drunken argument with his girlfriend, Jillian White, in the apartment they shared, Louis Moore grabbed his rifle and fired three shots, killing her.
Upon learning of the incident, Caylin Moore stopped talking. He remembers a friend telling him that he went a week without laughing. Only in recent years has Moore contacted his father, who in 2012 was convicted of first-degree murder. They occasionally exchange letters through the prison system. "It was a very tough thing for me to get over," he said.
Despite the traumas, his strongest childhood memories are positive ones: playing basketball with the Brooks brothers next door; rounding up the neighborhood kids to race bikes or throw water balloons or build forts and Lego castles. He remembers waking up early and making the rounds, knocking on each door where other kids lived, asking whether Nelson or Josh or Isaiah could come outside.
"We had so much problems going on at the home all the time, stuff with my dad or other things," Moore said. "I would take my anger and frustration and just go outside and play, and just forget about everything. We would play all day long."
Finding a Rolle model
In 2008, Moore placed a photo atop a bookcase at his house. It showed Myron Rolle, a Florida State safety, in his practice uniform. That year, Rolle became the first major college football player in nearly a quarter century to earn a Rhodes Scholarship.
"His inspiration," Taylor Moore said of Caylin.
From an early age, Moore understood the link between football and education. When he posted straight A's in seventh grade, he won an award from the Snoop League and received a laptop computer from Snoop Dogg, which Moore keeps to this day. At Verbum Dei High School, an all-male Catholic school just west of the L.A. neighborhood of Watts, Moore became an all-conference quarterback and made the honor roll every semester.
Moore applied to 25 colleges and was accepted by 19. (The six nos all came from Ivy League schools, Taylor Moore says.) He picked Marist College, along the Hudson River in Poughkeepsie, New York, which provided a strong financial aid package and a chance to play in the FCS. Moore didn't hesitate to move across the country. He loved seeing snow and bonded with his teammates.
While at Marist, an email arrived. Moore had qualified to apply for a Fulbright Scholarship. He called his mother.
"She said, 'Coming where we come from, that's not something you dare dream for your kids, to even apply for that,'" Moore said. "You don't have any of those conversations. She cried from the mere fact that I was applying."
He was accepted to the program and flew to England to study the trans-Atlantic slave trade at the University of Bristol. He took part in an archaeological dig and met members of the British Parliament. Moore returned to Marist feeling like a changed man.
A new challenge would test his resolve. He had expected big things on the field in 2014 but sustained a back injury while throwing before the first game. He appeared in only two contests, and a doctor thought he needed surgery. Moore decided to transfer but wanted to finish the year at Marist. He also needed money, so he began doing custodial work. His year began in football pads with a realistic goal to start at quarterback. It ended in a hoodie, mopping floors and cleaning up vomit from partiers. "A really humbling experience," he said.
Yet again Moore pushed back, this time even harder. He had always made lists of goals and motivations. At Marist, he wrote two lofty goals on the ceiling of his dorm room: Harvard PhD and D-1 athlete.
He put together a workout tape and sent it around. TCU showed interest, and Moore decided to become a Horned Frog. Harvard would have to wait, although he did spend most of the summer at Princeton, participating in a public policy/international affairs institute that included classes with titles such as advanced microeconomics infused with Calculus 3.
"He was a big fish in a small pond," Chase Moore said of his brother. "He needed to expand the pond."
A story that resonates with kids and parents
Jacinto Ramos' class on juvenile delinquency urges TCU students to understand and assess youths who live in challenging environments and ultimately become mentors to them. When Moore turned in his first paper, Ramos knew he had a student who had a unique understanding of the subject matter.
Moore kept to himself for most of the semester, but a classmate Googled him and learned about his background. Asked to share his story, Moore "blew everybody away," Ramos said. "It was a very, very powerful evening."

Caylin Moore connected with Isabel Ibarra and her father, Chucky, an ex-gang member, at one of his TCU SPARK talks. "[Moore] represents so much to the parents as well," said TCU professor Jacinto Ramos. "He's the 'what can be' to them." Courtesy of Jacino Ramos Jr.
At the end of the semester, Moore told Ramos about a student group he had started called TCU SPARK — Strong Players Are Reaching Kids. Moore wanted to use his platform to help children and elicited help from teammates Aaron Curry and Michael Carroll. They spent several long nights picking a name and writing the constitution and requirements to become an official campus organization. Their membership has grown to about 20 TCU athletes, both male and female, including football players such as starting quarterback Kenny Hill.
"You don't get very many Caylin Moores come across your vision, so when you have one, you need to appreciate him and help him," TCU coach Gary Patterson said. "If I could get all of my group to be half of what he tries to be on a day-to-day basis — and we've got good kids — we would all be a lot better off."
Ramos helped set up events for the athletes to meet with youth groups around Fort Worth. They started with a Pee Wee football league, the North Side Horned Frogs, in the mostly Hispanic neighborhood where Ramos grew up. Several TCU athletes shared their stories before Moore addressed the group of kids and their parents.
"All the kids light up hearing his story," Curry said. "Even the parents come up to him afterwards and say, 'Your story's amazing. I can't believe you made it out.'"
At the first event, Isabel Ibarra was Moore's pushup volunteer. Afterward, Moore met Isabel's father, Chucky, an ex-member of the notorious 15th Street gang.
"[Moore] represents so much to the parents as well," Ramos said. "He represents what they want their children to be, in spite of all the struggles that they've had to deal with themselves. He's the 'what can be' to them."
Two weeks later, TCU SPARK visited the South Side Hornets on the field at O.D. Wyatt High, on Fort Worth's southeast side. For Moore, the setting resonated as much as the stories being shared.
O.D. Wyatt is among the city's lowest-performing high schools. Its football field sits between FCI Fort Worth, a federal prison, and the Ladera Palms Apartment Homes, a massive complex populated mostly by resettled refugees from southeast Asia, Africa and the Middle East.
"It's so important that we were right there in the middle, telling them that they could do it and that they could make it," Moore said. "Kids are seeing that they can achieve and rise above their circumstances."
'Mom, I'm a Rhodes scholar'
On Nov. 19, Taylor Moore waited for the call. Caylin had interviewed for the Rhodes scholarship earlier that day in Los Angeles. The decision was supposed to come at 3:30 p.m., then 5. The minutes ticked away … 6 o'clock … 6:15 …
At 6:35, the phone rang.
Mom, I'm a Rhodes scholar.
"There's not a word in English to describe how I feel," Taylor Moore said several days later. "I'd have to learn a new language. For me, it's a validation from the time he was in the seventh grade, I told him he could be anything he desired to be. He was only limited by his own dreams. Everything that we've gone through, whatever ups and downs, whatever testimonials we have, it feels it was worth it.
"And he's only 22."
Curry wasn't surprised when he heard the news.
"I knew he was going to win it," Curry said. "Caylin, he's a once-in-a-lifetime type of dude. Now it's like, what's next?"
What is next for Caylin Louis Moore?
This spring, he will complete his degree at TCU, where he's one of the school's most popular students despite playing just one game against Kansas State on kickoff returns. He'll then go to Oxford and study public policy and business administration.
He plans to continue his speaking engagements and publish several books, and he ultimately wants to shape education policy in cities such as Los Angeles. He hopes to make SPARK a national organization. He still wants to earn that doctorate from Harvard. Ramos thinks Moore could someday run for political office.
There are other goals, which Moore keeps private. Chase Moore thinks his big brother will "shock the world."
"He's a great role model. If anybody would have as much right to feel sorry for himself and everything that's happened to him, it's been Caylin Moore," Patterson said. "What he's done is said, 'No matter what I'm going to do, if I'm a sweeper, I'm going to be the best sweeper I can be.' Off the field, he's really taught our kids how to study. He attacks studies like it's the game plan in football.
"He's just inspirational, the things he gives back off the field and what he does for kids here in the Fort Worth area — it shows you when you have the right attitude and you want to do things in life, what you can become, no matter what your circumstances. He truly meets the fact that it's not about where you started but where you ended."
When the obstacles come, as they always do, and Moore begins feeling that familiar burden on his shoulders, he will respond like he did as a hungry teenager. It's just like he tells the kids in Fort Worth.
Keep pushing.
"One of my motivations was to never give up," Moore said. "Another one of my motivations is to show kids what it looks like to never give in. When I die and I'm standing in front of God, I want to be able to say, 'God, I don't have any talents left. I used everything you gave me.'"
**********