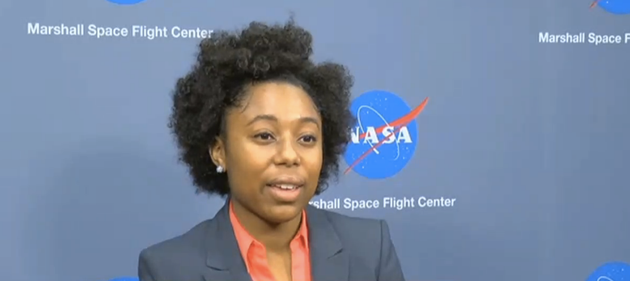 Tiera Guinn is just 22 years old and she's already working for NASA.
As a Rocket Structural Design and Analysis Engineer for the Space Launch System that aerospace company Boeing is building for NASA, Guinn designs and analyzes parts of a rocket that she said will be one of the biggest and most powerful in history.
Guinn, whose career trajectory seems like a sequel to the much-acclaimed "Hidden Figures" movie, has been aspiring to become an aerospace engineer since she was a child.
Her mom, who noticed her daughter's skills from a young age, made sure to Guinn stayed sharp by putting her intelligence to use…at the supermarket.
"When [my mom and I] would go to the grocery store, she would get me to clip coupons [and] put it in my coupon organizer," Guinn told WBRC News. "By the time we got to the register, I'd have to calculate the exact total, including tax. And I did that since I was six years old."
"One day I saw a plane fly by and I just had this realization, 'huh, I can design planes. I'm going to be an aerospace engineer,"' Guinn said.
She chose all of her middle school classes accordingly and commuted an hour to go to the high school that would best prepare her for the future.
Now, Guinn will soon be graduating from MIT with a 5.0 and is clearly on a path to success. She said she'd advise young girls looking to follow in her footsteps to expect obstacles throughout their journey.
"You have to look forward to your dream and you can't let anybody get in the way of it," she said. "No matter how tough it may be, no matter how many tears you might cry, you have to keep pushing. And you have to understand that nothing comes easy. Keeping your eyes on the prize, you can succeed."
http://www.huffingtonpost.com/entry…-engineer-at-nasa_us_5894c59be4b0c1284f25c913
**********
8-year-old writes best-seller on dealing with "annoying" little brothers
10 / 25
BIRMINGHAM, Ala. — Nia Mya Reese thought she knew so much about the care and feeding of little brothers, she could write a book.
So she did. Now, it's a best-seller.
Nia Mya loves being a big sister. But admits it's not easy — not easy playing with Ronald Michael.
"I will sometimes have to say no," she said.
"He will throw the ball and the ball will just goes flying everywhere," she said. "And it sometimes hits me."
She says it's not easy giving him advice.
"He won't always listen," she said.
© Provided by CBS Interactive Inc. nia.jpg
But one thing came very easy to the 8-year-old: writing about the whole experience. "How long did it take you to write that book?" CBS News asked.
"Well it didn't take very long," she said. "It took a few days."
Nia Mya is an official penned author, with her own built-in fan base. Even the town mayor showed up at her latest book signing. Her book, "How To Deal With And Care For Your Annoying Little Brother," is on Amazon's best seller list — for parenting.
"It really has spread the excitement across our school for other young writers," said Beth Hankins. It all started as an assignment in Hankins' first grade class last year. "And Nia Mya shared that she was a great big sister to an annoying little brother," Hankins said. "Aren't most five-year-old brothers annoying?" CBS News asked Nia Mya.
"Well, he's a little downright annoying," she said. Her mother, Cherinita, thought her daughter should continue the project over the summer. "Work on your sentences. Work on the spelling, work on the way that it's worded," Cherinita said. "And that will be your summer project."
© Provided by CBS Interactive Inc. nia2.jpg
The book has universal lessons on patience, kindness and love. "You need to teach him sometimes," Nia Mya said.
The best lesson, Nia Mya says, is the notion to disguise learning as fun — something she's managed to share with her entire school.
"What did you learn from all this?" CBS News asked her.
"I learned to follow my own dreams," she said. And with every signature, she encourages the rest of us to do the same.
**********
Daliyah Arana, the 4-year-old girl who has read more than 1,000 books
​
By Samantha Schmidt January 12
It was fun to have 4-year-old Daliyah Marie Arana of Gainesville, GA as "Librarian For The Day." She's already read more than a 1,000 books. pic.twitter.com/MQfwlUrakO
— Carla Hayden (@LibnOfCongress) January 11, 2017
Before Daliyah Marie Arana was even born, her parents say, she was learning how to read.
While she was pregnant with Daliyah, her mother would read books to her other young children on a daily basis. When Daliyah was an infant, she would hear her older brother reading chapters of books out loud in their Gainesville, Ga., home. And by the time she was about 18 months old, she was recognizing the words in the books her mother read her.
"She wanted to take over and do the reading on her own," her mother, Haleema Arana, said in an interview with The Washington Post. "It kind of took off from there. The more words she learned, the more she wanted to read."
So it was no surprise when, at 2 years and 11 months — the age that most children barely understand the concept that text carries a message — Daliyah read her first book on her own.
Now 4 years old, Daliyah has read more than 1,000 books and has managed to read certain college-level texts. And the preschooler's skilled reading and passion for literature impressed even the leader of the nation's library, Carla Hayden, the 14th Librarian of Congress. On Wednesday, Hayden hosted Daliyah at the Library of Congress, giving the 4-year-old a chance to shadow her as "librarian for the day." Wearing her glasses, pink dress and matching pink bow, Daliyah walked the sprawling hallways of the world's largest library and sat in on executive roundtable meetings — as any high-profile librarian would do.
Hayden, who made history this year as she became the first woman and the first African American to run the nation's library, tweeted photos of Daliyah's visit from the library's official account. One showed Hayden and Daliyah walking precisely in step, both holding their hands behind their backs, with Daliyah looking up at Hayden with eyes of wonder.
"She just kept saying how the Library of Congress is her most favorite, favorite, favorite library in the whole wide world," Haleema Arana said.
['Rock star' Baltimore librarian makes history at Library of Congress]
Of course, the young bookworm is no newcomer to libraries. As she told the Gainesville Times, Daliyah has her own library card, and is a regular at her local library, the Hall County Library in Gainesville.
"I like to check out books every day," Daliyah said. "And I want to teach other kids to read at an early age, too," Daliyah told the Gainesville Times.
Through the 1,000 Books Before Kindergarten program, Haleema Arana got the idea to start counting the number of books Daliyah read. She was about 3 years old at the time, and had likely already read about 1,000 books with the help of her mother. In the year or so since, Daliyah has met the program's 1,000-book goal, and aims to reach 1,500 by the time she enters kindergarten next fall, when she hopes to "help the teacher teach the other kids how to read," her mother said.
Her parents have never tested her exact reading level, but Daliyah is capable of reading books that her 10- and 12-year-old siblings bring home from school on her own, seeking help only when she gets stuck on a big word, Haleema Arana said. Her favorite writer is Mo Willems — author of the "Pigeon" and "Elephant and Piggie" series — and she has a special interest in dinosaurs, her mother said. She can spit out numerous facts about dinosaurs and dreams of someday digging up dinosaur fossils as a paleontologist. (Yes, the 4-year-old knows the definition of the word "paleontologist.")
To give her a challenge — and to cater to her love of books — her mom gave her a college-level text, a speech called "The Pleasure of Books" by William L Phelps. Daliyah learned to read the speech so well, pronouncing words such as "punctiliousness" and phrases like "annihilates formality," that her mother posted a video of her reading it on YouTube.
"And there is no doubt that in these books you see these men at their best," the 4-year-old reads. "They wrote for you. They 'laid themselves out,' they did their ultimate best to entertain you, to make a favorable impression. You are necessary to them as an audience is to an actor; only instead of seeing them masked, you look into their innermost heart of hearts."
Her mother hoped that by posting the video, she could encourage other parents to teach their children how to read at a young age, she said. Exposing her children to books from infancy has made all the difference, Haleema Arana said.
"She's able to just absorb so much and retain so much so fast," Haleema Arana said.
Daliyah's vocabulary and reading comprehension has perhaps also benefited from her bilingual home — her father, Miguel Arana, is Mexican, and often speaks to Daliyah in Spanish. Although the 4-year-old cannot yet speak the language fluently, she can understand many words and hopes to work toward learning how to read in Spanish, her parents said.
[Study shows that people who speak two languages have more efficient brains]
The avid reader has already gained recognition in her home town, serving as a "librarian for a day" at the local library and even being asked to recite the famous "I Have a Dream" speech at an upcoming Martin Luther King Jr. Day celebration.
Her mother decided to reach out to the Library of Congress to see if she could take her daughter's "librarian" experience to a new level. The library responded, inviting the family to spend the day with Hayden.
As she toured the children's section of the library Wednesday, Daliyah read books to Hayden and met other members of the library staff. When they asked the 4-year-old librarian for recommendations, an idea immediately came to her mind. She suggested they install whiteboards in the library hallways, so that children like her can practice writing on them.
"They said they would try to make that happen," her mother said.
https://www.washingtonpost.com/news…r-old-girl-who-has-read-more-than-1000-books/
**********
NY Teen Overcomes 'Dark-Skinned' Taunts to Earn $10,000 Scholarship
---
Nosa Akol, 17, was called "burnt toast," among other hurtful names, but now the Binghamton, N.Y., teen will be the recipient of the 2015 4-H Youth in Action Award, which includes a $10,000 scholarship.
Nosa Akol Cornell Cooperative Extension of Broome County
"Burnt toast."
"Dark as night."
"Your mother kept you in the oven too long."
These were the kinds of racially charged comments that Nosa Akol walked into on her very first day of middle school, which would mark the first time in her life she'd ever been subjected to bullying.
The results were damaging. Nosa admits to The Root that insecurities started to take over. "I felt really insecure," the 17-year-old student from Binghamton, N.Y., recalls. "Middle school [is] kind of where people start breaking off into their groups, and that's where I first experienced bullying, and that's where my insecurities began taking over and just really started to deteriorate me mentally, emotionally and physically."
Originally from South Sudan, Nosa, who has a rich, dark skin tone, came to the U.S. with her parents when she was 5 years old.
"Growing up in Sudan, everyone there has the same skin tone; no one points that out. And then, growing up in America, everyone has a different skin tone, so [my parents] wouldn't, even if I had told them about it, there wouldn't be any understanding. They wouldn't really know how to deal with it," she explains, saying that for this reason, she kept the bullying bottled up inside her.
But Nosa's story is one of triumph and overcoming her insecurities. The Binghamton High School student, who joined Citizen U 4-H as a freshman, has been announced as the 2015 recipient of the 4-H Youth in Action Award, the highest honor in the organization.
She was chosen out of more than 80 other candidates because of her phenomenal story, in which she overcame her personal struggles while empowering her peers and facilitating positive change in her community. Nosa will be honored at the National 4-H Council's sixth annual Legacy Awards on April 23 in Washington, D.C.
Still, the humble teen says she's still processing the fact that she was chosen for the award, which will also make her the recipient of a $10,000 scholarship to a college of her choosing.
"I'm still trying to process everything that's going on. I don't think I've had the time yet to just sit down and actually go through my thoughts, so I'm excited for it, but I don't think I've fully processed everything just yet," she tells The Root. "A lot of the people that I was competing against have been in the program since they were kindergartners, so for me to win and I've only been in it for four years, it's like a real big shock."
This triumphant day might have not come if Nosa had let the bullying get to her. According to the teen, the torment got so bad and had such an impact on her, she would make up excuses so she wouldn't have to go to school. "I didn't want to wake up in the morning and go to school. I'd come up with excuses as to why I had stay home," she acknowledges.
Nosa credits the organization for a renewed confidence in herself, through the various projects that she developed and led, including a nutrition-education program in local elementary schools called "Taste the Rainbow" and the "Great Pothole Solution Project," where she and others mapped out the potholes in their city and helped city officials come to a solution.
"We've done projects, not all successful, so we've learned to take the good with the bad," she says. "It made me realize that I can, with my experience, help other people who are my age and make their lives easier so that way, they don't have to go through what I went through."
Right now the college-bound teen is hoping to study political science and international agriculture, her mind set on using her degrees to empower women in South Sudan.
"I know that agriculture just does not stop at farming … so I want to find a way to take agriculture and turn it into an education for the women of South Sudan and make that into a business, and hopefully by empowering the women, it empowers the entire community and makes a change and a difference to try and end the violence there," Nosa tells The Root. "I like to travel, so I don't think I'd ever stay in one place, so hopefully I'd be able to work in many other countries as well as South Sudan … I just want to travel and help people."
The ambitious teen also hopes that her story can inspire other kids who want to do something to help their communities, showing them it is possible to effect change, even as youth.
"This generation, we can't wait for the generations before us or the generations after us to make a change; it's up to us if we want a better world for ourselves," she points out. "We need to stand up and we need to do something about it."
**********