Top 10 Uses for Lavender Essential Oil
Many aromatherapists will agree with me when I say lavender (lavandula angustifolia) essential oil is the most versatile and commonly used essential oil on our planet. Not only will its fragrance take you on a calming journey through peaceful purple fields while balancing your emotional self, its uses and benefits go far beyond just calming your mind.
Many people like to carry a bottle of lavender essential oil with them as their personal first aid kit. Here are 10 good reasons why you should consider adding lavender essential oil to your daily life:
1.      Lavender to Soothe Headaches
Lavender's soothing and relaxing aroma works wonders to relieve headaches caused by tension. Apply 3-5 drops of lavender essential oil to a warm (or cold), damp cloth. Place it on your forehead while lying down for 10 to 20 minutes. Or when on the go, apply one drop on each temple and make circular movements to find instant relieve. Or when there is more time, add it to your favorite massage oil and rub on your forehead, shoulders, neck, and back. You can find here more information how to relieve headache using essential oils.
2.      Winding Down For Bed
Making lavender part of your go-to-bed routine can help you to fall asleep faster, provides a deep and calming night's rest, and helps people who suffer from insomnia or other sleeping disorders. Not only adults can safely take those benefits, but your little ones as well. You could use a room diffuser to create a calming, sleep promoting scent in the room, add it to your night cream, add 1-2 drops to your tea, put a few drops on your pillow, massage your temples, or take a (foot) bath before turning in. For your little ones, you could massage their little feet with a base oil with a few drops of essential oil or you could add a few drops to their favorite stuffed animal or pillow. If you find it hard to fall asleep, have a look the the best 12 herbs for insomnia, which lavender is one of them.
3.      Relieve Pain From Minor Burns (including sunburns)
Lavender oil can be used to relief pain and heal burns without scarring. Prior to using lavender, cool the area with cold, running water for at least 5 minutes. Then add 2-3 drops on the affected area to decrease the pain and aid the healing process. If you have a sensitive skin, dilute the lavender oil in distilled water or, even better, in pure Aloe vera gel, before use or try an undiluted drop on a non-affected area first. Find here more information about effective homemade minor burn treatments.
4.      Itchy Bug Bites
Apply topically, directly onto to affected area or dilute in a carrier if you have a sensitive skin. You could use a carrier oil or Aloe vera gel to dilute the lavender essential oil.
5.      Soothe Anxiety, Lift Depression, and De-stress Your Lifestyle
Lavender is well-known for calming nerves and emotions. It works as a natural sedative. Diffuse the oil in the air, add a few drops to a vaporizer, massage you temples, put a few drops on your pillow, add several drops of lavender oil to a bath for a soothing soak, or use as a perfume. Find here more information how to make aromatherapy bath for relaxation.
6.       Acne Treatment
Add 1-2 drops to your favorite facial toner or cream to alleviate acne and prevent future outbreaks. Lavender inhibits bacteria growth and aids your body to balance its sebum secretion. Find more information how to treat acne in the article the best herbs for acne, including other natural acne cures.
7.      Disinfectant For Cuts And Wounds
Lavender has antibacterial and pain-relieving properties. It helps the scar-free healing process and stops the bleeding. Just drop lavender oil on your cut or wound or dilute in distilled water if you have a sensitive skin.
8.      Lavender Oil For Dry, Chapped Skin Or Lips
Lavender oil works wonders for a dry and chapped skin. Use topically on the affected area or add a few drops to your favorite body lotion or lip balm. Mix several drops of lavender oil with a nut or vegetable mixing oil (coconut, sesame, etc…) and use topically on eczema and dermatitis. Find here more information how to use essential oils for healthy skin.
9.      Alleviate Symptoms Of Motion Sickness Or Nausea
Place a drop of lavender essential oil on the end of your tongue, or behind your ears, or around your navel or just inhale it from a handkerchief to find relief. For pregnant women it is recommended to wait until the second trimester before using it.
10.  Flavor Booster
Pure lavender oil is edible! First be sure that the oil is very, very diluted, and make sure you're using food-grade essential oil, as most are not edible. Only food grade essential oils, such as Young Living Essential Oils, can be ingested or taken internally. I love the lavender flavor. Add a drop to your tea, water, salad dressings or few drops to cookie, brownie or other dessert recipes.
As you can see, lavender oil is the most versatile of all essential oils, I've covered the most important uses for you in this post, but its benefits and uses doesn't stop here. It helps with emotional issues as with physical. It is a great oil to carry around as your first aid kit.
Definitely one of those oils you must have! Basically, pure lavender oil is so universal in its properties and uses that when in doubt, choose lavender.
Note: Lavender essential oil can safely be used undiluted for adults and children. You can use it internally or externally but make sure to buy the right stuff. Buy pure, organic, edible, 100% therapeutic grade.
FYI: There are many other possible uses of lavender essential oil such as: healing from hernia, post-labor, withdrawal, aphrodisiac, cramps, indigestion, lowering blood pressure, abscess, PMS, scarring, water retention, bruises, balance/centering/grounding, bronchitis, earaches, fainting or dizziness, hives, flu, laryngitis, mucus, respiratory function, typhoid fever, whooping cough and cough in general (by gargling a few drops of pure lavender oil in purified water). If you are interested to learn more about essential oils you can find useful information in the e-book Magical Aromatherapy. This e-book will help you to discover the power of essential oils and the most effective ways to use them.
**********
Top 7 Black Seed Oil Benefits
Of the many ways that black seed oil benefits the body, the 6 that stick out in the scientific literature its ability to help prevent cancer, diabetes, obesity, hair loss, skin disorders and infections like MRSA.
No More Cancer, Fight against Cancer1. Cancer
Croatian scientists evaluated the antitumor activity of thymoquinone and thymohydroquinone in mice and discovered that the two phytochemicals in black seed oil can resulted in 52% decrease in tumor cells! (10)
Being rich in both chemicals, black seed is unique in that it can help prevent and treat cancer through a variety of mechanisms:
Anti-proliferation
Apoptosis induction
Cell cycle arrest
Reactive oxygen species generation
Anti-metastasis
Anti-angiogenesis
According to one study,
"The anti-tumor effects of thymoquinone have also been investigated in tumor xenograft mice models for colon, prostate, pancreatic and lung cancer. The combination of thymoquinone and conventional chemotherapeutic drugs could produce greater therapeutic effect as well as reduce the toxicity of the latter." (11)
2. Liver Health
The liver is one of the most important organs in the body. Nearly every toxin gets processed through the liver, and the bile from the liver is the key to digesting fats and keeping your mind and body happy and healthy. For those that have struggled with poor liver function due to medication side effects, alcohol consumption, or disease, black seed oil could greatly speed the healing process. In a recent study scientists discovered that black seed oil benefits the function of the liver and helps prevent both damage and disease. (12)
3. Diabetes
Explained in a recent article published by the Journal of Endocrinology and Metabolism, researchers from the Indian Council of Medical Research highlight that black seed oil "causes gradual partial regeneration of pancreatic beta-cells, increases the lowered serum insulin concentrations and decreases the elevated serum glucose." (13) This is actually quite profound because Nigella sativa is one of the few substances on the planet that is suggested to help prevent both type 1 and type 2 diabetes.
In fact, according to the study, black seed "improves glucose tolerance as efficiently as metformin; yet it has not shown significant adverse effects and has very low toxicity!" (13) This is HUGE because metformin, one of the most commonly prescribed type 2 diabetes drugs, can cause a wide slew of side effects including: (14)
Bloating
Constipation/Diarrhea
Flushing of the skin
Gas/Indigestion
Heartburn
Headache
Nail changes
Metallic taste in mouth
Muscle pain
Stomach pain
Losing Weight and inches, Women's Fitness4. Weight Loss
The Journal of Diabetes and Metabolic Disorders published a study last June systemically reviewing the literature for plants that have anti-obesity properties and discovered that black seed oil was amongst the most effective natural remedies on the planet. (15)
Not traditionally believed to treat obesity, Nigella sativa is a marvelous anti-inflammatory agent that is known to help people lose weight in the same way that it helps diabetics. Specifically, by decreasing these weight gain triggers, black seed oil has helped millions shed excess weight: (16)
Appetite
Glucose absorption in the intestine
Liver gluconeogenesis
Blood glucose levels
Cholesterol
Triglycerides
Healthy Long Hair, Brunette Woman5. Hair
Probably one of the most unique black seed oil benefits is its uncanny ability to help restore hair loss. No one quite understands why it happens, but it's not too hard to guess that it has something to do with its powerful antioxidant and antimicrobial properties. By strengthening hair follicles, there is very good reason to see how black seed oil can help promote strengthened hair roots.
6. Skin
Produced in the retina, choroid and epidermis, melanin are pigments that protect the skin from damage. You probably are most family with it being the main chemical responsible for giving our eyes and skin their individual color. Known to promote and inhibit melanogenesis (melanin production), black seed oil benefits on the skin and other cells are profoundly healing. (17, 18)
For example, in a recent study conducted by Iranian researchers, Nigella saliva was found as effective as the skin cream Betamethasone in improving quality of life and decreasing severity of hand eczema. (19) When you consider that black seed oil has virtually no side effects, the benefits of Nigella, in fact, far exceed medical intervention!
7. Infections (MRSA)
Of all the superbugs that black seed oil can kill, Methicillin resistant Staphylococcus aureus (MRSA) is one of the most important. MRSA is plaguing hospitals and nursing homes across the globe because ordinary staph infections are becoming resistant to generic antibiotics. The elderly population is especially at risk because it is generally associated with invasive procedures such as surgeries, intravenous tubing, and artificial joints. (20) Primarily due to weakened immunity, the growing population of senior citizens has made MRSA a global public health risk.
Thankfully, one of the strongest black seed oil benefits comes to the rescue. Pakistan scientists took several strains of MRSA and discovered that each one was sensitive to N. Sativa, proving that black seed oil can help slow down or stop MRSA from spreading out of control. (21)
**********
25 Everyday Uses for Tea Tree Oil
Tea tree oil is one of the most extensively researched essential oils, and one of the most backed by the findings and conclusions discovered from the studies done on it. It is produced from a shrub like tree by the name of Melaleuca alternifolia, which is found along streams and in swampy areas in its native land of Australia. In the 1920's a chemist by the name of Arthur Penfold was busy exploring the properties of native volatile oils, isolating their properties, exploring their molecular structure, and contributing to the chemical understanding of variations within plant species. During his studies in phytochemistry, he found that tea tree oil appeared extremely promising due to its powerful antiseptic properties. But well before Mr. Penfold kick started the commercial tea tree oil industry, native aboriginals were using and benefitting from tea tree oil, and passing their knowledge down throughout generations. Tea tree oil uses are endless, with a long and rich history which continues to this day.
Safety Concerns: Essential oils are powerful, and tea tree oil is no exception. The greatest concern when it comes to using tea tree oil is chiefly skin irritation. Some people, especially those with sensitive skin, may experience a reaction when they come into direct contact with the oil. If this is a concern for you, always dilute the tea tree oil in a liquid neutral oil such as olive oil, grapeseed oil, almond oil, etc. etc. Mixing with water does no good-it's an oil, and will therefore separate-so you must give it another fat to grab onto. There isn't a whole lot known about ingesting tea tree oil, so internal usage/consumption is not mentioned in this list.
1. Clear up A Sore Throat
Tea tree oil can help with some inflammation of the mucous membranes, which contributes to the pain of a sore throat, but most importantly it can help fight off an infection. If caught in time, it can also possibly prevent it from really taking hold in the first place.
Put 1 drop of tea tree oil into a glass of warm water, swish it around and gargle with it at least once a day. Don't panic if you swallow a little bit, but try to spit out most of it. You can also add 2 teaspoons of salt which, thanks to osmosis, will draw excess water out of the mucous membranes that can create pressure and add to discomfort.
2. Fight that Head Cold
When you have a cold that develops into a sinus infection, the resulting pressure and discomfort can be miserable. The sinuses, air filled cavities in the front of the skull, are lined with mucous membranes, and when an infection sets in, an excess of mucous in the cavities creates painful pressure. In addition to this, inflammation of the membranes makes it difficult for said mucous to drain. The anti-bacterial action of tea tree oil can be airborne, which means it can be effective via steam bath. I know I mention this remedy a lot, but it really is the bee's knees. To clear up a sinus infection, add roughly 5-8 drops of tea tree oil (you can adjust the amount to suit your preferences, but it is powerful stuff) to a bowl of freshly boiled water. Lean over the bowl, being mindful of the steam, and cover your head and the bowl with a towel. Breathe the steam for a good ten minutes at least twice daily to wipe out that nasty bacteria. Keep tissues on hand.
3. Make Your Own Hand Sanitizer
You're out to a nice dinner and as you settle into the booth your mother-in-law whips out a little bottle of hand sanitizer. "Would you like some?" she asks-but you know it's not a question. Obligingly you hold out your hand and try not to cringe as she squeezes out a giant dollop that floods your palm. That situation-or some take on it-has happened to many of us at some point or another. Now, thanks to the antimicrobial properties of tea tree oil, you can make your own (much more pleasant) hand sanitizer. Click here for the simple recipe.
4. Fight the Fungus
Nail fungus is an unpleasant condition that can cause both physical and psychological discomfort. You can use tea tree oil mixed simply with water, or you can mix it with coconut oil. Coconut oil also has fungus fighting properties that complement the tea tree oil. Melt down a tablespoon of coconut oil and then mix in 4-5 drops of tea tree oil. Store in an airtight glass container out of direct sunlight, and apply faithfully to the affected area once in the morning and once at night every day. You don't need to use much-you don't want greasy toes after all-and be sure to wash your hands between applications to avoid spreading the fungus.
5. Clean Minor Cuts and Abrasions
Minor cuts and abrasions can benefit from the antimicrobial action of tea tree oil, which cleanses the area and wards off infection. Clean the area thoroughly with plain soap and water, and rinse any soap off, making sure there is no dirt or debris left over. Mix a drop of tea tree oil with 1 teaspoon of coconut oil and apply a small dab directly to the cut. Rinse clean and reapply 1-2 times daily as needed. You can also smear a bit of the tea tree/coconut oil mixture on the inside of a regular adhesive bandage and place it over the cut.
6. Repel Pests
The smell of tea tree oil is often times enough to deter pests. In nature, the essential oil in the plant may play a role in warding off potential creatures that would otherwise enjoy it as a tasty snack, so why wouldn't it work as a bottled essential oil? Add 20 drops or so to a spray bottle and fill with water. Shake and spray around cracks, doorways, and any other potential pest entrances.
7. Fight Bad Breath
Your mouth is home to a host of bacteria, most of it good, but some of it that's not so welcome. A common cause of bad breath is an overgrowth of unwanted bacteria. Tea tree oil, being so effective at wiping out bacteria, can be hugely helpful in preventing bad breath at the source. It's not a cure, but it is a helpful tool to have for your care regime. Much like you'd do for a sore throat, mix a drop with a cup of warm water and swish around your mouth, through your teeth, and gargle. Gargling is important, as bacteria likes to reside at the back of the throat. Repeat 1-2 times daily.
8. DIY Deodorant
If it can deodorize your garbage can, it can deodorize you. There are two types of sweat glands on our body-apocrine and eccrine. Eccrine sweat glands cover most of the body, and really, the vast majority of sweat doesn't smell at all (truly, the next time you find yourself with a sweaty leg or palm, sniff it. You won't smell anything.) Apocrine sweat glands, on the other hand, lurk in culprit areas around the armpits and genitals. They are inactive until puberty and then they decide to make that awkward time of your life even more awkward. The sweat secreted by these glands is thicker than typical sweat, and feeds the bacteria on our skin. It is the bacteria breaking down and decomposing the sweat that releases the odor. See where this connects to tea tree oil? Since tea tree oil fights bacteria…the less bacteria breaking down sweat…the less odor you have to contend with. The Everyday Roots Book has a great recipe for a DIY stick deodorant featuring tea tree oil that works wonderfully.
9. Deodorize Garbage/Diaper Pail
If you dread opening the trash (or a diaper pail, if you happen to use one) a dash of tea tree oil might be just the thing to solve the problem. It also helps prevent bacteria from growing. I make a scented baking soda for extra odor killing power. Add roughly ¼-1/2 teaspoon of tea tree oil to a half or one cup of baking soda and mix the lumps out with a fork. Simply re-cycle a shaker (such as one used for parmesan) and shake into the bottom of a fresh bag to help keep the odor down.
10. Banish Mildew
Mildew is made up of little fungal filaments and tends to look white (sometimes black), "powdery", or fuzzy. It likes to grow on surfaces (particularly organic ones such as wood) that are damp and warm. Luckily, most cases are superficial, and can be wiped away easily. In addition to avoiding conditions that encourage mildew (e.g. opening the windows after a shower to avoid dampness and humidity), mix 5-10 drops of tea tree oil with 1 cup of water in a spray bottle. Shake well before each application. Spray directly onto the mildew and allow it to sit for 3-5 minutes before wiping it clean with a damp cloth. Wipe the spot dry when everything is spick and span. The tea tree oil should inhibit the growth of future bacteria, as long as the conditions are well managed.
11. Ease Itchy Bug Bites
I am from Minnesota-I can handle hordes of Jurassic mosquitos without batting an eye. But when I recently left my frigid northern climate to enjoy some time in warmth and sun, I was taken down by sand fleas. The nasty buggers just ripped my ankles and lower legs to shreds and I have never felt so tormented in my life. Normally I am prepared with some sort of remedy on hand, but for some reason I failed this trip. I attempted to use a bottle of that roll on anti-itch stuff, which burned with the fire of ten thousand suns, and then didn't work at all. I needed my tea tree oil (which of course I didn't have on this time.)
Early studies have shown that tea tree oil can play a role in decreasing the severity of what is known as the wheal and flare reaction. When an allergen or irritant comes in contact with the skin-such as the substance secreted by mosquitos-, the body releases histamine-a neurotransmitter that causes reactions such as itchiness, redness, and swelling. The reaction on the skin will take place in two parts. First, a raised, red or flesh colored lump, will raise. This is the wheal part of the reaction. Following this is the flare, which is a ring of red, irritated skin that surrounds the wheal. Tea tree oil doesn't appear to have much effect on the flare, however it did significantly reduce the volume of the wheal. So, it has some effect on taming histamine induced skin irritation. This means that dabbing a bit of tea tree oil (diluted in coconut oil) onto a bug bite can reduce the severity of the initial reaction and soothe the burning itching sensation that is so torturous.
12. Ease Psoriasis
Psoriasis is characterized by "plaques", or areas of red, scaly sometimes inflamed skin. These areas develop when skin production is faster than the body's ability to shed it. There is no cure for psoriasis, but there are things you can do to ease the discomfort and possibly speed the healing of the effective area. Thanks to tea tree oil's anti-inflammatory properties, it is precisely what some people need to find relief. Mixed with coconut oil-which acts as a carrier for the oil and provides moisture to the skin-it can make a healing salve. Mix 10 drops of tea tree oil with 2 tablespoons of melted coconut oil. Apply just enough to cover the affected area. Repeat 2-3 times daily as needed.
13. All-Purpose Surface Cleaner
It's a bit counterproductive to try and make your counter tops more food-friendly by wiping them down with caustic chemicals. For a gentle and effective all-purpose cleaner, mix 20-25 drops of tea tree oil with ¼ cup of water and a ½ cup of distilled white vinegar in a spray bottle. Shake well, spray directly onto surfaces, and wipe down with a clean cloth. Remember the oil won't mix with the water or vinegar, hence the shaking. Also be aware that it will not be diluted in water or vinegar, so avoid spraying directly onto your skin. While plenty of people are fine-and it has never personally bothered me- some people are irritated by the oil in its "neat" form.
14. Make a Stuffy Nose Salve
When you find yourself with a terribly stuffed up nose, doing the tea tree oil steam bath is a great way to clear out the blockage. But for the times when it's not convenient to put a towel over your head and lean over a bowl of steaming water, try making a handy little salve to dab under your nostrils to ease the stuffiness. Simply mix 3 drops of tea tree oil with 2 drops of peppermint and 2 drops of eucalyptus oil with 2 tablespoons of melted coconut oil. Pour into a lip balm tin and allow it to cool. Apply sparingly under nose when needed.
15. Make Mouthwash
Bacteria in the mouth-it can be a good thing and a bad thing. Mostly it's a good thing, but when there's an overabundance, it can lead to halitosis, or chronic bad breath. By now I probably don't even need to say it, but I'll say it anyways-tea tree oil with its antibacterial properties can help kill off excess bacteria that is leading to bad breath. Mix 2 drops of tea tree oil with 1 drop of peppermint oil in 1 cup of fresh water. Swish, gargle, and make sure to spit it out!
16. More Ways to Freshen Up
There are many uses for tea tree oil when it comes to freshening up. In addition to making a great ingredient in homemade deodorant, when added to bath water, tea tree oil can help freshen you up. Unlike many soaps and washes, it keeps you truly clean, rather than simply covering up odor. Add 15 drops to 2 tablespoons of liquid oil. When the tub is halfway full, add the oil. As you bathe swish it around to break it up. While the oil won't mix with the water, you want it as a carrier. Soak for 20 minutes and then dry off with a clean fluffy towel.
17. Cleanse the Washing Machine
I am ashamed to admit that I used to use those disgusting packets of chemical powder to deodorize my washing machine. I just liked the smell of a fresh machine so much, and it felt so great to wash clothes in it that I was a bit…blinded. Given the dog blankets and saddle pads that go through my machine, it was also kind of necessary to freshen it up in some way. Needless to say, that phase is well behind me. If you want to freshen up your washing machine, add 10-15 drops of tea tree oil to the empty drum and run it on the hot cycle to get rid of any bacteria and odor.
18. Fight Acne
Our skin is a thriving environment full of living microbes. Like the mouth, certain bacteria on the surface of the skin is necessary. On the other hand, some bacteria, such propiobacterium acnes (P. acnes)*can cause breakouts that aren't so welcome. More so than fighting bacteria (which is only minor cause of acne) tea tree oil's terpenes penetrate your pores, loosening up blocked oil and dirt that cause whiteheads, blackheads, and those painful red breakouts. Mix a drop or 2 with a smidge of coconut oil and use a cotton swab to apply. Avoid using your fingertips, which just introduces more dirt. Coconut oil may seem counterintuitive, but most people don't have a problem with it on their skin.
19. Athletes Foot (anti-fungal) Powder
Arrowroot powder is obtained from the rhizome of several tropical plants, and it is useful in quelling odor as well as providing a moisture absorbing base for this anti-fungal powder. The moisture absorbing part is important, as the fungus that causes athletes foot loves damp, moist places-aka sweaty shoes! The baking soda will also help with odor, sweating, and soothe any itchiness. Tea tree oil is of course the star here, doing battle with the actual fungus itself, and inhibiting its ability to replicate. Rustle up a shaker (you can buy plain ones, or re-purpose one of those parmesan shaker containers) and add ¼ cup of arrowroot powder, and ¼ cup of baking soda. Add 20 drops of tea tree oil to the powder, spreading the droplets out as best you can. Use a fork to mash in the little lumps and then add it to your container. Rinse your feet and pat them dry, then apply powder afterwards. Repeat twice daily. It is easiest to do this in the bathtub or show because it can make a bit of a mess! Use (clean) hands to evenly spread the powder. Shake well before each use, and store in a cool dark place.
20. Sore Muscle Soak
As it seems to help with inflammation, it makes sense that tea tree oil would provide welcome relief from sore, tight, inflamed, muscles. As someone who suffers from tension headaches rather frequently, anything that helps release tension in my muscles is a friend. Epsom salts, thought to help relax muscles because of its magnesium content (magnesium plays a vital role in the contraction and relaxation of muscles) makes the perfect carrier for the tea tree oil. First dilute 10 drops of tea tree oil in any neutral oil, and mix into the Epsom salt. Fill the tub halfway with warm water, add the salt, and top off the tub. Relax, enjoy, and unwind.
21. Freshen Dryer Loads
Tea tree oil works in more than just the washing machine. If your clothes have a damp mildew smell to them, add several drops to wool dryer balls to freshen up the clothes if you don't have time (or don't want to) re-wash them. If you don't have wool dryer balls, you can simply recycle a clean cotton t-shirt. Cut it into 5 inch squares, and add 5 drops of tea tree oil to it. Toss it in the dryer with your clothes as you would any other dryer sheet. When you find the scent starts to lose its potency, simply refresh with a few more drops. I like to wash these every few weeks before re-scenting them-it's not necessary, but does ensure everything feels extra clean all the time.
22. Fight Foot Odor
As bacteria and/or fungus is often times the culprit behind foot odor, a little soak with tea tree oil can help freshen up your feet. Bring several cups of water to a boil and pour into a basin. Steep several sprigs of rosemary for 10-15 minutes. In the meantime, add 15 drops of tea tree oil to 2 1/2 tablespoons of liquid oil (grapeseed, almond, jojoba, olive, etc.) When the rosemary has finished steeping add the tea tree oil mixture to the water. Yes, it will separate-oil and water tend to do that. Simply swish the water around with your feet now and again. Soak for 15 minutes twice daily and pat your feet dry.
23. Draw Out A Splinter
A little splinter seems harmless enough, until the skin around it gets hot, swollen, and too tender to touch, making it difficult to work the splinter out. To ward off bacteria and potential infection, add 3 drops of tea tree oil to a teaspoon or so of liquid neutral oil. Add this plus 2 tablespoons of Epsom salt to a bowl of warm water. Soak your finger for 5-10 minutes to soften up the skin and loosen the splinter, and then work it out by applying pressure just below it. Use a tweezers to grab it when it protrudes, but be sure to get the whole thing and not just break off a piece of it!
24. Keep Your Garden Mildew-Free
A more specific use for tea tree oil and our fight against mildew. Over the summer I was tending to a friend's magnificent garden while they were out of town, and noticed some powdery mildew that was taking over. If tea tree oil can fight mildew in the home, why not in the garden? Use the same formula as above and spray lightly on plants with mildew. Reapply daily as needed, but test it on a few leaves first. Most plants are fine, but don't go dousing them-there's always too much of a good thing.
25. Toothbrush/Retainer Cleaner
Where does bacteria love to congregate? Moist surfaces. What tends to be moist and then locked into cupboards or plastic cases? Toothbrushes and retainers. Mix 10 drops of tea tree oil with 1 cup of water. Once a week for your toothbrush, or every other day for your retainer, swish it around in the water to kill bacteria, then rinse with plain water and allow it to dry before locking it back up.
The Low Down on Tea Tree Oil
Tea tree oil (TTO) is typically extracted from the leaves via steam distillation, and maintains its potency for roughly 1 year from the date of distillation when properly stored in a dark glass bottle and out of direct sunlight. Tea tree oil is noted for its anti-microbial properties, fighting bacteria, inhibiting the growth of fungi, and potentially wiping out certain viruses. Research has determined that it derives its benefits from terpene hydrocarbons. While there are numerous terpenes (approximately 100) that make up tea tree oil, terpinen-4-ol is largely responsible for its antibacterial properties. A standard for TTO is maintained that requires all commercially available oil to have a minimum amount of terpinen-4-ol, with no upper limit, to maximize its broad spectrum antimicrobial activity.
TTO works in several different ways to fight microbes. When studying the mechanism of its actions on E. coli, S. aureus (bacterium that can lead to staph infections) and C. albicans (a yeast) it was found that it mainly affected two things-cellular respiration, leading to decreased oxygen intake, and increased cell permeability. The decreased oxygen harms the cells as it is a vital component in the electron transport chain that makes up the process of cellular respiration. Without this process, there is no way to create usable energy, and no way for the cell to continue functioning. When cell permeability is increased, foreign substances can penetrate the cell membrane more easily, and the cell can "leak" vital components. There is some tentative research into how tea tree oil has anti-viral properties, particularly when it comes to the herpes-simplex virus. And while it's true that there really isn't much to be done once the virus takes a hold of your body, when outside floating around in the environment, some can be rendered ineffective by tea tree oil. In short-tea tree oil is an awesome tool with a powerful array of anti-microbial properties at its disposal. It's not an almighty cure-all, but it is pretty dang handy.
**********
Top 5 Essential Oils for Arthritis
The winter season is a welcome change for many, especially with the holidays ringing in the colder months. However, for many the change in weather can be painful — especially for those who suffer from arthritis. The good news is there are essentials oils for arthritis that can soothe this common affliction.
Just how common is arthritis? The Centers for Disease Control and Prevention (CDC) estimates that a whopping 52.5 million adults in the U.S. alone are afflicted with this painful condition. That breaks down to more than one in five U.S. adults (22.7 percent of the population) who have some sort of doctor-diagnosed form of arthritis. (1)
With so many people dealing with arthritic pain, any type of natural arthritis treatment is welcomed if it means arthritis pain relief. Luckily, there are five essential oils for arthritis suffers that can not only relieve pain, but also improve mood and overall health at the same time.
---
The Facts on Arthritis
Arthritis is a joint disease that causes swelling and pain in and around the joints. It's usually classified as either osteoarthritis or rheumatoid arthritis.
Osteoarthritis occurs when cartilage between joints wears down causing inflammation and pain and generally occurs in the joints we most frequently use, such as knees, hips, spine and hands. Rheumatoid arthritis (RA) is caused by an autoimmune dysfunction where the white blood cells destroy the cartilage. Research suggests that RA may be related to food allergies, bacterial infections, stress or excess acid in the body, but the exact cause of RA is not yet known.
Although the word arthritis actually means joint inflammation, it's rather widely used in the public health world to describe more than 100 rheumatic diseases and conditions that affect joints, the tissues that surround the joint and other connective tissue. The pattern, severity and location of symptoms can vary — however, typically, rheumatic conditions are characterized by pain and stiffness in and around one or more joints. The symptoms can develop gradually or suddenly, and certain rheumatic conditions can involve the immune system as well as various internal organs of the body. (2)
The CDC reports that 52.5 millions adults are told by a doctor that they have some form of arthritis, whether it's rheumatoid arthritis, gout, lupus or fibromyalgia. To be more specific, in 2010–2012, 49.7 percent of adults 65 years or older reported doctor-diagnosed arthritis. By 2030, an estimated 67 million Americans ages 18 years or older are projected to have doctor-diagnosed arthritis.
On top of that, an estimated 294,000 children under age 18 have some form of arthritis or rheumatic condition. This represents approximately one in every 250 children in the U.S. It's no surprise, with these astounding numbers, that arthritis sufferers are in need remedies that they can feel good about using. Thankfully, the following essential oils for arthritis can help.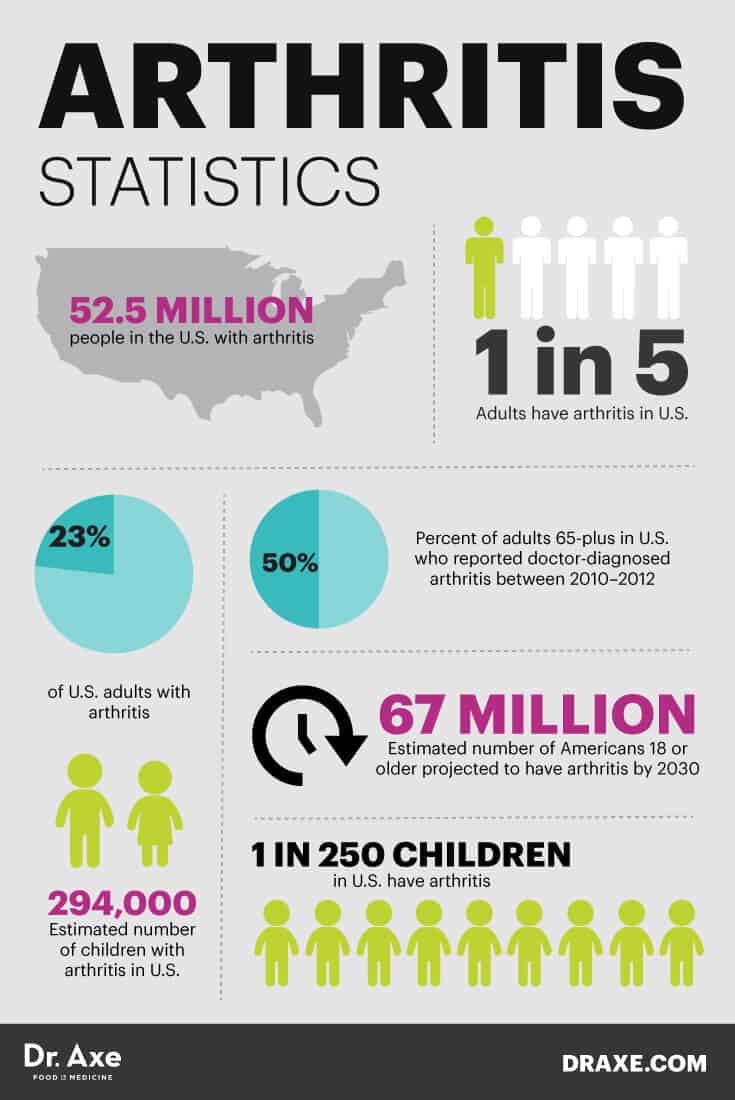 ---
Top 5 Essential Oils for Arthritis
Essential oils are natural plant products, most of which possess antioxidant, antibacterial, antifungal and anti-inflammatory properties. Essential oils from ginger, orange and black cumin seeds have been shown to hold promise for the relief of symptoms of arthritis.
How do essential oils work? Essential oils and their components are rapidly absorbed through the skin and are detectable in plasma after topical application. Therefore, topical dermal delivery of essential oils represents an effective method to directly provide a natural, anti-inflammatory agent to the site of inflammation.
The U.S. National Library of Medicine shares this report and notes a study that used topical application of an ointment containing essential oils that decreased the severity of arthritis. Furthermore, this suppression of arthritis involved changes in the disease-related immunological and biochemical mediators of inflammation. (3)
Here are the five most beneficial essential oils for arthritis.
1. Ginger
Ginger essential oil is an amazing healing agent that contains chemicals with analgesic and anti-inflammatory effects on the body. It's been shown to lessen pain associated with arthritis, making it a great pain reliever. It provides this relief by acting on vanilloid receptors, which are located on sensory nerve endings.
Ginger has that slight burning sensation similar to the initial intense burning feel you get when you consume spicy pepper. While it typically only lasts a few seconds, researchers discovered that it affects the pain pathways directly and rather rapidly in most cases, relieving the inflammation, which in itself causes pain.
The Arthritis Foundation reports a study from the University of Miami that concluded that ginger extract could be a substitute to nonsteroidal anti-inflammatory drugs (NSAIDs). The study compared the effects of a highly concentrated ginger extract to placebo in 247 patients with osteoarthritis of the knee. The ginger reduced pain and stiffness in knee joints by 40 percent over the placebo. That is a big difference and one worth noting! (4)
Researchers at the University of California, Los Angeles showed that ginger affects certain inflammatory processes at a cellular level. Ginger has anti-inflammatory, anti-ulcer and antioxidant activities, as well as a small amount of analgesic properties, making it a great option for arthritis sufferers. (5)
2. Turmeric
The most active ingredient in turmeric, curcumin, has become known as a great anti-inflammatory. Turmeric benefits include being highly effective at helping people manage rheumatoid arthritis.
A recent study out of Japan evaluated its relationship with interleukin (IL)-6, the inflammatory cytokine known to be involved in the RA process, and discovered that curcumin significantly reduced inflammation. This evidence suggests that regular turmeric use could be a powerful way to combat the development of RA! (6)
Try this turmeric tea recipe to help soothe arthritic pain and inflammation.
3. Frankincense
Frankincense oil can inhibit the production of key inflammatory molecules associated with conditions like arthritis and can be useful in helping to prevent the breakdown of the cartilage tissue. This has been shown to significantly reduce levels of inflammation, making it a natural treatment option for pain-related conditions that affect the muscles, joints and tendons. (7)
4. Myrrh
Myrrh oil also had anti-inflammatory properties, and it's often used in tandem to treat arthritis. A study published in Scientific Reports showed that frankincense and myrrh are highly effective in treatment of inflammatory diseases, especially when combined.
The study revealed that frankincense and myrrh, especially when used together, suppress inflammation and the intensity of joint inflammation. Results showed that the individual extract of frankincense or myrrh and combined extracts used to treat groups showed significant differences when compared with the arthritis control group. (8)
5. Orange
Citrus scents make you feel more awake, and the strong anti-inflammatory properties of orange oil have been researched in regard to their effects for fighting pain. A 2009 study published in the European Journal of Medical Research investigated the antioxidant potential of various essential oils, reporting that orange was the most highly effective of those studied, which in turn makes it a great essential oil for arthritis treatment. (9)
Try diluting a few drops of the orange essential oil with 1 teaspoon of avocado or almond oil, and then rub it onto the back of your hand or wherever you have arthritic pain.
---
How to Use Essential Oils for Arthritis
There are several ways you can use essential oils for arthritis.
To relieve pain and inflammation while improving your sleep, put a diffuser by your bed and diffuse essential oils while you sleep. You can also rub topically, when blended with a carrier oil, directly onto the area where you feel the pain. Be careful to avoid the eyes.
Try this recipe:
Frankincense, Ginger and Myrrh Natural Ointment Blend for Arthritis
INGREDIENTS:
20–30 drops pure frankincense essential oil
10 drops pure ginger essential oil
20–30 drops myrrh essential oil
4 ounces unrefined coconut oil
DIRECTIONS:
Mix all ingredients into a bowl until well blended. Place into a glass jar with a lid for continued use.
Massage the ointment in the areas where you feel pain. Use twice daily. You can also take it to your masseuse and ask him or her to use it while performing a mild massage.
You can also try my Homemade Frankincense and Myrrh Lotion, which does wonders to soothe pain.
---
Risks of Essential Oils for Arthritis
Use any essential oils sparingly, whether internally or topically. High levels might cause reactions and sensitivity, so be sure to do a skin patch check before using on a regular basis. You also want to use caution if you take blood pressure medications or have an existing heart condition. Always talk to your doctor before beginning any new treatment.
It's important to make sure that any essential oils you choose are 100 percent pure. If you're pregnant or breastfeeding, check with your doctor first. While most oils are safe for children, please do proper research and review with your physician.
---
Essential Oils for Arthritis Takeaways
52.5 million adults in the U.S. alone are afflicted with arthritis. That breaks down to over one in five U.S. adults (22.7 percent).
Osteoarthritis occurs when cartilage between joints wears down causing inflammation and pain and generally occurs in the joints we most frequently use.
Rheumatoid arthritis is caused by an autoimmune dysfunction where the white blood cells destroy the cartilage.
Arthritis is widely used in the public health world to describe more than 100 rheumatic diseases and conditions that affect joints.
By 2030, an estimated 67 million Americans ages 18 years or older are projected to have doctor-diagnosed arthritis.
The top essential oils for arthritis are ginger, turmeric, frankincense, myrrh and orange.
**********
Top 4 Essential Oils for Depression
Depression is incredibly common. In fact, you may be near someone every day and not even know that he or she is suffering from depression.
However, there are symptoms that may signal signs of depression, such as fatigue, sadness, moodiness, low sex drive, low self-esteem, loss of appetite, feelings that the tough days will never end, and never accepting invitations to go out with friends or get involved in activities. I know that seems like quite a list, but there are many more behaviors that could be an indication that you or someone you know is suffering from depression.
Luckily, there are natural remedies for depression out there, including using certain essential oils — similar to the way you can use essential oils for anxiety. Below are my top four essential oils for depression treatment.
---
Top Essential Oils for Depression
In clinical trials, essential oils have been proven to elevate mood. You may be wondering how essential oils work. Because smells are carried directly to the brain, they serve as emotional triggers. The limbic system evaluates the sensory stimuli, registering pleasure, pain, danger or safety. This then creates and ultimately directs our emotional response, which can include feelings of fear, anger, depression and attraction.
Our basic emotions and hormonal balance are in response to the most basic smells. This makes scents very powerful in our day-to-day lives because they're a direct pathway to memory and emotion — which is why they can fight depression and anxiety. Here are my top for essential oils for depression:
1. Bergamot
Bergamot oil is a great antidepressant because it's very stimulating. Bergamot can create a feeling of joy, freshness and energy by improving the circulation of your blood. It's also shown the ability to work as a natural remedy for anxiety, as a 2011 study in Thailand found that bergamot lowered the anxiety response in rats. (1)
Another 2011 study hypothesizes that applying a blended essential oil that includes bergamot to participants helps treat depression. The blended essential oil mixed bergamot with lavender essential oil, and participants were analyzed based on their blood pressure, pulse rates, breathing rates and skin temperature. In addition, subjects had to rate their emotional condition in terms of relaxation, vigor, calmness, attentiveness, mood and alertness in order to assess behavioral changes.
Compared with the placebo, blended essential oil caused significant decreases of pulse rate and blood pressure. At the emotional level, subjects in the blended essential oil group rated themselves as "more calm" and "more relaxed" than subjects in the control group. The investigation demonstrates the relaxing effect of a mixture of lavender and bergamot oils, and it provides evidence for its use in medicine for treating depression or anxiety in humans. (2)
You can use bergamot oil by rubbing two to three drops into your hands and cupping your mouth and nose. Breathe in the oil slowly. Try rubbing the oil on your feet and stomach, too.
2. Lavender
Lavender oil benefits mood and has long been used to help battle depression. A study published by the International Journal of Psychiatry in Clinical Practice reported that 80-milligram capsules of lavender essential oil can help alleviate anxiety and depression. The study also showed that there were no adverse side effects from using lavender oil to treat anxiety and depression. This is great news since we know that synthetic medications and psychotropic drugs often have many negative side effects. (3)
A 2012 study published in Complementary Therapies in Clinical Practice evaluatd 28 women at high risk for postpartum depression and found that by diffusing lavender in their home, they had a significant reduction of postnatal depression and reduced anxiety disorder after a four-week treatment plan of lavender aromatherapy. (4)
Yet another study showcasing that lavender aromatherapy improves mood was done on people suffering from post-traumatic stress disorder (PTSD), which can result in depression. Lavender had amazing results, showing signs of enhanced moods. The results revealed that the lavender oil, when used daily, helped decrease depression by 32.7 percent and dramatically decreased sleep disturbances, moodiness and overall health status in 47 people suffering from PTSD. (5)
To relieve stress and improve sleep, put a diffuser by your bed and diffuse oils while you sleep at night or in the family room while you're reading or winding down in the evening. Also, it can be rubbed topically behind your ears for the same benefits.
3. Roman Chamomile
Chamomile is one the best medicinal herbs for fighting stress and promoting relaxation. This is why you see chamomile as a popular ingredient in candles and other aromatherapy products, whether in tea, tincture or essential oil form.
Chamomile benefits your emotions by providing soothing qualities to help with depression. According to research from Alternative Therapies in Health and Medicine and Pharmacognosy Review, inhaling chamomile vapors using chamomile oil is often recommended as a natural remedy for anxiety and general depression. (6, 7)
4. Ylang Ylang
Ylang ylang may have a funny name, but it has amazing benefits for helping stave off depression and negative emotions associated with depression. Inhaling ylang ylang can have immediate, positive effects on your mood and act like a mild, remedy for depression. Research shows it can help release negative emotions such as anger, low self-esteem and even jealousy! (8)
Ylang ylang works because of its mild sedative effects, which can lower stress responses helping you relax. To enhance confidence, mood and self-love, try diffusing the oil in your home or massaging it into your skin.
---
Depression by the Numbers
The U.S. Department of Health and Human Services, along with the Substance Abuse and Mental Health Services Administration Center for Behavioral Health Statistics and Quality, conducted a survey in 2013 on mental behavior disorders. It covered both residents of households (persons living in houses/townhouses, apartments, condominiums; civilians living in housing on military bases; etc.) and persons in non-institutional group quarters (e.g., shelters, rooming/boarding houses, college dormitories, migratory workers' camps, halfway houses). They noted that major depression is one of the most common mental disorders in the U.S..
According to the World Health Organization (WHO, 2010), major depression also carries the heaviest burden of disability among mental and behavioral disorders. In 2013, an estimated 15.7 million adults aged 18 or older in the U.S. had at least one major depressive episode in the past year. This represented 6.7 percent of all U.S. adults.
Among adults aged 18 or older in 2013, 10 million (4.2 percent) had serious mental illness (SMI) in the past year. The percentage of adults in 2013 with any mental illness (AMI) in the past year was highest for adults aged 26 to 49 (21.5 percent), followed by those aged 18 to 25 (19.4 percent), then by those aged 50 or older (15.3 percent). Women aged 18 or older were more likely than men aged 18 or older to have AMI (22.3 vs. 14.4 percent) and SMI (4.9 vs. 3.5 percent) in 2013. And to add to these shocking numbers, in 2013, there were 2.6 million youths aged 12 to 17 (10.7 percent) who had major depressive episode (MDE) during the past year. The most common reason that youths aged 12 to 17 gave for receiving specialty mental health services in 2013 was feeling depressed (50.2 percent). (9, 10)
The causes of depression are numerous as well. Chronic stress, emotional problems from the past, hormonal imbalances, alcohol, poor diet causing nutritional deficiencies, lack of sun exposure, toxins in the body and food allergies are all contributing causes.
One of the most common ways that people are treated for depression is through prescription medication. While everyone's situation is different, it's all too often that these meds have serious side effects, such as suicidal thoughts, weight gain and unusual personality changes.
A government study that was published in the Washington Post stated: "Antidepressants fail to cure the symptoms of major depression in half of all patients with the disease even if they receive the best possible care." (11) While I'm not suggesting that all meds cause this problem and I want to make it clear that you should talk to a doctor immediately if you feel you're suffering from depression, I do believe that it's possible to treat depression through other means, like the essential oils for depression mentioned above.
A  2008 study with 58 hospice patients presented some interesting conclusions regarding the effectiveness of essential oils for depression. The hospice patients were given hand massages once a day for one week with an essential oil blend in 1.5 percent dilution with sweet almond oil. The essential oil blend consisted of these essential oils in equal ratios:
bergamot C. aurantium var. bergamia
frankincense Boswellia carterii (Birdw.)
lavender Lavandula angustifolia (Mill.)
All patients who received the aromatherapy hand massage reported less pain and depression with the conclusion that aromatherapy massage with this essential oil blend is more effective for pain and depression management than massage alone. (12)
---
How to Use Essential Oils for Depression
There are several ways you can use essential oils for depression.
To relieve stress while improving sleep, put a diffuser by your bed and diffuse oils while you sleep at night. You can also rub topically behind your ears, on the back of the neck, your tummy and bottoms of the feet.
The right oils can make a great massage oil, whether you have a full body massage or just use self-massage techniques. Below is a great recipe that you can try!
Lavender and Chamomile Massage Blend for Depression
INGREDIENTS:
20–30 drops pure lavender essential oil
20–30 drops pure chamomile essential oil
2 ounces grapeseed oil
DIRECTIONS:
Blend all ingredients well into a glass jar.
Massage into your entire body, or take it to your masseuse and ask him or her to use it, 2–3 times per month.
You can also use hand and neck massage oil daily or even massage into the bottoms of your feet at night before going to bed.
---
Essential Oils for Depression Risks
Use any essential oils sparingly, whether internally or topically. High levels might cause reactions and sensitivity, so be sure to do a skin patch check before using on a regular basis. You also want to use caution if you take blood pressure medications or have an existing heart condition. Always talk to your doctor before beginning any new treatment.
It's important to make sure that any essential oils you choose are 100 percent pure. If you are pregnant or breastfeeding, check with your doctor first. While most oils are safe for children, please do proper research and review with your physician.
---
Takeaways
Depression affects tens of millions of people around the world and is the most common mental disorder in the U.S.
There are many ways to naturally treat depression, particularly with essential oils.
The top four essential oils for depression are bergamot, lavender, chamomile and ylang ylang.
You can use essential oils for depression topically or aromatically, usually as a cream or in a diffuser.
If you use these four essential oils for depression, you're sure to lower your stress levels and anxiety, helping reverse feelings of depression.